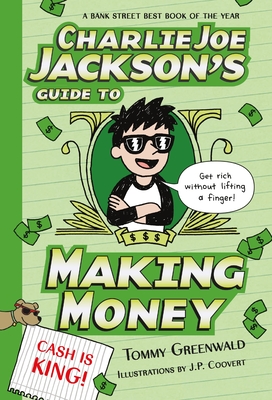 Charlie Joe Jackson's Guide to Making Money (Charlie Joe Jackson Series #4) (Paperback)
Square Fish, 9781250107169, 224pp.
Publication Date: August 9, 2016
* Individual store prices may vary.
Description
Charlie Joe's weekly allowance just isn't cutting it and he desperately needs money to buy a Botman, the latest gadget to sweep his middle school. Only catch is, he wants to earn the money by doing the least amount of work possible. After several failed attempts, including a near disastrous day of dog-walking, Charlie Joe hatches a plan to throw his own bar mitzvah (no gifts please—checks only) even though he's not Jewish. Hilarity ensues when throwing a fake coming-of-age party turns out to be much harder than it looks.
Charlie Joe Jackson's Guide to Making Money by Tommy Greenwald is laugh out loud funny, and full of amusing illustrations that fit perfectly with the story.
About the Author
Tommy Greenwald has enjoyed reading all his life, which is why he's appalled that his kids Charlie, Joe and Jack, would prefer getting a dental check-up to checking out a book. After years of pleading, threatening, and bribing, Tommy finally decided the only way to get his kids to read was to write a book about how to get out of reading. The result was Charlie Joe Jackson's Guide to Not Reading. And they read it! (So they say.) The Executive Creative Director at SPOTCO, an entertainment advertising agency in New York City, Tommy lives in Connecticut with his wife, Cathy; his non-reading sons, Charlie, Joe and Jack; and his dogs, Moose and Coco.

J. P. Coovert is the illustrator of the Charlie Joe Jackson books by Tommy Greenwald.