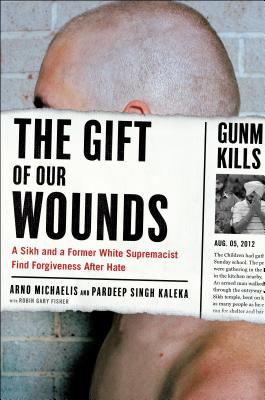 The Gift of Our Wounds
A Sikh and a Former White Supremacist Find Forgiveness After Hate
Hardcover

* Individual store prices may vary.
Other Editions of This Title:
MP3 CD (4/10/2018)
Compact Disc (4/10/2018)
Description
The powerful story of a friendship between two men—one Sikh and one skinhead—that resulted in an outpouring of love and a mission to fight against hate.
One Sikh. One former Skinhead. Together, an unusual friendship emerged out of a desire to make a difference.
When white supremacist Wade Michael Page murdered six people and wounded four in a Sikh Temple in Wisconsin in 2012, Pardeep Kaleka was devastated. The temple leader, now dead, was his father. His family, who had immigrated to the U.S. from India when Pardeep was young, had done everything right. Why was this happening to him? Meanwhile, Arno Michaelis, a former skinhead and founder of one of the largest racist skinhead organizations in the world, had spent years of his life committing terrible acts in the name of white power. When he heard about the attack, waves of guilt washing over him, he knew he had to take action and fight against the very crimes he used to commit.
After the Oak Creek tragedy, Arno and Pardeep worked together to start an organization called Serve 2 Unite, which works with students to create inclusive, compassionate and nonviolent climates in their schools and communities. Their story is one of triumph of love over hate, and of two men who breached a great divide to find compassion and forgiveness. With New York Times bestseller Robin Gaby Fisher telling Arno and Pardeep's story, The Gift of Our Wounds is a timely reminder of the strength of the human spirit, and the courage and compassion that reside within us all.
Praise For The Gift of Our Wounds: A Sikh and a Former White Supremacist Find Forgiveness After Hate…
"A recovered Nazi skinhead-turned-Buddhist, Michaelis has built a national reputation as a 'warrior for peace.'" —The Washington Post
"Inspiring...gives readers hope that the next generation can do much to heal America's great divide." —Booklist (Starred Review)
"Documents the beautiful way [Kaleka and Michaelis] finally came together in founding Serve2Unite, an organization united around cultivating courage, wisdom, love and human kinship." —Milwaukee Magazine
"As the title suggests, bad can lead to at least some good, and violence to healing, when it gets different kinds of people to talk to each other, understand each other, and even learn to love each other...extend[s] the message of brotherhood and compassion that has been forged from tragedy." —Kirkus Reviews
"Pardeep Kaleka and Arno Michaelis—a former white supremacist and the son of a man killed by a white supremacist—were never supposed to know one another, let alone see each other as brothers. Today their impossible friendship has become a beacon of light. blueprint for action, and testament to a revolutionary love. Witnessing their brotherhood unfold through the years has been among the greatest sources of inspiration in my life. Now this book makes it possible for their story to embolden countless others. In a time when the fires of hate and vitriol burn bright, The Gift of Our Wounds is required reading for every American seeking a new way forward." —Valarie Kaur, lawyer, filmmaker and founder of the Revolutionary Love Project
"'What the world needs now, is love sweet love.' While those words were written by Hal David, played by, Burt Bacharach and sung by Jackie DeShannon and Dionne Warwick, they are lived by my brothers Arno Michaelis and Pardeep Kaleka. This is a must read blood and guts story for everyone, the weak and the strong. It is a horrific story of blood, shed through violence and a triumphant, beautiful story of guts, used to stand up against hate, violence and racism. The Gift Of Our Wounds, is a gift to all human beings, showing that love will trump hate in the end every time and, 'It's the only thing, that there's just too little of.'" —Daryl Davis, Musician and Activist
"A powerful and heartfelt memoir by an unlikely friendship, offering compassion and understanding but more importantly hope for the future of humanity." —Madeleine Black, author of Unbroken: One Woman's Journey to Rebuild a Life Shattered by Violence
"Arno Michaelis and Pardeep Kaleka are living examples of the transformative power of friendship. Because each was willing to take the risk of meeting, because each was willing to allow for the possibility that their nemesis might in fact not be as terrible as each had been told, their meeting and mutual understanding has not only transformed each of them as individuals, but also the lives of so many others. I can't think of a book that is more needed right at this moment." —Abigail Disney, filmmaker, philanthropist, activist
St. Martin's Press, 9781250107541, 240pp.
Publication Date: April 10, 2018
About the Author
Arno Michaelis is author of My Life After Hate and works with Serve 2 Unite. He has appeared on major media outlets including the BBC, The New York Times, and The Washington Post, and The View.

Pardeep Singh Kaleka is co-founder of Serve 2 Unite and has appeared on NBC, Fox, CNN, Democracy Now, NPR, and Voices on Antisemitism.
or
Not Currently Available for Direct Purchase