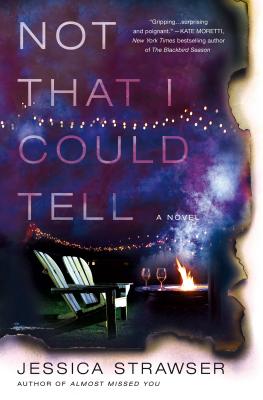 Not That I Could Tell
A Novel
Hardcover

* Individual store prices may vary.
Other Editions of This Title:
Digital Audiobook (3/26/2018)
Paperback (1/8/2019)
Paperback (4/14/2020)
Library Binding, Large Print (7/11/2018)
Description
"Full of slow-burning intrigue, Strawser's second novel will appeal to fans of Liane Moriarty's Big Little Lies and Jennifer Kitses' Small Hours." —Booklist

*Book of the Month Club Selection

An innocent night of fun takes a shocking turn in Not That I Could Tell, the next page-turner from Jessica Strawser, author of Almost Missed You.

When a group of neighborhood women gathers, wine in hand, around a fire pit where their backyards meet one Saturday night, most of them are just ecstatic to have discovered that their baby monitors reach that far. It's a rare kid-free night, and they're giddy with it. They drink too much, and the conversation turns personal.

By Monday morning, one of them is gone.

Everyone knows something about everyone else in the quirky small Ohio town of Yellow Springs, but no one can make sense of the disappearance. Kristin was a sociable twin mom, college administrator, and doctor's wife who didn't seem all that bothered by her impending divorce—and the investigation turns up more questions than answers, with her husband, Paul, at the center. For her closest neighbor, Clara, the incident triggers memories she thought she'd put behind her—and when she's unable to extract herself from the widening circle of scrutiny, her own suspicions quickly grow. But the neighborhood's newest addition, Izzy, is determined not to jump to any conclusions—especially since she's dealing with a crisis of her own.

As the police investigation goes from a media circus to a cold case, the neighbors are forced to reexamine what's going on behind their own closed doors—and to ask how well anyone really knows anyone else.
Praise For Not That I Could Tell: A Novel…
"Not That I Could Tell is a psychological thriller of the highest order, as well written as it is structured. That means the magazine Strawser once edited might well be covering her from the other side, and deservedly so."—Providence Journal

"Full of slow-burning intrigue, Strawser's second novel will appeal to fans of Liane Moriarty's Big Little Lies and Jennifer Kitses' Small Hours." — Booklist

"[An] engrossing, taut tale." — Publisher's Weekly

"In NOT THAT I COULD TELL, Strawser tackles the secrets of suburbia, domestic abuse, and friendship in a gripping story about a neighboring family gone missing. The characters are unique, engaging, and relatable and the ending is both surprising and poignant. Fans of Liane Moriarty will adore Jessica Strawser; she's a huge talent!" —Kate Moretti, New York Times bestselling author of THE BLACKBIRD SEASON.

"In NOT THAT I COULD TELL, Strawser has wrapped a mystery into the fabric of a tightly knit community. When Kristin, recently separated from her husband, leaves in the middle of the night after a night of drinking with her girlfriends, her neighbors can't help but wonder: did she leave of her own accord? Or if she simply ran away, why? When her soon-to-be-ex moves back into their house, and more secrets about Kristin are revealed, her friends begin to question whether they knew anything about her at all. Well-drawn characters, a perfectly cast neighborhood and a great puzzle; what more could you want in your next read?" —Catherine McKenzie, bestselling author of Fractured and The Good Liar

"In Jessica Strawser's sophomore novel, Not That I Could Tell, we're transported to Yellow Springs, Ohio—a charming small town, and the sort of place where neighbors are friends and nothing terrible ever happens. Until a woman and her children go missing and the residents of Yellow Springs realize they don't know their neighbors as well as they thought. As the lies build and secrets unravel, you'll probably stay up too late to finish the book as it speeds toward an edge-of-your-seat conclusion. Ultimately a story about the power of instincts and the strength of women, Not That I Could Tell is full of satisfying suspense and one to add to your "must-read" list!" — Karma Brown, international bestselling author of Come Away With Me and In This Moment
St. Martin's Press, 9781250107886, 336pp.
Publication Date: March 27, 2018
About the Author
JESSICA STRAWSER is the author of the book club favorites Almost Missed You, Not That I Could Tell (a Book of the Month selection), Forget You Know Me, and A Million Reasons Why. She is Editor-at-Large for Writer's Digest, and her work has appeared in The New York Times' Modern Love, Publishers Weekly, and other fine venues. She lives with her husband and two children in Cincinnati.
1. Clara and Benny differ on whether their neighbors' problems are any of their business. Which one of them is right? Is it possible that they are both right?
2. What do Izzy and Paul have in common? What parallels can you draw between their individual stories, and where do those lines diverge?
3. Izzy forces herself to absorb the horrible stories in her newsfeed; Randi and Rhoda identify as "citizens of the world" but also proclaim their willingness to retreat into a "happy little bubble." Do you think it's healthy to be able to compartmentalize tragedy, or is it more important to be keenly aware of what's happening around us, even when it's ugly?
4. Kristin never gets to tell her side of the story, except (in part) to the reader. What does it do to a person when no one bears witness to what's really going on in their lives?
5. Izzy books a guest for the radio show who explains why heartbreak is biochemically hard to shake. We've all had a friend like Izzy who just can't get over someone (or been in those shoes ourselves). Was there anything in particular about her frustration that you found unsympathetic?
6. How is Hallie's perspective different from the adults'? Why is she so pivotal to the story?
7. In some ways, Natalie relies outwardly on her neighbors more than any of the others, more by necessity than by choice. If you were in her shoes, would you have reacted differently after Hallie's newspaper (and Clara's role in it) came to light?
8. Both Clara and the detectives acknowledge that the parents in town can be judgmental of one another. In what ways might those attitudes do harm to someone in a situation like Kristin's? How do they impact Clara?
9. Do you find it fair that some of Dr. Kirkland's patients publicly defend him after suspicions are raised, or do you find it disturbing?
10. Although domestic violence is alarmingly common, it's still perceived by many as carrying a certain stigma. Why do you think that is? What, if anything, could be done to change that?
11. Clara tells Izzy that the only way she knows of to escape an abusive man is not to have met him in the first place. Detective Bryant isn't forthcoming with solutions that convince Clara that Kristin had a good alternative to her disappearing act. Do you think Kristin did what she had to do? If not, what do you think she could have done instead?
12. Do you think that if Clara had foreseen the extent of the worry and scrutiny ahead of her, she would have influenced and helped Kristin the way she did?
or
Not Currently Available for Direct Purchase