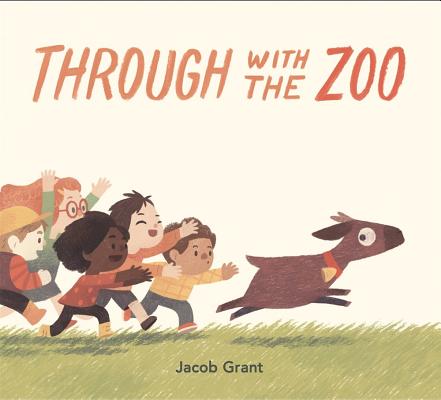 Through with the Zoo (Hardcover)
Feiwel & Friends, 9781250108142, 40pp.
Publication Date: November 14, 2017
* Individual store prices may vary.
Description
Goat has always dreamed of having his very own space.
But Goat lives in a petting zoo, surrounded by hugs and rubs and grabby little hands.
Determined to find his perfect alone space, Goat escapes into the big zoo. But space is not an easy thing to find, in this humorous picture book from Jacob Grant, Through with the Zoo.
About the Author
Jacob Grant is originally from Ohio, but now lives with his wife in a very windy city in Illinois. Day and night he can be found in his home studio drawing, painting, and writing until something feels story-ish. His debut picture book, Scaredy Kate, was released in 2014. Jacob tries not to use bad words around any little animals.
Praise For Through with the Zoo…
"Goat is hilariously expressive with his geometric body and big round eye, whether he's enduring the attentions of a crowd of children or looking forlorn as he lies alone in his tree. This title will make an excellent classroom or bedtime readaloud with its warm ending, and Goat offers a gentle model of self-regulation that children can draw on as they discover their own needs for hugs and alone time."—Bulletin of the Center for Children's Books
"In the cleanly drawn, graphicstyle illustrations, Grant takes his wide-eyed goat from near panic in the clutches of a multicultural horde of eager young visitors, to wistful glances over the zoo's not-so-far-away roofs from a tree branch perch, and finally back to said clutches, but looking more content. An understated suggestion that hideaways and hugs are equally important . . . not just for goats."—Booklist

"Goat's big eyes telegraph his emotions with gentle humor, and the muted colors and gauzy textures of Grant's illustrations underscore a sense of empathy that extends to readers (and parents) caught between growing independence and the recognition that "everyone needs a hug now and then."—Publishers Weekly

"But Goat is the star of this visual show. Like Mo Willems's Pigeon, his whole internal process shows in his eyes. Everyone can relate to the need to grow, and the appreciation for familiarity. VERDICT A lovely storytime selection for larger collections."—School Library Journal

"Clever use of illustrations within white borders contrasting with full spreads amplifies Goat's sense of confinement, and the chunky art creates a warm setting and an irresistibly huggable goat, making his dilemma all the more real."—Horn Book