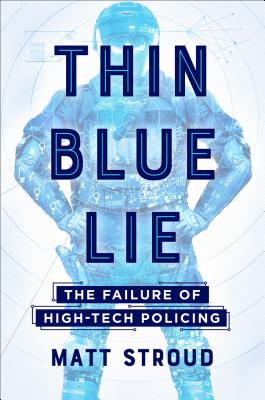 Thin Blue Lie
The Failure of High-Tech Policing
Hardcover

* Individual store prices may vary.
Other Editions of This Title:
Digital Audiobook (3/18/2019)
Paperback (7/14/2020)
MP3 CD (3/19/2019)
Compact Disc (3/19/2019)
Description
A wide-ranging investigation of how supposedly transformative technologies adopted by law enforcement have actually made policing worse—lazier, more reckless, and more discriminatory
American law enforcement is a system in crisis. After explosive protests responding to police brutality and discrimination in Baltimore, Ferguson, and a long list of other cities, the vexing question of how to reform the police and curb misconduct stokes tempers and fears on both the right and left. In the midst of this fierce debate, however, most of us have taken for granted that innovative new technologies can only help.
During the early 90s, in the wake of the infamous Rodney King beating, police leaders began looking to corporations and new technologies for help. In the decades since, these technologies have—in theory—given police powerful, previously unthinkable faculties: the ability to incapacitate a suspect without firing a bullet (Tasers); the capacity to more efficiently assign officers to high-crime areas using computers (Compstat); and, with body cameras, a means of defending against accusations of misconduct.
But in this vivid, deeply-reported book, Matt Stroud shows that these tools are overhyped and, in many cases, ineffective. Instead of wrestling with tough fundamental questions about their work, police leaders have looked to technology as a silver bullet and stood by as corporate interests have insinuated themselves ever deeper into the public institution of law enforcement. With a sweeping history of these changes, Thin Blue Lie is a must-read for anyone seeking to understand how policing became what it is today.
Praise For Thin Blue Lie: The Failure of High-Tech Policing…
Praise for Thin Blue Lie:
"Matt Stroud has written a brilliant, urgently-needed book exposing the myth that technology can solve law enforcement's many problems. Thin Blue Lie is a masterful indictment of how salesmanship and spin have seduced Americans into thinking that 'the next new thing' will solve deeply entrenched racial and societal injustices. It is also a definitive history of how modern policing has been manipulated by egos, inventors, and innovators who have all profited from unproven ideas and sold a series of false promises to a public that wanted to believe."
—Andrew Guthrie Ferguson, author of The Rise of Big Data Policing
"Matt Stroud has given us the definitive case against 'high-tech policing.' While he doesn't discount the potential good that can come from sophisticated technologies, he also recognizes that these technologies may not represent 'progress' at all. Instead, they often constitute a demonstrable threat to Americans' civil liberties, not to mention their personal safety. Technological development doesn't make U-turns, but by heeding the wisdom contained in Stroud's analysis, activists, lawmakers, and police officials can make sure the road forward is lit by the bright lights of transparency and protected by strong legislative and policy guardrails."
—Norm Stamper, former Seattle police chief and author of To Protect and Serve
"In an era of doubt surrounding police practices, Matt Stroud's Thin Blue Lie raises provocative questions about how cops use technology. Stroud has reported deeply and written thoughtfully about a topic that should be of vital interest to anyone concerned about crime fighting and public policy."
—Paul M. Barrett, author of Glock and Law of the Jungle
"An eminently readable, ultimately damning account of the policing industrial complex: the way in which the US has allowed technology and capitalism to replace human smarts and human kindness—at the expense, especially, of communities of color."
—Baz Dreisinger, author of Incarceration Nations
"Clearly and compellingly, Stroud show that technological devices may make policing more convenient but do not lead to better outcomes. . . . Wisely, he never loses sight of an overriding reality: that technology is never a substitute for compassionate policing based on trust between cops and the citizens they are paid to serve. . . . A useful book."
—Kirkus Reviews
Metropolitan Books, 9781250108296, 272pp.
Publication Date: March 19, 2019
About the Author
Matt Stroud is an investigative reporter with a focus on companies that do business with police departments and prisons. Formerly on staff at the Associated Press, Bloomberg News, and the Verge, he has also written for publications such as the Atlantic, Politico, Buzzfeed, and the Intercept. He lives in Pittsburgh.
or
Not Currently Available for Direct Purchase