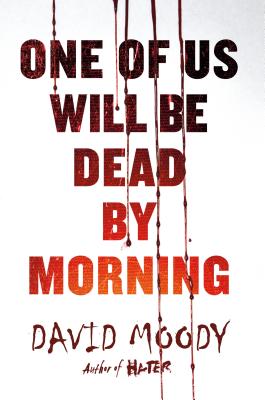 One of Us Will Be Dead by Morning (The Final War #1)
Hardcover

* Individual store prices may vary.
Other Editions of This Title:
Digital Audiobook (12/4/2017)
Description
In One of Us Will Be Dead by Morning, David Moody returns to the world of his Hater trilogy with a new fast-paced, and wonderfully dark story about humanity's fight for survival in the face of the impending apocalypse.

The fewer left alive, the higher the stakes.
Kill the others, before one of them kills you.

Fourteen people are trapped on Skek, a barren island in the middle of the North Sea somewhere between the coasts of the UK and Denmark. Over the years this place has served many purposes—a fishing settlement, a military outpost, a scientific base—but one by one its inhabitants have abandoned its inhospitable shores. Today it's home to Hazleton Adventure Experiences, an extreme sports company specializing in corporate team building events.

Life there is fragile and tough. One slip is all it takes. A momentary lapse leads to a tragic accident, but when the body count quickly starts to rise, questions are inevitably asked. Are the deaths coincidental, or something else entirely? Those people you thought you knew, can you really trust them? Is the person standing next to you a killer? Will you be their next victim?

A horrific discovery changes everything, and a trickle of rumors becomes a tsunami of fear. Is this the beginning of the end of everything, or a situation constructed by the mass hysteria of a handful of desperate and terrified people?
Praise For One of Us Will Be Dead by Morning (The Final War #1)…
Praise for One of Us Will Be Dead by Morning:

"A bloody fun ride... Another wetwork nightmare that should delight fans of Haters and intrigue writers who wallow in the genre." —Kirkus Reviews

"Moody really knows how to write creeping, claustrophobic terror, effectively sneaking up on his readers and, finally, scaring the life out of them. Top-drawer horror." —Booklist, starred review

"This gloomy psychological horror thriller contains a surprising twist of dystopia, a promising note for the series that it launches." —Library Journal

"Think of a mashup of George Romero and Agatha Christie, and you might have an idea of what awaits you." —The Book Report Network

"Fear stems from isolation and rumor, only to be reinforced by quick and brutal violence. This is gut-wrenchingly realistic survival horror." —Horror Underground blog

"David Moody has a knack for making me feel like a fly on the wall, right there amongst the action but not noticed by the players." —2 Book Lovers Reviews blog, five stars

"The novel rips you out of your safe and sung world and thrusts you into an environment where anyone can turn on you in the blink of an eye. It's hard-hitting, head-poundingly tense, and drenched from head to toe in blood-splattered cruelty." —DLS Reviews blog

"Moody truly excels at wicked pacing and sharp dialogue, and One of Us Will Be Dead by Morning is no exception." —Ghastly Grinning blog

"One of Us Will Be Dead by Morning is an insightful, rewarding look at physical and social isolation, trust and reaction to adversity when the flight part of "fight or flight" is taken away. It's clever, convincing fiction, claustrophobic fiction." —SFBook Reviews

"A gripping, visceral read, glistening with gore and studded with extreme brutality and with a relentlessly downbeat tone which will please lovers of hard-edged apocalyptic fiction. We await the arrival of book two in the series with considerable interest." —Starburst

Praise for David Moody's previous books:

"[T]his intelligent, well-written chiller heralds a significant new talent." —Publishers Weekly (starred review) on Hater

"It's a risky undertaking, giving literary form to a type of story that is traditionally told in pictures, but Moody completely pulls it off." —Booklist (starred review) on Hater

"Moody has provided us with a brilliant piece of storytelling... read this book now." —SciFi Now on Hater

"Powerful and well-written." —S.M. Stirling,author of Dies the Fire and The Scourge of God on Hater

"A head-spinning thrill ride, a cautionary tale about the most salient emotion of the 21st century... Hater will haunt you long after you read the last page..."—Guillermo del Toro, director of Pan's Labyrinth, Hellboy, and Crimson Peak

"Lean, relentless, and terrifying." —Kirkus Reviews on Dog Blood

"If Hater gives you nightmares, Dog Blood will rewire your brain." —Bookreporter.com on Dog Blood

"Gory and relentlessly tense." —Publishers Weekly on Dog Blood

"Puts most post-apocalyptic novels to shame by facing a reality not commonly dealt with." —SFSignal on Them or Us
St. Martin's Press, 9781250108418, 336pp.
Publication Date: December 5, 2017
About the Author
From the UK, DAVID MOODY first self-published Hater on the internet in 2006, and without an agent, succeeded in selling the film rights for the novel to Mark Johnson (producer, The Chronicles of Narnia film series) and Guillermo Del Toro (director, Hellboy, Pan's Labyrinth). With the publication of a new series of Hater stories, Moody is poised to further his reputation as a writer of suspense-laced SF/horror, and "farther out" genre books of all description.
or
Not Currently Available for Direct Purchase