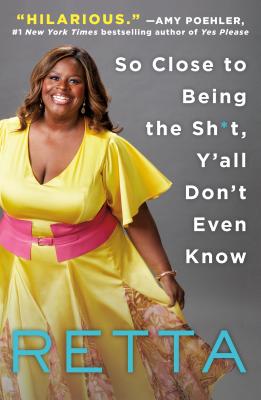 So Close to Being the Sh*t, Y'all Don't Even Know
Paperback

* Individual store prices may vary.
Other Editions of This Title:
Digital Audiobook (5/28/2018)
CD-Audio (5/29/2018)
Hardcover (5/29/2018)
Description
In her hilarious book of essays, Parks and Recreation star Retta shares the stories that led to her success in Hollywood.
In So Close to Being the Sh*t, Y'all Don't Even Know, Parks and Recreation star Retta takes us on her not-so-meteoric rise from roaches to riches (well, rich enough that she can buy $15,000 designer handbags yet scared enough to know she's always a heartbeat away from ramen with American cheese).
Throwing her hard-working Liberian parents for a loop, Retta abandons her plan to attend med school after graduating Duke University to move to Hollywood to star in her own sitcom—like her comedy heroes Lucille Ball and Roseanne.
Say what? Word. Turns out Retta might actually be on to something. After winning Comedy Central's stand-up competition, she should be ready for prime time—but a fear of success derails her biggest dream.
Whether reminiscing about her days as a contract chemist at GlaxoSmithKline, telling "dirty" jokes to Mormons, feeling like the odd man out on Parks, fending off racist trolls on Twitter, flirting with Michael Fassbender, or expertly stalking the cast of "Hamilton," Retta's unique voice and refreshing honesty will make you laugh, cry, and laugh so hard you'll cry.
Her eponymous sitcom might not have happened yet, but by the end of So Close to Being the Sh*t, you'll be rooting for Retta to be the next one-named wonder to take over your television. And she just might inspire you to reach for the stars, too.
Praise For So Close to Being the Sh*t, Y'all Don't Even Know…
"Hollywood has no more honest, hilarious or necessary guide than Retta. If her tweets just aren't enough, get ready for the fullness of her vision- you're gonna laugh. You're gonna think. You're gonna be hella glad you came." —Lena Dunham, author of Not That Kind of Girl
"Reading this book is like having the best coffee date with the life-long friend I wish I had. Retta makes me laugh and feel so hard." —America Ferrera
"Two things - 1) Don't yell "Treat Yo Self" at Retta if you see her in person, a lot of people have done that already, just whisper it to yourself and give her a thumbs up. That'd be cool. 2) Check out her book. Stop reading this quote and buy it already boo boo." —Aziz Ansari, author of Modern Romance
"This book feels like a real conversation. When we enter Retta's world we are at the best party and in the hands of a gracious, self-perceptive and deeply hilarious host." —Amy Poehler, author of Yes, Please

"A humorous memoir that will please the author's many fans and followers." —Kirkus Reviews

"Whether recalling her early years doing stand-up on the college circuit, expounding on the ways TV shows reflect us, or fangirling hard for the musical Hamilton, comedian and actor Retta spins entertaining tales and hilarious phrases.... As books like this one go, hers is as honest, funny, and fun to read as they come." —Booklist

"Retta's unique voice and refreshing honesty will make you laugh, cry, and laugh so hard you cry." —Bustle
"A breezy and comedic tale... Fans of stand-up comedy, celebrity books, and especially fans of Retta's work will likely enjoy this fun, lighthearted read." —Library Journal

"Retta was already one of our favorite people in Hollywood — yet the hilarious, inspirational essays of So Close to Being the Sh*t, Y'all Don't Even Know made us love her even more." —Popsugar
"Get ready to laugh out loud in public." —Cosmopolitan
"The hilarious star of Parks and Recreation and Good Girls, Retta knows how to get a laugh. Her debut essay collection tackles everything from abandoning her med school plans to stalking the cast of Hamilton." —Purewow
"This memoir is fantastic. It's funny, it's heartfelt, it's insightful, and it's charming. I liked Retta before; now I'm her biggest fan." —Bookriot
St. Martin's Griffin, 9781250109712, 272pp.
Publication Date: February 5, 2019
About the Author
Actress and comedian RETTA has delighted audiences with her performance aptitude and comedy precision and has established herself as a consistent first pick for Hollywood. Retta currently stars as Barbara on the Bravo hit series Girlfriends' Guide to Divorce. Previously Retta spent seven seasons playing the uber beloved office mate Donna Meagle on NBC's critically acclaimed comedy Parks and Recreation.