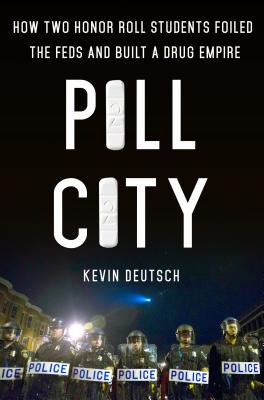 Pill City (Hardcover)
How Two Honor Roll Students Foiled the Feds and Built a Drug Empire
St. Martin's Press, 9781250110039, 288pp.
Publication Date: January 31, 2017
* Individual store prices may vary.
Description
In 2015, Baltimore plunged into the worst American riots in recent history. In the chaos, two high school honor-roll students, "Brick" and "Wax, used their smarts, computer skills, ambition and gang connections to change the world of illegal drugs forever. With their gang associates, they looted pharmacies and robbed dealers, stealing over one million doses of prescription narcotics and heroin with a street value of more than $100 million.
"Brick" and "Wax" were not going to sell drugs on corners; they used location-based technology and encrypted messaging software to dispatch ordered drugs via delivery drivers—an Uber-like service that eliminated street deals and easily tapped phones. They were soon supplying cities along the East Coast, creating a whole new class of opioid addicts with the FBI and DEA trailing in their wake. To ensure their supply of drugs did not run out, the teens formed an alliance with members of the Sinaloa cartel, headed by El Chapo.
Veteran Newsday crime reporter Kevin Deutsch has been reporting on the ground in drug-ravaged neighborhoods for over a year. He's seen the bodies. Across America, thousands are dying from opioid overdoses. This middle-class crisis has been well documented, but the inner cities, where families are being swallowed up by addiction, have been ignored. Deutsch brings us into this underworld, where social unrest and cutting-edge technology allow criminals to seed the next wave of dysfunction and despair.
About the Author
KEVIN DEUTSCH is an award-winning criminal justice writer for Newsday and previously worked on the staff of the New York Daily News, The Miami Herald, and The Palm Beach Post. He is the author of The Triangle: A Year on the Ground with New York's Bloods and Crips. He is an adjunct professor of journalism at Queens College and Hofstra University. He lives in New York City.
Praise For Pill City: How Two Honor Roll Students Foiled the Feds and Built a Drug Empire…
"PILL CITY deftly touches a range of national issues as it sings the ballad of Brick and Wax, including urban crime, addiction, race, mental health, sexual abuse, encryption, entrepreneurship and the tech industry . . . Leaving aside the national and political issues, the gritty human drama in PILL CITY has enough layers and drama to make a great movie or series, complete with two nerds from the projects pulling down $5 million and a climax both violent and redemptive. Mr. Scorsese? Mr. Simon? Mr. Fuqua?"—Newsweek
"In a remarkable feat of discovery, Deutsch exposes the perpetrators and victims in America's opiate wars and those who are risking their lives to undermine their criminal enterprise. He takes a deep dive into a surprise addendum to the riots in Baltimore that followed the death of Freddie Gray, who died from injuries sustained while in police custody in April 2015. Deutsch lets the authentic and powerful voices of those involved reveal the ruthless tactics employed to dominate the illegal drug markets and the equally dramatic efforts by law enforcement to curtail and repair their damage."—Booklist (starred review)
"Streetwise, brutal, deeply researched and filled with candid interviews from both sides of the law, Pill City is true-crime reporting with an edge."—Shelfawareness
"America's urban crisis has never been more alive, more shocking, than in PILL CITY. Reminiscent of HBO's "The Wire", Kevin Deutsch's stunning investigation show how a $100 million fortune in opiates--heroin and pills--was stolen during the 2015 Baltimore riots following the death of Freddie Gray and then spread and sold illegally across the nation, compounding one tragedy with another. With this harrowing account from the encrypted Dark Web and our bloody streets, Kevin Deutsch proves himself among today's most insightful and eloquent observers of criminal life in the United States."-- Thomas Maier, author/producer of Showtime's "Masters of Sex"
"An astonishing feat of reportage. PILL CITY is an almost unbelievable tale and journalist Kevin Deutsch tells it masterfully. His unflinching look at the choices two brilliant young men from Baltimore make in search of their American Dream goes behind the headlines and illuminates the heartbreaking complexity of today's opioid epidemic. A shocking, important book."--Julia Dahl, author of "Invisible City"
"PILL CITY is in the best tradition of true-crime writing. It belongs on your shelf next to the books of David Simon and Sebastian Junger."--Michael LaForgia, two-time Pulitzer Prize winner for local reporting for The Tampa Bay Times