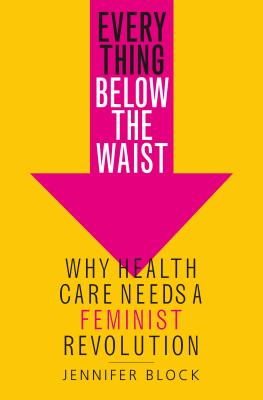 Everything Below the Waist
Why Health Care Needs a Feminist Revolution
Hardcover

* Individual store prices may vary.
Description
Elle's 30 BEST BOOKS OF THE SUMMER

"A jaw-dropping investigation into the women's health industry." —Shelf-Awareness

"A fascinating examination of the past and present of women's healthcare" —Delfina V Barbiero, USA TODAY

"A must-read for women, especially any woman who might ever need to see a doctor. " —The Washington Post

American women visit more doctors, have more surgery, and fill more prescriptions than men. In Everything Below the Waist, Jennifer Block asks: Why is the life expectancy of women today declining relative to women in other high-income countries, and even relative to the generation before them? Block examines several staples of modern women's health care, from fertility technology to contraception to pelvic surgery to miscarriage treatment, and finds that while overdiagnosis and overtreatment persist in medicine writ large, they are particularly acute for women. One third of mothers give birth by major surgery; roughly half of women lose their uterus to hysterectomy.

Feminism turned the world upside down, yet to a large extent the doctors' office has remained stuck in time. Block returns to the 1970s women's health movement to understand how in today's supposed age of empowerment, women's bodies are still so vulnerable to medical control—particularly their sex organs, and as result, their sex lives.

In this urgent book, Block tells the stories of patients, clinicians, and reformers, uncovering history and science that could revolutionize the standard of care, and change the way women think about their health. Everything Below the Waist challenges all people to take back control of their bodies.
Praise For Everything Below the Waist: Why Health Care Needs a Feminist Revolution…
"A devastating read: From mammograms to hysterectomies to miscarriages to ob-gyn's overreliance on caesarean sections, it's a book that weighs the real costs of people not receiving the care they deserve." —Bitch Media

"Thought-provoking, empowering information that all women should have." —Library Journal (Starred)

"A must-read book for any aspiring medical professional." —Bustle

"With extensive historical research and personal interviews, Block...demonstrates that women are more vulnerable to overtesting, overdiagnosing, overtreatment, and mistreatment than men...packed with important information, highly recommended for health professionals, classes in women's studies, and any woman who seeks guidance in these issues." —Kirkus Reviews (Starred)

"Block's journalistic standards are impeccable. From the first sentence, she draws you in, evoking every emotion, with the book often reading more like a novel than an exposé on the complicated world of women's medicine." —Toni Weschler, author of Taking Charge of Your Fertility and Cycle Savvy

"Nearly fifty years ago, the women's health movement transformed the doctor/patient relationship and empowered women to listen to and believe in their bodies. In Everything Below the Waist, Jennifer Block suggests that perhaps the movement was not quite as transformative as we'd like it to have been. This is a powerful and important book that forces us to face the limitations of medical technology to truly liberate women. It's also a great read; I couldn't put it down. It should be required reading of anyone interested in the future of women's health." —Wendy Kline, Professor, Dema G. Seelye Chair in the History of Medicine Department of History, Purdue University

"Amazing. This book is full of information new to me even as a long-time activist. Block shows how what we don't know is making us sick, even if we are healthy. A challenge to feminist orthodoxy and, in some cases, feminist naivete, at its center is a critique of the use of technological fixes to solve social injustices." —Loretta Ross, cofounder of SisterSong and coauthor of Reproductive Justice

"Here, at last, is the comprehensive feminist medical examination we've been waiting for. Jennifer Block methodically, skillfully, and compassionately dismantles standard practices that continue to do so much harm to women. Buy one copy for yourself and a second copy for a friend, sister, aunt, mother, cousin, daughter, neighbor. Block is a national treasure, and this is her most ambitious work yet." —Elisa Albert, author of After Birth

"Attention women: your 'wellness' visits may be unnecessary and may even lead to harm. That's the disturbing fact at the center of Jennifer Block's important expose of a health-care system that is most profoundly failing female patients. Every woman needs to read this book." —Pagan Kennedy, New York Times contributing writer and author of Inventology

"This book is brilliant, controversial, exhaustive, funny, and necessary... I cannot wait to buy it for friends wondering how to live feminist lives in the contemporary age." —Renée Ann Cramer, Professor of Law, Politics, and Society, Drake University and author of Pregnant with the Stars
St. Martin's Press, 9781250110053, 336pp.
Publication Date: July 16, 2019
About the Author
Jennifer Block is an independent journalist focused on women and health. Her work has appeared in The Washington Post Magazine, Pacific Standard, The Cut, Newsweek, The Los Angeles Times, and many other publications. Her first book, Pushed, led a wave of attention to the national crisis in maternity care and was named a "Best Book of 2007" by Kirkus Reviews. A reporter with Type Investigations, Block won several awards for her investigative reporting on the permanent contraceptive implant Essure, which has since been discontinued. For early chapters of Everything Below the Waist, she won a Whiting Creative Nonfiction Grant. She lives in Brooklyn, New York, with her son.