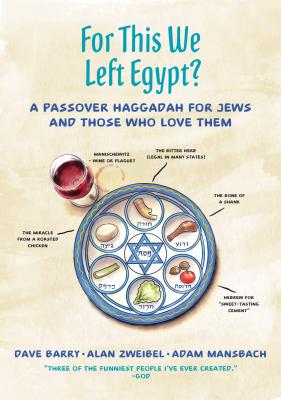 For This We Left Egypt?: A Passover Haggadah for Jews and Those Who Love Them (Hardcover)
A Passover Haggadah for Jews and Those Who Love Them
Flatiron Books, 9781250110213, 144pp.
Publication Date: March 7, 2017
Description
If you ve ever suffered through a Passover Seder, you re well aware of the fact that the entire evening can feel like we re still in bondage. There are endless stories, frequent hand washing, and not enough eating. The book you hold before you is no ordinary Haggadah. For This We Left Egypt? is a hilarious and entertaining parody from the comedic minds of Dave Barry, Alan Zweibel, and Adam Mansbach. These award-winning comedy writers take you through every step of the Seder, from getting rid of all the chametz in your house by setting it on fire with a standard blowtorch (preferably outdoors), to breaking the middle matzah that is, if you can find a piece that isn t already broken, to a hilariously absurd retelling of the Passover story featuring Pharaoh Schmuck, a burning bush that sounds kind of like Morgan Freeman, and the Promised Land which turned out not to be a land of milk and honey but rather one of rocks and venomous scorpions the size of Yorkshire terriers. Also included are useless commentary, absurd two-color illustrations, and thought-provoking discussion questions throughout such as: Is Manischewitz considered a plague? Publishing just in time for Passover, this book will be the perfect gift book from G-d that you ll want to share and laugh over with friends and family.
About the Author
Dave Barry is a Pulitzer Prize-winning humor writer whose columns and essays have appeared in hundreds of newspapers over the past thirty-five years. He has also written a number of New York Times bestselling humor books, including Live Right and Find Happiness (Although Beer Is Much Faster). He is not Jewish, but many of his friends are.An original Saturday Night Live writer, Alan Zweibel has won numerous Emmy and Writers Guild of America awards for his work in television, which also includes It's Garry Shandling's Show (which he co-created), Late Show with David Letterman, and Curb Your Enthusiasm. He collaborated with Billy Crystal on the Tony Award-winning play 700 Sundays, and he won the Thurber Prize for his novel The Other Shulman. Unlike Dave Barry, he has no Jewish friends.Adam Mansbach is the #1 New York Times bestselling author of Go the F*** to Sleep and You Have to F****** Eat, as well as the California Book Award-winning novel The End of the Jews, a dozen other books, and the movie Barry. His work, which has been translated into more than forty languages, has appeared in The New Yorker, The New York Times Book Review, Esquire, and The Believer and on National Public Radio's All Things Considered and This American Life. Dave Barry and Alan Zweibel are his only friends.
Advertisement