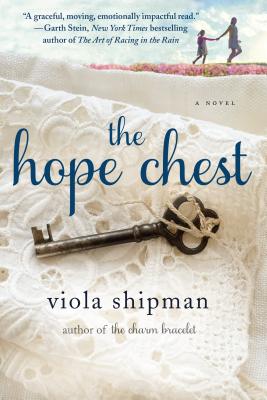 The Hope Chest (Paperback)
A Novel (The Heirloom Novels)
A Thomas Dunne Book for St. Martin's Griffin, 9781250111111, 336pp.
Publication Date: February 13, 2018
Other Editions of This Title:
Digital Audiobook (3/20/2017)
Hardcover (3/21/2017)
CD-Audio (3/21/2017)
Hardcover, Large Print (5/17/2017)
* Individual store prices may vary.
Description
"A graceful, moving, emotionally impactful read." —Garth Stein, New York Times bestselling author of The Art of Racing in The Rain
"Saugatuck, MI, springs to life in this nostalgic, gentle story of lifelong love along with the emotional support and care that families and friends can provide. " —Library Journal
The discovery of one woman's heirloom hope chest unveils precious memories and helps three people who have each lost a part of themselves find joy once again.
Ever since she was diagnosed with ALS, fiercely independent Mattie doesn't feel like herself. She can't navigate her beloved home, she can't go for a boat ride, and she can barely even feed herself. Her devoted husband, Don, doesn't want to imagine life without his wife of nearly fifty years, but Mattie isn't likely to make it past their anniversary.
But when Rose, Mattie's new caretaker, and her young daughter, Jeri, enter the couple's life, happiness and the possibility for new memories return. Together they form a family, and Mattie is finally able to pass on her memories from the hope chest she received from her mother.
With each item—including a favorite doll, family dishes, an embroidered apron, and an antique Christmas ornament—the hope chest connects Mattie, Don and Rose to each other and helps them find hope again in the face of overwhelming life challenges.
A beautiful story about the unconditional love and support of family, The Hope Chest by Viola Shipman will remind you that hope can be found where and when you least expect it.
About the Author
VIOLA SHIPMAN is a pen name for Wade Rouse, a popular, award-winning memoirist. Rouse chose his grandmother's name, Viola Shipman, to honor the woman whose charm bracelet and family stories inspired him to write his debut novel, which is a tribute to all of our elders. Rouse lives in Michigan and writes regularly for People and Coastal Living, among other places, and is a contributor to All Things Considered. To date, The Charm Bracelet has been translated into nine languages. He is at work on his next "heirloom novel."
Praise For The Hope Chest: A Novel (The Heirloom Novels)…
Praise for The Hope Chest:
"Viola Shipman has written a graceful, touching novel that explores the temporal nature of life, and teaches us that even as we look back to sort through our personal histories, so we must look forward to find solace, power--and, yes, hope--in the future. A moving, emotionally impactful read." —Garth Stein, New York Times bestselling author of A Sudden Light and The Art of Racing in The Rain
"[The Hope Chest] demonstrates the enduring power of love and kindness...a good choice for fans of gentle, heartwarming fiction." —Booklist

"Saugatuck, MI, springs to life in this nostalgic, gentle story of lifelong love along with the emotional support and care that families and friends can provide." —Library Journal

"A love story filled with hope...beautifully written." —RT Book Reviews
Praise for The Charm Bracelet:
"Rich in character and story, The Charm Bracelet is utterly charming!" —Debbie Macomber, NYT bestselling author
"A rare jewel that will be passed down one generation to the next, and from one book club member to the next until everyone has read this heartfelt story." —Adriana Trigiani, NYT bestselling author
"Readers will be charmed by the characters, most of all by kooky but wise Lolly, who teaches her stressed-out daughter and granddaughter lessons in life and love." —Good Housekeeping