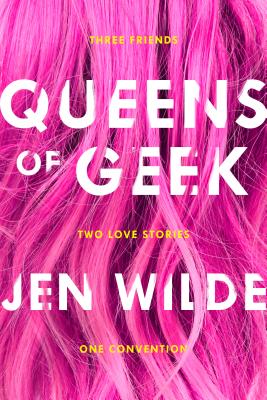 Queens of Geek (Paperback)
Swoon Reads, 9781250111395, 288pp.
Publication Date: March 14, 2017
* Individual store prices may vary.
Description
Three friends, two love stories, one convention: this fun, feminist love letter to geek culture is all about fandom, friendship, and finding the courage to be yourself.
"Full of irreverent humor and in-jokes, it's geeky and funny, with a heavy dose of self-discovery. . . . . Seeing girls and women uplifting, protecting, and loving each other is extremely powerful especially in the context of fandom." —Teen Vogue
"This is the geeky, queer book of our dreams." —Seventeen

Charlie likes to stand out. She's a vlogger and actress promoting her first movie at SupaCon, and this is her chance to show fans she's over her public breakup with co-star Reese Ryan. When internet-famous cool-girl actress Alyssa Huntington arrives as a surprise guest, it seems Charlie's long-time crush on her isn't as one-sided as she thought.
Taylor likes to blend in. Her brain is wired differently, making her fear change. And there's one thing in her life she knows will never change: her friendship with her best guy friend Jamie—no matter how much she may secretly want it to. But when she hears about a fan contest for her favorite fandom, she starts to rethink her rules on playing it safe.
Queens of Geek by Jen Wilde, chosen by readers like you for Macmillan's young adult imprint Swoon Reads, is an empowering novel for anyone who has ever felt that fandom is family.
Praise for Queens of Geek:
"This fun book about fierce friendships gives voice to a group of diverse female characters who are so defined by so much more than just their mental health and sexuality." —Bustle
"This celebration of geek culture and fandom promotes diversity and being true to oneself." —School Library Journal

"[A] fun read about fandom, friendship and the courage to be yourself." —Autostraddle
About the Author
Jen Wilde is a writer, geek and fangirl with a penchant for coffee, books and pugs. She writes YA stories about zombies (AS THEY RISE), witches (ECHO OF THE WITCH), fangirls (QUEENS OF GEEK), and rockstars (THE BRIGHTSIDERS). Her debut series reached over three million reads online and became an Amazon bestseller.
Born and raised in Australia, she splits her time between Melbourne and New York. When she's not writing, Jen loves binge-watching her favorite shows on Netflix, eating pizza, traveling to far away places and going to conventions in Marty McFly cosplay.
Praise For Queens of Geek…
Praise for Queens of Geek:
"Seeing girls and women uplifting, protecting, and loving each other is extremely powerful especially in the context of fandom. The book deals head on with issues of mental health, body shaming, sexuality, and internet celebrity, handling them with a delicate and skillful touch." —Teen Vogue
"This is the geeky, queer book of our dreams. . . . This fluffy, nerdy book is perfect for cosplayers and convention-lovers." —Seventeen

"This is one empowering and uplifting girl-power story you don't want to miss." —PureWow
"Jen Wilde's book about two best friends—one a bisexual young woman of color, the other a young [autistic] woman . . . dealing with anxiety—will be a favorite of anyone who is a fan of geek culture. . . . This fun book about fierce friendships gives voice to a group of diverse female characters who are so defined by so much more than just their mental health and sexuality." —Bustle
"If you love bisexual characters who actually use the word bisexual, queer characters of color dating each other, geekiness, fan conventions, and realistic but adorable love stories, this book is for you." —Bookriot
"Jen Wilde's book is a hilarious and insightful look into the world of fan culture; the novel is infused with various spot-on pop culture references and fan-related terminology. . . . Queens of Geek by Jen Wilde is a wonderful well-crafted tale of geek-laden adventures and new love. If you're looking for queer intersectional representation, strong characterization, and absorbing prose, then this is the young-adult book for you." —Lambda Literary
"[A] fun read about fandom, friendship and the courage to be yourself." —Autostraddle
"Queens of Geek is an emotional, lively story full of characters that leap off the page and slip their hands into yours, inviting you into a world where the geeks and nerds are royalty and fandom is court. Richly realized and defiantly affirming, Queens of Geek reminds us that adventures and romances aren't limited to archetypes but are, in fact, for all of us." —Katherine Locke, author of Second Position, moderator of #GayYABookClub
"The characters' diversity provides natural opportunities to explore a number of contemporary teen issues, including race, sexual orientation, feminism, and body image. Some of the most compelling chapters are told from the point of view of Taylor, who fears change, hates crowds, and is on the autism spectrum. . . . Part of Macmillan's crowdsourced imprint, this celebration of geek culture and fandom promotes diversity and being true to oneself." —School Library Journal

"Queens of Geek is full of book and movie references and is a fun look at the fandom convention phenomena. Taylor's anxiety and experience with Asperger's are treated with sensitivity. . . . Queens of Geek is a fun, quick read that will appeal to romance readers and self-proclaimed geeks." —VOYA
Praise for Queens of Geek from the Swoon Reads community:
"It was a delightful read. . . .This book, in my opinion, is just so empowering!" -brio, reader on SwoonReads.com
"This is the first book I've ever read that I've seen myself in. I felt like Taylor was me. . . . I wish I could have had this book 20 years ago. One of the best things I've read in years." -Mandy.Valentine, reader on SwoonReads.com
"I love the idea of the book taking place at a convention, it's a lot of fun!" -stacy, reader on SwoonReads.com
"I loved how real the characters felt, especially Taylor. I absolutely adored all of them, and I couldn't stop reading once I started." -Lucy.Mawson, reader on SwoonReads.com
"[Queens of Geek] was an incredibly compelling read, just because it contained a storyline I ABSORBED, and characters so diverse they were a pleasure to read! . . . Mix that with the romance, self-discovery of self-worth, and all the geeky references, this made for a perfect read! I honestly couldn't put it down, reading late into the night to see what happened next! " -Zoie K, reader on SwoonReads.com
"I love everyone in this book and it deserves a space on my Swoon shelf right next to where I'll place All The Feels." -Catherine Tinker, reader on SwoonReads.com
"I love how interesting the story was and how the author addressed the characters' diversity without glossing over it or making it all about that. . . . It reminded me a little of Fangirl." -Lizzie, reader on SwoonReads.com
"I really liked the characters, and especially that they weren't afraid to be themselves and express their geekiness." -Mike, reader on SwoonReads.com