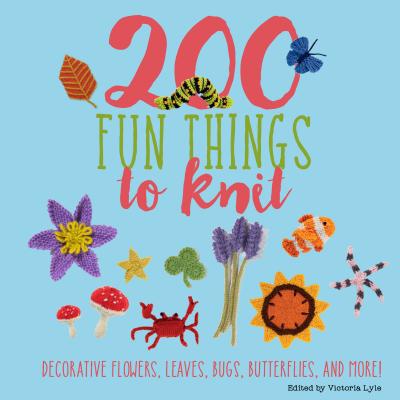 200 Fun Things to Knit (Hardcover)
Decorative Flowers, Leaves, Bugs, Butterflies, and More! (Knit & Crochet)
St. Martin's Griffin, 9781250111722, 256pp.
Publication Date: February 7, 2017
* Individual store prices may vary.
Description
If you ever find yourself wondering what to knit next, just open this book, and you're guaranteed to find the answer. 200 Fun Things to Knit is an irresistible collection of cute little knitting projects for all levels of ability. Containing a mix of beautiful projects inspired by nature—knitted flowers, birds, bugs, leaves, and even sea creatures—as well as a collection of charming floral squares, you'll want to pick up your hook, sort through your yarn stash, and get started right away.
The 200 projects are quick to make, use hardly any yarn, and are perfect as stylish embellishments, to give away as a gift or to keep for yourself!
About the Author
JESSICA POLKA is a designer of soft sculpture and embroidery based in San Francisco. Her online shop, Wunderkammer, opened in 2007, and her designs have been featured in galleries and stores throughout the world. She is the author of
75 Seashells, Fish, Coral & Colorful Marine Life to Knit & Crochet
.
KRISTIN NICHOLAS is a knitwear and stitchery designer who lives in western Massachusetts on a working sheep farm with her husband and daughter and 400 sheep, three border collies, two great pyrenees guard dogs, ten cats, thirty chickens, one guard donkey, and one guard llama. In the summer, her family grows a field of sunflowers that is the inspiration for 200 Fun Things to Crochet.
Kristin learned to knit and sew when she was nine years old. Following her passion for creating, she received a BS from University of Delaware and MS from Colorado State University in Textiles and Clothing. She has worked in the American needlework industry for over 25 years as a creative director and a stitchery and knitwear designer. She is the author of 8 books including Color By Kristin, Kristin Knits, Colorful Stitchery, Kids Embroidery, Knitting for Baby, and more. Her specialty is working with color and she is known as a color expert within the needlework industry. She has her own line of yarn named "Julia", after her daughter, which is distributed throughout North America by Nashua Handknits (a Division of Westminster Fibers). She has been also been featured as a knitting expert on PBS's Knit and Crochet Now for the three seasons.
Kristin's home and work have been featured in Country Home, Country Living, Vogue Knitting, Interweave Knits, Knitters Magazine, and many other national publications.
Lesley Stanfield
is the author of several books on knitting and crochet, including our bestselling 
100 Flowers to Knit & Crochet, 75 Birds, Butterflies & Little Beasts to Knit & Crochet,
and
150 Knitted Trims
. She is a long-time hand knitting designer and has been the knitting editor of several women's magazines including 
Woman
and
Family Circle
. She is based in England.