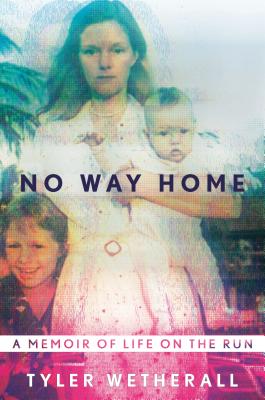 No Way Home (Hardcover)
A Memoir of Life on the Run
St. Martin's Press, 9781250112194, 320pp.
Publication Date: April 3, 2018
* Individual store prices may vary.
Description
One of PureWow's "20 Books We Can't Wait to Read in 2018" and "Books to Read in April" • One of InStyle UK's "Best New Books to Read in 2018" • One of LitHub's 20 Books You Should Read This April • One of Bustle's "5 Gripping Memoirs Under 300 Pages To Read In One Weekend"

A memoir of growing up on the run—and what happens when it comes to a stop.
"Lucid, tender, exquisitely re-imagined, and compulsively readable." —Jessica Nelson, author of If Only You People Could Follow Directions
"In this wondrous and richly detailed coming of age story, Tyler Wetherall follows the breadcrumbs of her childhood to discover a family home that is unlike any other." —Katy Lederer, author of Poker Face

Tyler had lived in thirteen houses and five countries by the time she was nine. A willful and curious child, she never questioned her strange upbringing, that is, until Scotland Yard showed up outside her ramshackle English home, and she discovered her family had been living a lie: Her father was a fugitive and her name was not her own.
In sunny California, ten years earlier, her father's criminal organization first came to the FBI's attention. Soon after her parents were forced on the run taking their three young children with them, and they spent the following years fleeing through Europe, assuming different identities and hiding out in a series of far-flung places. Now her father was attempting one final escape—except this time, he couldn't take her with him.
In this emotionally compelling and gripping memoir, Tyler Wetherall brings to life her fugitive childhood, following the threads that tie a family together through hardship, from her parents' first meeting in 1960s New York to her present life as a restless writer unpacking the secrets of her past. No Way Home is about love, loss, and learning to tell the story of our lives.
About the Author
Tyler Wetherall is a writer and journalist living in New York. She has written for The Guardian, The Times, and The Irish Independent. Her short fiction has been published in The Gettysburg Review, and others.
Tyler is the author of No Way Home: A Memoir of Life on the Run.
Praise For No Way Home: A Memoir of Life on the Run…
"Witty and eloquent...Wetherall has written a luminous memoir that no one who reads it will soon forget." —The Washington Post
"Brave and vulnerable...recounts a beautifully detailed story about family, felony and the redemption that writing itself can offer to those we love." —The New Statesman
"Wonderfully suspenseful and an unexpected page-turner, this story of an immensely likable family under an incredible strain will stay with readers." —Booklist
"Unique and intriguing [...] a model for how to tell a weird, complicated story in a way that will make the reader hang on tight for the whole ride." —Arts Fuse
"What do you do when you realize you've been living a lie? By age nine, Tyler Wetherall had lived in 15 houses in five different countries. That's when she learned that her father was a fugitive and her family was on the run, taking on different identities and fleeing through Europe. No Way Home: A Memoir of Life on the Run is Wetherall's story of growing up a fugitive's daughter. In the process, she learns about his past and confronts her own." —HelloGiggles
"Compelling...[Wetherall's] prose is graceful and inventive." —Brooklyn Based
"'[A] searing and heart-wrenching coming-of-age memoir...Wetherall is a beautiful writer, but what makes this memoir so unique is her ability to seamlessly blend a propulsive tale of buried secrets and familial betrayal with a tender father-daughter story about the difficult road to, and power of, forgiveness." —LitHub
"A memoir in the vein of The Glass Castle, No Way Home is about the author's unconventional childhood and growing up—unknowingly—on the run from the FBI." —PureWow
"In this searing memoir about love, loss, lies, and growing up on the run, Tyler Wetherall recounts her childhood experience being the daughter of a fugitive who spent years hiding himself and his family from the authorities. Fascinating and altogether moving, No Way Home is an unforgettable page-turner that proves the truth really is stranger than fiction." —Bustle
"Revealing and emotionally nuanced, Wetherall's book probes the dark underside of family relationships to uncover the meaning of acceptance and forgiveness. A compassionate memoir of self-discovery." —Kirkus Reviews
"In this wondrous and richly detailed coming-of-age story, Tyler Wetherall follows the breadcrumbs of her childhood to discover a family home that is unlike any other. Conveying her weighty and extraordinary story in beautiful, stirringly musical prose, Wetherall reminds us that there is always more than one way to go home." —Katy Lederer, author of Poker Face
"Lucid, tender, exquisitely re-imagined, and compulsively readable. Wetherall recalls her fugitive childhood with eyes wide open, following her finely tuned instincts back to the dark center of love. Wetherall reminds us that home is the story we choose again and again." —Jessica Nelson, author of If Only You People Could Follow Directions
"Heart-wrenching and stunning. With wisdom and vulnerability, Tyler Wetherall writes in beautiful prose about her childhood as a fugitive on the run from the FBI, only to come to the devastating realization that her father was not the man she thought he was. A father-daughter story about the power of family, love, and forgiveness." —Christina McDowell, author of After Perfect

"No Way Home is that rare thing: a delicious page-turner that's also a wise and moving memoir. Hilarious, redemptive and deeply loving, Tyler Wetherall's bizarre childhood would make a gripping story all by itself, but she is a gifted enough writer to have turned that drama into art. I stayed up all night to finish it." —Laurie Penny, author of Bitch Doctrine: Essays for Dissenting Adults