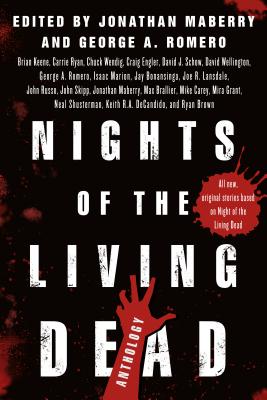 Nights of the Living Dead
An Anthology
Paperback

* Individual store prices may vary.
Other Editions of This Title:
Digital Audiobook (7/10/2017)
Compact Disc (7/11/2017)
MP3 CD (7/11/2017)
Compact Disc (7/11/2017)
Description
In 1968, the world experienced a brand-new kind of terror with the debut of George A. Romero's landmark movie Night of the Living Dead. The newly dead rose to attack the living. Not as vampires or werewolves. This was something new . . . and terrifying. Since then, zombies have invaded every aspect of popular culture.

But it all started on that dreadful night in a remote farmhouse. . . .

Nights of the Living Dead returns to that night, to the outbreak, to where it all began. New York Times bestselling author Jonathan Maberry teams with the godfather of the living dead himself, George A. Romero, to present a collection of all-new tales set during the forty-eight hours of that legendary outbreak.

Nights of the Living Dead includes stories by some of today's most important writers: Brian Keene, Carrie Ryan, Chuck Wendig, Craig E. Engler, David J. Schow, David Wellington, Isaac Marion, Jay Bonansinga, Joe R. Lansdale, John A. Russo, John Skipp, Keith R.A. DeCandido, Max Brallier, Mike Carey, Mira Grant, Neal and Brenda Shusterman, and Ryan Brown. Plus original stories by Romero and Maberry!
For anyone who loves scary stories, take a bite out of this!
Praise For Nights of the Living Dead: An Anthology…
"George Romero is one of my all time heroes–of the films I saw as a young man, the two that had a huge impact on my creative life are Night of the Living Dead and Planet of the Apes. Zombies and Mutations in general lead me down a path directly to where I am today–the Night, Dawn, and Day films I still watch regularly to this day–with the same thrill as the first time I saw them. He has influenced countless 'Creators' in an amazing cross section of genres–he's on my bucket list to meet, shake his hand, and thank him personally for all he's done for me, and my career." –Kevin Eastman, ­artist and co-creator of the Teenage Mutant Ninja Turtles

"Some projects made on a shoestring budget become classics, and Night of the Living Dead is one of those." –Charlaine Harris, #1 New York Times bestselling author of the Sookie Stackhouse novels which became HBO's hit True Blood.

"With Night of the Living Dead, George A. Romero created a mythology that is both a lens through which to view the fissures at civilization's core, and a mirror whose reflection offers an unflinching view into man's very soul. Ignore the skeptics; the 'Zombie Apocalypse' paradigm will never be irrelevant." –Axel Alonso, Editor-in-Chief of Marvel Comics.

"Night of the Living Dead is to zombies what Gone With the Wind is to romance. George Romero found a way to re-invent terror with this groundbreaking film that birthed an entire genre." –Doug Jones (star of Pan's Labyrinth, Hellboy 1&2, and Hocus Pocus)

"The zombie phenomena originally scratched its way out of the grave in George Romero's Night of the Living Dead and now Romero is surrounded by his [progeny] Jonathan Maberry and many other talented-but-horrific folk to give the living dead another night in which to scare the bejeezus out of all of us." –Chris Ryall, creative director for IDW Comics, author of Zombies vs Robots

"Zombies? They're George's toys and we're all just playing with them. Some kids play with them right, some don't. I hope when I've played with them it's the former. Without NOTLD none of us would be enamored of rotting, flesh-eating, zombies. We may bend the rules to suit our needs, but he wrote the rules and we all owe him a barge-load of gratitude." –Robert Fingerman, cartoonist and author of Recess Pieces, and Pariah

"George Romero is the Father of the Living Dead. There would be no Walking Dead, Resident Evil, World War Z, Zombieland, etc., without the template he created with the landmark Night of the Living Dead in 1968. Romero set the standard that continues to be copied to this day. You can't discuss the modern zombie without acknowledging George Romero and his immeasurable contributions to the genre." –Tony Timpone, Editor Emeritus, Fangoria

"Night Of The Living Dead didn't just invent the zombie genre as we know it; it also established that genre's most significant theme: that we, humanity, are more dangerous than the undead." –Christos Gage, New York Times bestselling writer of comics (Buffy, Spider-Man), television (Daredevil, Law & Order: SVU), film and video games.

"Romero's' imagination took the name zombie from fairly obscure Haitian folklore practice, and supercharged it with a new mythology that ultimately changed not only the horror genre, it changed global pop culture. Decades after Night of the Living Dead was released theatrically, the zombie zeitgeist Romero created has spread like a virus, infecting books, movies, TV, comics, animation, modern art, gaming, and even academic paperwork. The actual worldwide zombie takeover, sparked in 1968, has been unfolding into a very successful, multi-layered, and gruesomely wonderful one." – Joyce Chin
St. Martin's Griffin, 9781250112248, 400pp.
Publication Date: July 11, 2017
About the Author
JONATHAN MABERRY (he/him) is a New York Times bestselling, Inkpot winner, five-time Bram Stoker Award-winning author of
Relentless, Ink, Patient Zero, Rot & Ruin, Dead of Night, the Pine Deep Trilogy, The Wolfman, Zombie CSU
, and
They Bite
, among others. His V-Wars series has been adapted by Netflix, and his work for Marvel Comics includes The Punisher, Wolverine, DoomWar, Marvel Zombie Return and Black Panther. He is the editor of Weird Tales Magazine and also edits anthologies such as
Aliens vs Predator, Nights of the Living Dead
(with George A. Romero),
Don't Turn out the Lights,
and others. Find him at www.jonathanmaberry.com and on all social media platforms.
George A. Romero's (1940-2017)
classic zombie movie cycle begins with the groundbreaking
Night of the Living Dead
and
Dawn of the Dead
, which are followed by four sequels. Romero directed two Stephen King projects,
Creepshow
and
The Dark Half
,
and
created the TV series
Tales From the Darkside
. Originally from New York City, Romero attended Carnegie Mellon in Pittsburgh. He and his wife, Suzanne, lived in Toronto for over 10 years. George A. Romero died in 2017.
BRIAN KEENE is the author of over forty books. His novel, THE RISING, is often credited (along with Robert Kirkman's The Walking Dead comic and Danny Boyle's 28 Days Later film) with inspiring pop culture's current interest in zombies. Keene has also written for media properties such as DOCTOR WHO, THE X-FILES, HELLBOY, and MASTERS OF THE UNIVERSE. Several of Keene's works have been developed for film. He has won numerous awards and honors, including the World Horror Grand Master award, two Bram Stoker awards, and a recognition from Whiteman A.F.B. (home of the B-2 Stealth Bomber) for his outreach to U.S. troops serving both overseas and abroad. He lives in rural Pennsylvania.
David J. Schow was born in Marburg, Germany and was adopted by American parents then living in Middlesex, England.

Schow's published canon includes eight novels, seven collections of his short stories, and a number of pseudonymously published series and tie-in paperbacks done earlier in his career.

Schow lives in the Hollywood Hills (right under the sign) in a 1926 house christened Ravenseye.
David Wellington is the author of many novels. His zombie novels "Monster Island", "Monster Nation" and "Monster Planet"(Thunder's Mouth Press) form a complete trilogy. He has also written a series of vampire novels including "Thirteen Bullets", "Ninety-Nine Coffins", "Vampire Zero" and "Twenty-Three Hours", and a Werewolf series, starting with "Frostbite" (all with Three Rivers Press). In 2004 he began serializing his horror fiction online, posting short chapters of a novel three times a week on a friend's blog. Response to the project was so great that Thunder's Mouth Press approached Mr. Wellington about publishing "Monster Island" as a print book. His novels have been featured in Rue Morgue, Fangoria, and the New York Times.
JAY BONANSINGA is a critically acclaimed horror novelist whose works include
Perfect Victim, Shattered, Twisted,
and
Frozen
. His debut novel,
The Black Mariah
, was a finalist for a Bram Stoker award.
Joe R. Lansdale
is the author of over thirty novels and numerous short stories, including the Hap and Leonard mystery series (
Savage Season, Mucho Mojo
) and
The Bottoms
. His work has appeared in national anthologies, magazines, and collections, as well as numerous foreign publications. He has written for comics, television, film, newspapers, and Internet sites. His work has been collected in many short-story collections, and he has edited or co-edited over a dozen anthologies.
Mira Grant
is the author of the
New York Times
best-selling Newsflesh trilogy, along with multiple other works of biomedical science fiction. She has been nominated for the Hugo Award, and her book,
Feed
, was chosen as one of NPR's 100 Killer Thrillers.
Keith R.A. DeCandido
was born and raised in New York City to a family of librarians, which pretty much explains everything. He has written around 50 novels, including
Gene Roddenberry's Andromeda: Destruction of Illusions,
 as well as short stories, nonfiction, eBooks, comic books, and blog entries, many of them in various media universes, among them Star Trek, Sleepy Hollow, Supernatural, World of Warcraft, StarCraft, Leverage, Marvel Comics, Cars, Farscape, Buffy the Vampire Slayer, Stargate, Serenity, Resident Evil, Kung Fu Panda, Doctor Who, and more.
As an actor,
RYAN BROWN
has held contract roles on
The Young and the Restless
and
Guiding Light
. He has also appeared on
Law & Order: SVU,
and starred in two feature films for Lifetime Television. His first novel,
Play Dead,
a comic supernatural thriller, was published in May 2010, and his short story "Jeepers Peepers" appeared in ITW's 2010 Young Adult Anthology
Fear: 13 Stories of Suspense and Horror
.
Chuck Wendig is the New York Times bestselling author of Star Wars: Aftermath, as well as the Miriam Black thrillers, the Atlanta Burns books, and Zer0es and Invasive, alongside other works across comics, games, film, and more. He was a finalist for the John W. Campbell Award for Best New Writer and an alum of the Sundance Screenwriters Lab, and he served as the co-writer of the Emmy-nominated digital narrative Collapsus. He is also known for his popular blog, terribleminds, and books about writing such as Damn Fine Story. He lives in Pennsylvania with his family.