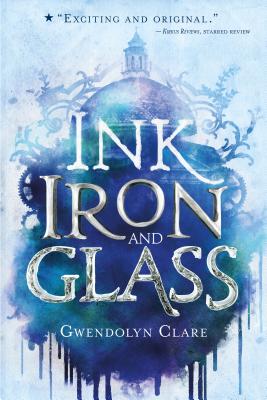 Ink, Iron, and Glass (Hardcover)
Imprint, 9781250112767, 336pp.
Publication Date: February 20, 2018
Other Editions of This Title:
Digital Audiobook (7/9/2018)
Paperback (2/19/2019)
CD-Audio (7/10/2018)
* Individual store prices may vary.
Description
In debut author Gwendolyn Clare's thrilling Ink, Iron, and Glass, worlds collide as Elsa unveils a deep political conspiracy seeking to unlock the most dangerous weapon ever created—and only she can stop it.
Can she write a world gone wrong?
A certain pen, a certain book, and a certain person can craft entirely new worlds through a branch of science called scriptology. Elsa comes from one such world that was written into creation, where her mother—a noted scriptologist—constantly alters and expands their reality.
But when her home is attacked and her mother kidnapped, Elsa is forced to cross into the real world and use her own scriptology gifts to find her. In an alternative Victorian Italy, Elsa finds a secret society of young scientists with a gift for mechanics, alchemy, or scriptology—and meets Leo, a gorgeous mechanist with a smart mouth and tragic past. She recruits the help of these fellow geniuses just as an assassin arrives on their doorstep.
An Imprint Book
"The novel samples historical figures the way a hip-hop album might sample a classic riff: it opens a window to European history, lets in fresh air, and sends facts flying... This novel is a source of serious fun." —School Library Journal (starred review)
"This debut novel is fully realized steampunk-fantasy, offering an alternate history that deftly and creatively adopts the politics of 19th-century Italy to create a compellingly unique world.... Exciting and original." —Kirkus (starred review)
"Clare's debut is built upon an intriguing premise... A solid series starter featuring a competent, flawed heroine that's built for sf fans." —Booklist
"There's much more to uncover in the political machinations of each world, and a gasp-worthy ending ensures a sequel." —BCCB
About the Author
Gwendolyn Clare teaches college biology in central Pennsylvania, where she lives with too many cats and never enough books. Her short stories can be found in Fantasy & Science Fiction, Asimov's, Analog, Clarkesworld, and Beneath Ceaseless Skies. Follow her on Twitter @gwendoclare and visit her website at gwendolynclare.com.
Praise For Ink, Iron, and Glass…
"The novel samples historical figures the way a hip-hop album might sample a classic riff: it opens a window to European history, lets in fresh air, and sends facts flying... This novel is a source of serious fun." —School and Library Journal (starred review)
"This debut novel is fully realized steampunk-fantasy, offering an alternate history that deftly and creatively adopts the politics of 19th-century Italy to create a compellingly unique world.... Exciting and original." —Kirkus (starred review)
"Clare's debut is built upon an intriguing premise... A solid series starter featuring a competent, flawed heroine that's built for sf fans." —Booklist
"There's much more to uncover in the political machinations of each world, and a gasp-worthy ending ensures a sequel." —Bulletin of the Center for Children's Books