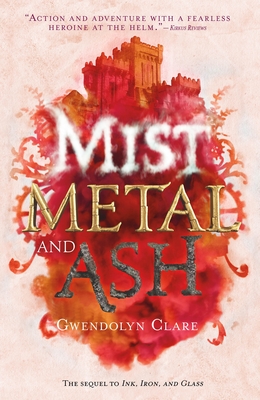 Mist, Metal, and Ash (Ink, Iron, and Glass #2) (Hardcover)
Imprint, 9781250112781, 336pp.
Publication Date: February 19, 2019
Other Editions of This Title:
Digital Audiobook (2/18/2019)
Paperback (2/18/2020)
CD-Audio (2/19/2019)
Pre-Recorded Audio Player (2/19/2019)
* Individual store prices may vary.
Description
Worlds collide in this thrilling sequel to the epic, imaginative, acclaimed fantasy Ink, Iron, and Glass.
In an alternate 19th-century Italy, Elsa has an incredible gift: she can craft new worlds with precise lines of script written in books. But political extremists have stolen the most dangerous book ever scribed—one that can rewrite the Earth itself.
Now Elsa must track down the friend who betrayed her and recover the book before its destructive power is unleashed. Can she handle the secrets she'll uncover along the way—including the ones hiding in her own heart?
An Imprint Book
"The alternate-history thrill ride continues ... The author is a master of character development ... Action and adventure with a fearless heroine at the helm." —Kirkus Reviews

"A satisfying sequel." —Booklist
PRAISE FOR INK, IRON, AND GLASS:
"This novel is a source of serious fun." —School Library Journal (starred review)
"Exciting and original." —Kirkus (starred review)
"Clare's debut is built upon an intriguing premise... A solid series starter featuring a competent, flawed heroine that's built for sf fans." —Booklist
"A gasp-worthy ending ensures a sequel." — Bulletin of the Center for Children's Books
About the Author
Gwendolyn Clare earned her BA in ecology, BS in geophysics, and a PhD in mycology. She is a New Englander transplanted to North Carolina where she cultivates a vegetable garden, tends a flock of backyard ducks, and practices martial arts. Ink, Iron, and Glass is her debut novel.
Praise For Mist, Metal, and Ash (Ink, Iron, and Glass #2)…
"The alternate-history thrill ride continues ... The author is a master of character development ... Action and adventure with a fearless heroine at the helm." —Kirkus Reviews

"A satisfying sequel." —Booklist
PRAISE FOR INK, IRON, AND GLASS:
"This novel is a source of serious fun." —School and Library Journal (starred review)
"Exciting and original." —Kirkus (starred review)
"Clare's debut is built upon an intriguing premise... A solid series starter featuring a competent, flawed heroine that's built for sf fans." —Booklist
"A gasp-worthy ending ensures a sequel." — Bulletin of the Center for Children's Books