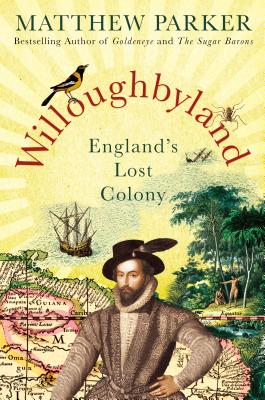 Willoughbyland
England's Lost Colony
Hardcover

* Individual store prices may vary.
Description
At the beginning of the 1650s, wrecked by plague and civil war, England was in ruins. Yet shimmering on the horizon was a vision of paradise called Willoughbyland.
When Sir Walter Raleigh set out to South America to find the legendary city of El Dorado, he paved the way for an endless series of adventurers who would struggle against the harsh reality of South America's wild jungles. Six decades later, when a group of English gentlemen expelled from England chose to establish a new colony there, they named the settlement in honor of its founder—Sir Francis Willoughby.
Located in the lush landscape between the Amazon and Orinoco rivers, in what is now Suriname, Willougbyland experienced one of colonialism's most spectacular rises. But as planters and traders followed explorers, and mercenaries and soldiers followed political dissidents, the one-time paradise became a place of terror and cruelty, of sugar and slavery. A microcosm of the history of empire, this is the hitherto untold story of that fateful colony.
Praise For Willoughbyland: England's Lost Colony…
"Parker has trawled the letters and literature, and traveled out to Suriname, and the result is a miniature masterpiece….this is a truly extraordinary tale and, in Parker's hands, it's beautifully told. With great wit and scholarship he reveals ? just for a moment ? a cruel and curious world, before it vanishes again beneath the trees." —The Spectator
"An excellent account…Willoughbyland is popular history at its best." —Literary Review (UK)
"The author has written several other highly enjoyable histories of the Caribbean, and he is on fine and colourful form here." (Sunday Times)
"A fascinating tale…Matthew Parker is an entertaining historian who has produced a lively account." —Daily Express (UK)
"[T]he long-obscure but intriguing Willoughbyland can now console itself that it has, in this frequently fascinating book, a history it deserves." —The Times (UK)
"An odd, bygone moment in England's political dreaming, rendered expertly." —Sunday Express (UK)
Thomas Dunne Books, 9781250112835, 304pp.
Publication Date: April 11, 2017
About the Author
MATTHEW PARKER spent part of his childhood in the West Indies. He has written for many national newspapers in the UK, contributed to numerous TV and radio programs, and lectured around the world. His bestselling and critically-acclaimed books include Monte Cassino, Panama Fever, The Sugar Barons, and Goldeneye, examining the importance of Jamaica in Ian Fleming's James Bond novels.
or
Not Currently Available for Direct Purchase