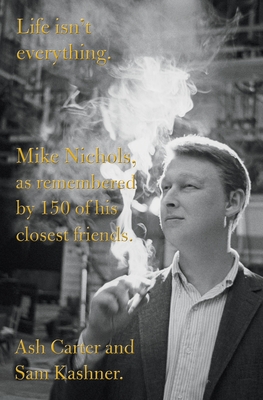 Life isn't everything
Mike Nichols, as remembered by 150 of his closest friends.
Hardcover

* Individual store prices may vary.
Other Editions of This Title:
Paperback (12/8/2020)
CD-Audio (11/26/2019)
Description
An up close and personal portrait of a legendary filmmaker, theater director, and comedian, drawing on candid conversations with his closest friends in show business and the arts—from Dustin Hoffman and Meryl Streep to Natalie Portman and Lorne Michaels.

The work of Mike Nichols pervades American cultural consciousness—from The Graduate and Who's Afraid of Virginia Woolf? to Angels in America, The Birdcage, Working Girl, and Primary Colors, not to mention his string of hit plays, including Barefoot in the Park and The Odd Couple. If that weren't enough, he was also one half of the timelessly funny duo Nichols & May, as well as a founding member of the original improv troupe. Over a career that spanned half a century, Mike Nichols changed Hollywood, Broadway, and comedy forever.

Most fans, however, know very little of the person behind it all. Since he never wrote his memoirs, and seldom appeared on television, they have very little sense of his searching intellect or his devastating wit. They don't know that Nichols, the great American director, was born Mikail Igor Peschkowsky, in Berlin, and came to this country, speaking no English, to escape the Nazis. They don't know that Nichols was at one time a solitary psychology student, or that a childhood illness caused permanent, life-altering side effects. They don't know that he withdrew into a debilitating depression before he "finally got it right," in his words, by marrying Diane Sawyer.

Here, for the first time, Ash Carter and Sam Kashner offer an intimate look behind the scenes of Nichols' life, as told by the stars, moguls, playwrights, producers, comics and crewmembers who stayed loyal to Nichols for years. Life Isn't Everything is a mosaic portrait of a brilliant and original director known for his uncommon charm, wit, vitality, and genius for friendship, this volume is also a snapshot of what it meant to be living, loving, and making art in the 20th century.
Praise For Life isn't everything: Mike Nichols, as remembered by 150 of his closest friends.…
"A fascinating oral history of Nichols's career. . . . [Kashner and Carter] have intelligently chosen to concentrate on the career rather than the life, and on Nichols's working methods and artistic techniques. Most of the 150 voices . . . speak eloquently both of the enormous intelligence Nichols brought to almost every project he was involved in and of the deep respect he accorded his collaborators."
—Brooke Allen, Wall Street Journal

"What, exactly, would one wish for a sizable room filled with 50 years of one's closest friends and collaborators to say behind one's back (if one happened to be arguably/inarguably the most charming, talented, fascinating, entertaining person any of them ever met)? This book."
—Wes Anderson

"Funny, incisive, kind, wicked, daring, gripping, sad, human. Kind of like a Mike Nichols movie."
—Noah Baumbach

"I love a great Mike Nichols story! And an entire book of them—by turns hilarious, insightful and inspiring—is a real gift."
—Judd Apatow

"Legendary director Mike Nichols (1931–2014) refused to write his memoirs, but this scintillating oral history fills the gap splendidly, with wry and heartfelt commentary by "150 of his closest friends," from Richard Burton, Elizabeth Taylor, and Meryl Streep through Candice Bergen and Christine Baranski, all of whom cherished their professional and personal relationships with a man who seemingly impressed everyone he met as being the smartest and most charming person in the room."
—Booklist starred review

"Deep, in-the-pocket theater devotees . . . are going to feast on this brilliant and terrific oral history of the life and times of the singular Mike Nichols."
—Buffalo News
Henry Holt and Co., 9781250112873, 368pp.
Publication Date: November 12, 2019
About the Author
Ash Carter, a senior editor at Esquire, was previously an editor and staff writer at Town & Country.

Sam Kashner is a contributing editor at Vanity Fair and writer of Sinatraland (a New York Times and L.A. Times Notable Book); When I Was Cool: My Life At the Jack Kerouac School; he co-authored of the New York Timesbestsellers Furious Love: Elizabeth Taylor, Richard Burton, and the Marriage of the Century and The Fabulous Bouvier Sisters: The Tragic and Glamorous Lives of Jackie and Lee.