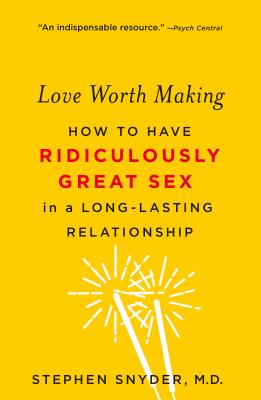 Love Worth Making
How to Have Ridiculously Great Sex in a Long-Lasting Relationship
Paperback

* Individual store prices may vary.
Other Editions of This Title:
Digital Audiobook (2/12/2018)
Hardcover (2/13/2018)
Description
Winner, Nautilus Gold Book Award for Relationships and Communication.

Can sex survive monogamy? Yes, once you understand how sexual emotions really work.

This award-winning, paradigm-shifting guide turns traditional sex therapy inside-out to reveal the hidden rules for great sex. Gentle, compassionate, and filled with compelling stories from Dr. Stephen Snyder's thirty years as a sex therapist working with over 1,500 individuals and couples, Love Worth Making is essential reading for anyone hoping to keep sexual inspiration alive in a committed relationship.
Praise For Love Worth Making: How to Have Ridiculously Great Sex in a Long-Lasting Relationship…
Praise for Dr. Stephen Snyder and Love Worth Making:

"An indispensable resource." —PsychCentral

"Whether you've been married for twenty years or you're in the swipe-right chapter of your life, Snyder makes a compelling case that the essence of good—rewarding, memorable, impassioned—sex is understanding our sexual selves." —GOOP

"Hands down, the most practical, fun, and empowering book I've ever read on how to have a fabulous sex life in a committed relationship." - Christiane Northrup, M.D., New York Timesbestselling author of Goddesses Never Age; Women's Bodies, Women's Wisdom; and The Wisdom of Menopause

"Love Worth Making does for sex therapy what Hamilton did for the Broadway musical. This playful yet profound book reminds us that sex should be easy and can be, once we learn how to get out of our own way." —Jennifer Ashton, M.D., Chief Medical Correspondent, ABC News and Good Morning America

"Thoughtful, helpful . . . This sex therapist has the secret to great long-term relationship sex." —Brides Magazine

Essential reading for anyone hoping to mate for life." —Wednesday Martin, Ph.D., New York Times bestselling author of Primates of Park Avenue and Untrue

"Mandatory reading for anyone who wants a better understanding of what the other sex is thinking in the bedroom." —Debra W. Soh, PhD., sex columnist at Playboy.com

"This is a ridiculously great book. I've easily read over 1,000 books in this genre and Love Worth Making is one of the best. Thank you, Dr. Snyder!" —Laura Corn, New York Times bestselling of author of 101 Nights of Great Sex

"Fantastic! I've never read anything quite like this. I enjoyed it immensely, and could hardly put it down." —Kendall Ryan, New York Times bestselling romance author of Mister Tonight and The Room Mate

"I have long sought a book that I could comfortably and enthusiastically recommend to my patients that adequately addressed their relational sexual concerns. This is the book I've been searching for. I only wish I had written it first!" —Daniel Watter, Ed.D., Journal of Sex and Marital Therapy

"My go-to book for clients in long term relationships interested in understanding, enhancing, and deepening the connection in their sexual relationship." —Laurie Mintz, PhD, Professor of Psychology, University of Florida. Author, Becoming Cliterate: Why Orgasm Equality Matters and How to Get It

"I am so glad to have two copies of Love Worth Making—one in my office and one on my bedside table!" —Lori Brotto, Ph.D., Canada Research Chair in Women's Sexual Health and Professor, Department of Obstetrics & Gynaecology, University of British Columbia and author, Better Sex Through Mindfulness

"If you can only buy one book to help you understand sexuality in general, and sex in relationships in particular—this book is it." —Margie Nichols, PhD. Founder and President, Institute for Personal Growth, Jersey City, NJ

"Covers everything from how to know if you're really excited (it's not what you think) to how to handle the sexual consequences of your husband's ADHD. This book is one I'll be recommending to colleagues and clients for many years to come." —Lori Gottlieb, psychotherapist, New York Times bestselling author of Marry Him, and New York Magazine "What Your Therapist Really Thinks" columnist

"Rich with wisdom, compassion, curiosity, and joy. Its profoundly healing invitation to love comes through on every page." —Alexandra H. Solomon, Ph.D., Clinical Assistant Professor of Psychology at Northwestern University. Author, Loving Bravely: 20 Lessons of Self-Discovery to Help You Get the Love You Want

"The wisest and most profound of anything I've read in a long time concerning the challenge of staying sexually alive in a long relationship. In a voice that manages to be frank, clear, unflinching , non-judging and compassionate, Dr. Snyder offers an approach that goes far beyond the fashions of the moment to what is lasting and real." —Joyce Maynard, New York Times bestselling author of At Home in the World and The Best of Us

"A tour de force of what a skilled therapist can do to engage and lead clients to insight and personal growth. This is not a how-to-do book, but rather is a front seat on how successful sex therapy really works." —Julian Slowinski, Psy.D., co-author, The Sexual Male: Problems and Solutions

"A breath of fresh air! Opens up new possibilities for understanding desire in long term relationships." —Flavia Dos Santos, Caracol TV, Bogota. Author, Sexo Sin Misterios and Sexo Mandamiento

"Brilliant, funny, useful and a joy to read. I think this book will go far toward helping people practically understand how to keep a vibrant, loving, creative, and intimate sex life alive over the life cycle of a long-term relationship." —David Ortmann, LCSW, co-author of Sexual Outsiders: Understanding BDSM Sexualities and Communities

"Dr. Snyder reminds us that in marriage, it is not new toys or novel positions but feelings that are the final erotic frontier." —Peggy J. Kleinplatz, Ph.D., Professor and Director of Sex and Couples Therapy Training at the University of Ottawa, Canada

"Master sex therapist Dr. Stephen Snyder takes us beneath the surface to the complex emotions and vulnerabilities that inhabit our sexual underground, then brings us back up again to connect with our true sexual selves." —Ian Kerner, Ph.D. LMFT, New York Times bestselling author of She Comes First

"Anyone with any interest in this topic (which should mean everyone!) will enjoy the sanity, groundedness, and unflagging sense of humor that Dr Snyder brings to his work and his writing. I can't imagine anyone reading this book without coming away with a sense of gratitude toward its plainspoken, funny, and wise author." —Nathan Kravis, M.D., Clinical Professor of Psychiatry at Weill Cornell Medical College and author of On the Couch

"You won't agree with everything, and there will be some things that undoubtedly will make you uncomfortable. But if you want to have some fun reading a book that will actually improve your sex life, this is the book for you." —Jed Diamond, Ph.D. Founder, MenAlive. Author, The Irritable Male Syndrome and Surviving Male Menopause

"It's a fun read. But it's also a deep read, because in the end, Snyder is prescribing a return not to sex per se, but to erotic life. It's not a 'how-to' book. It's a 'why' and a 'what' book. As such, it may actually live up to its title." —Rosalyn Dischiavo, Founder and Director of the Institute for Sexuality Education & Enlightenment. Author of The Deep Yes: The Lost Art of True Receiving

"One of the most gifted therapists in the sexuality field today." —Kathryn Hall, Ph.D., president of The Society for Sex Therapy and Research and author of Reclaiming Your Sexual Self

"Most sex advice in books and on the internet today is wrong. Dr. Snyder explains why. There are at least ten core concepts here that will motivate and empower couples everywhere—including some that are unique and not found anywhere else." —Barry McCarthy, Ph.D., Professor of Psychology at American University and author of Rekindling Desire

"A must-read for therapists who are not sex experts, this book is a guided tour of what happens when sex falls apart, and how to put it back together again." —Susan C. Vaughan, M.D., Director of the Columbia University Center for Psychoanalytic Training and Research, and author of The Talking Cure

"I have very rarely been so impressed with the practicality and engagement of a couples' guide to maintaining long-term intimacy. Dr. Snyder's approach is incredibly compelling and will serve readers of this book well. I am so glad he has made his work available to all." — Kat Van Kirk, Ph.D., author of The Married Sex Solution: A Realistic Guide to Saving Your Sex Life

"What Dr. Snyder shows us is that the best sex is in a committed relationship, and that working together, couples can have the best sex imaginable—and he gives multiple suggestions on how to achieve that. I would highly recommend his book to my patients who really want the joys of a long term relationship, and want to have continued fabulous sex." —Mary Jane Minkin, M.D., Clinical Professor in the Department of Obstetrics, Gynecology and Reproductive Sciences at Yale Medical School
St. Martin's Griffin, 9781250113108, 304pp.
Publication Date: January 15, 2019
About the Author
STEPHEN SNYDER, M.D. is a sex and couples therapist, psychiatrist, and writer in New York City. He is an Associate Clinical Professor of Psychiatry at the Icahn School of Medicine at Mt. Sinai in New York City, and chairman of the Consumer Book Award Committee for the Society for Sex Therapy and Research (SSTAR). He has treated patients at his practice for 25 years, is a guest on major media outlets nationwide, and writes for Psychology Today and Huffington Post. He lives with his wife and children in New York City.