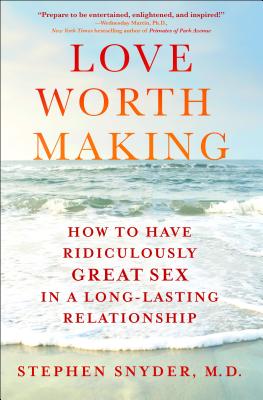 Love Worth Making (Hardcover)
How to Have Ridiculously Great Sex in a Long-Lasting Relationship
St. Martin's Press, 9781250113115, 304pp.
Publication Date: February 13, 2018
* Individual store prices may vary.
Description
The next Mating in Captivity, this is a paradigm-shifting guide to sex and intimacy in committed, long-term relationships, from one of the nation's top sex therapists.
These are astonishing times for sex. With a click of the mouse you can find new sex positions online, buy the latest vibrator, and learn the names for sex acts your grandparents never knew existed. But are people any happier in bed? Probably not. Research suggests that nearly a quarter of American women in heterosexual relationships are markedly distressed about their sex lives.
There's no shortage of books these days on sex technique. But that's not what most people are interested in. What they really want is to have great sex in a committed relationship, in which case all the technical expertise in the world won't help you very much. For that, you need to understand sexual feelings—how they operate, what rules they follow, and how they connect to the rest of who you are.
Dr. Stephen Snyder's unique approach has helped over 1,500 individuals and couples master the erotic challenges of long-term relationships. Integrating the latest research on human sexuality with compelling stories from his thirty years of experience, Love Worth Making will help people of all ages and backgrounds understand and embrace their sexual feelings, and enjoy them for life.
About the Author
STEPHEN SNYDER, M.D. is a sex and couples therapist, psychiatrist, and writer in New York City. He is an Associate Clinical Professor of Psychiatry at the Icahn School of Medicine at Mt. Sinai in New York City, and chairman of the Consumer Book Award Committee for the Society for Sex Therapy and Research (SSTAR). He has treated patients at his practice for 25 years, is a guest on major media outlets nationwide, and writes for Psychology Today and Huffington Post. He lives with his wife and children in New York City.
Praise For Love Worth Making: How to Have Ridiculously Great Sex in a Long-Lasting Relationship…
Praise for Dr. Stephen Snyder and Love Worth Making:
"Essential reading for anyone hoping to mate for life. Prepare to be entertained, enlightened, and inspired!" —Wednesday Martin, Ph.D., New York Times bestselling author of Primates of Park Avenue

"Love Worth Making does for sex therapy what Hamilton did for the Broadway musical. This playful yet profound book reminds us that sex should be easy—and can be, once we learn how to get out of our own way. I can't wait to recommend it to my patients!" —Jennifer Ashton, M.D., ABC News Chief Women's Health Correspondent
"Hands down, the most practical, fun, and empowering book I've ever read on how to have a fabulous sex life in a committed relationship. It should be must-reading for every committed couple who wants to keep the spark alive for many years." —Christiane Northrup, M.D., New York Times bestselling author of Goddesses Never Age; Women's Bodies, Women's Wisdom; and The Wisdom of Menopause

"Rich with wisdom, compassion, curiosity, and joy. Its profoundly healing invitation to love comes through on everypage." —Alexandra H. Solomon, Ph.D., Clinical Assistant Professor of Psychology at Northwestern University and author of Loving Bravely: 20 Lessons of Self-Discovery to Help You Get the Love You Want

"Love Worth Making sets a new standard for excellence in popular writing about sex. This book confirms Dr. Snyder's reputation as one of the most gifted therapists in the sexuality field today." —Kathryn Hall, Ph.D., president of The Society for Sex Therapy and Research (SSTAR) and author of Reclaiming Your Sexual Self

"Covers everything from how to know if you're really excited (it's not what you think) to how to handle the sexual consequences of your husband's ADHD. This book is one I'll be recommending to colleagues and clients for many years to come." —Lori Gottlieb, M.A., L.M.F.T., New York Times bestselling author of Marry Him, and New York Magazine's "What Your Therapist Really Thinks" columnist
"A must-read for therapists who are not sex experts, and for their patients, this book is a guided tour of what happens when sex falls apart—and how to put it back together again." —Susan C. Vaughan, M.D., Director, Columbia University Center for Psychoanalytic Training and Research
"Most sex advice in books and on the internet today is wrong. Dr. Snyder explains why. There are at least ten core concepts here that will motivate and empower couples everywhere—including some that are unique and not found anywhere else." —Barry McCarthy, Ph.D., professor of psychology at American University and author of Sex Made Simple, Rekindling Desire, and Getting It Right the First Time

"Mandatory reading for anyone who wants a better understanding of what the other sex is thinking in the bedroom." —Debra W. Soh, Ph.D., sex columnist for playboy.com

"Master sex therapist Dr. Stephen Snyder takes us beneath the surface to the complex emotions and vulnerabilities that inhabit our sexual underground, then brings us back up again to connect with our true sexual selves." —Ian Kerner, Ph.D., L.M.F.T., New York Times bestselling author of She Comes First
"I have very rarely been so impressed with the practicality and engagement of a couples' guide to maintaining long-term intimacy. Dr. Snyder's approach is incredibly compelling, and I am so glad he has now made it available to all." —Kat Van Kirk, Ph.D., author of The Married Sex Solution: A Realistic Guide to Saving Your Sex Life

"What Dr. Snyder shows us is that the best sex is in a committed relationship, and that working together, couples can have the best sex imaginable—and he gives multiple suggestions on how to achieve that. I highly recommend this book to any couple who wants a joyful long-term relationship, complete with fabulous sex." —Mary Jane Minkin, M.D., clinical professor in the Department of Obstetrics, Gynecology and Reproductive Sciences at Yale Medical School
"Dr. Snyder reminds us that in marriage, it is not new toys or novel positions but feelings that are the final erotic frontier." —Peggy J. Kleinplatz, Ph.D., professor, faculty of medicine, and Director of Sex and Couples Therapy Training at the University of Ottawa, Canada