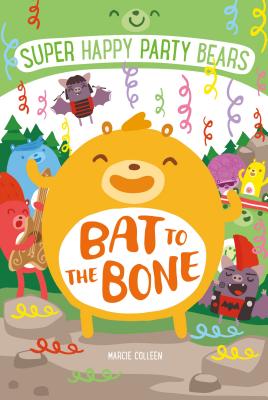 Super Happy Party Bears: Bat to the Bone (Paperback)
Bat to the Bone
Imprint, 9781250113573, 144pp.
Publication Date: August 15, 2017
Description
The Super Happy Party Bears are back in this silly chapter book series filled with full color illustrations and adorable animals.
The bat-only punk rock band Flying Blind has a dedicated following of other nocturnal music lovers. Their screechy sound really meshes with sonar hearing. While on tour to expand its fan base, Flying Blind stops at the Grumpy Woods for a midnight show. Soon tons of rock fans are keeping everyone awake at night But when the bears start jamming with the band, its sound changes, driving away the crowd. This time it's Opal Owl who saves the day and returns some peace and quiet to the woods.
With music, mayhem, dancing and donuts, Super Happy Party Bears: Bat to the Bone rocks the party.
An Imprint Book
About the Author
Marcie Colleen is the author of the Super Happy Party Bears series. She's a former classroom teacher and current Educational Consultant for the Picture Book Month initiative. In that role, she presented at a recent New York Public Library Literary Salon, which focused on the Common Core. She also creates Teacher's Guides for picture books and middle grade novels and is a huge advocate for using children's fictional literature in the classroom. Steve James has ten years experience in the art industry (animation, greeting cards and video game artwork). Super Happy Party Bears is his first children's book. Steve's art is influenced by Adventure Time, Oliver Jeffers and walks in the countryside. He lives near Leeds, a vibrant city in the United Kingdom.
Advertisement