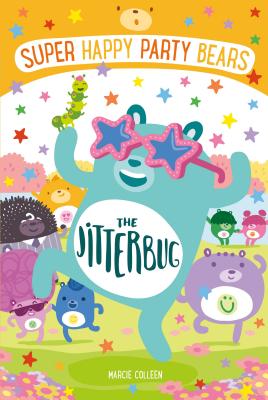 Super Happy Party Bears: The Jitterbug (Paperback)
The Jitterbug
Imprint, 9781250113597, 144pp.
Publication Date: August 15, 2017
Description
The Super Happy Party Bears are back in this silly chapter book series filled with full color illustrations and adorable animals.
The Super Happy Party Bears are in awe of their new friend, Butter, a groovy caterpillar who's got the moves. This Jitterbug can breakdance, tango, and boogie-woogie. Butter becomes an honorary Super Happy Party Bear dedicated to being goofy and spreading the party spirit
When Butter mysteriously disappears, the bears frantically search for him, only to discover that the Jitterbug has morphed into a beautiful butterfly The bears must accept that jitterbug has grown up and must follow his own fluttery path.
Cheerful, sweet, and full of fun, Super Happy Party Bears: The Jitterbug will put you in the mood to dance.
An Imprint Book
About the Author
Marcie Colleen is the author of the Super Happy Party Bears series. She's a former classroom teacher and current Educational Consultant for the Picture Book Month initiative. In that role, she presented at a recent New York Public Library Literary Salon, which focused on the Common Core. She also creates Teacher's Guides for picture books and middle grade novels and is a huge advocate for using children's fictional literature in the classroom. Steve James has ten years experience in the art industry (animation, greeting cards and video game artwork). Super Happy Party Bears is his first children's book. Steve's art is influenced by Adventure Time, Oliver Jeffers and walks in the countryside. He lives near Leeds, a vibrant city in the United Kingdom.
Advertisement