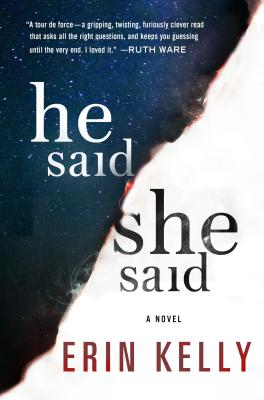 He Said/She Said (Hardcover)
A Novel
Minotaur Books, 9781250113696, 400pp.
Publication Date: June 6, 2017
* Individual store prices may vary.
Description
"A tour de force – a gripping, twisting, furiously clever read that asks all the right questions, and keeps you guessing until the very end. I loved it." — Ruth Ware
"Haunting. Mesmerizing. Unforgettable." — Gillian Flynn

In the summer of 1999, Kit and Laura travel to a festival in Cornwall to see a total eclipse of the sun. Kit is an eclipse chaser; Laura has never seen one before. Young and in love, they are certain this will be the first of many they'll share.
But in the hushed moments after the shadow passes, Laura interrupts a man and a woman. She knows that she saw something terrible. The man denies it. It is her word against his.
The victim seems grateful. Months later, she turns up on their doorstep like a lonely stray. But as her gratitude takes a twisted turn, Laura begins to wonder—did she trust the wrong person?
15 years later, Kit and Laura married are living under new names and completely off the digital grid: no Facebook, only rudimentary cell phones, not in any directories. But as the truth catches up to them, they realize they can no longer keep the past in the past.
From Erin Kelly, queen of the killer twist, He Said/She Said is a gripping tale of the lies we tell to save ourselves, the truths we cannot admit, and how far we will go to make others believe our side of the story.
About the Author
Erin Kelly is the author of acclaimed thrillers and works as a freelance journalist for newspapers including The Sunday Times and the Daily Mail as well as magazines including Red, Marie Claire and Elle. She lives in London with her family. She is the author of He Said/She Said.
Praise For He Said/She Said: A Novel…
"Here, as in her other mind-blowing works, she concerns herself as much with her characters' emotional baggage as with precise, engaging plotting and adrenaline-bursting twists. Just don't get too complacent when reading Kelly: She's always got extra cards up her sleeves."
— The Boston Globe

"Haunting. Mesmerizing. Unforgettable." — Gillian Flynn
"He Said/She Said" is a thriller to savor, and should be one of the highlights of the summer."
— Associated Press
"This first-rate psychological thriller and deft exploration of the delicate dance of marriage and the secrets people keep works on multiple levels, and the passages about the early days of Laura and Kit's relationship—filled with the gossamer promise of new love—make what's in store for them even more harrowing. A stunning conclusion will take more than a few days to fade from memory."
— Kirkus, Starred Review
"Kelly brings readers a truly intriguing thriller, with dark twists and moments that truly mess with the psyche. He Said/She Said will keep you poised at the edge of your seat as you try to predict what will happen next — even though it's impossible to do so. The characters are poignantly flawed, with deep emotions and complex backgrounds. The writing is at points tense and truly nerve-wracking, but the payoff is worth every moment of uncertainty the novel brings."
— RT Book Reviews
"Kelly delivers another tale full of lies, obsessions, and richly drawn characters.This is a sure bet for readers who like their psychological suspense heavy on character and full of twists."
— Booklist, Starred Review
"This riveting psychological thriller from British author Kelly explores the extremes to which people will go to conceal a lie...readers will be rewarded with airtight plotting, mounting tension, and shocking twists...this is an affecting tale of infatuation, desperation, and betrayal."
— Publishers Weekly
"A tour de force – a gripping, twisting, furiously clever read that asks all the right questions, and keeps you guessing until the very end. I loved it."
— Ruth Ware, bestselling author of The Woman in Cabin 10
"I'm calling it: THIS is the book I wish I'd written."
— Clare Mackintosh, bestselling author of I See You
"It's magnificent. Stunningly twisty plot and weep-makingly brilliant writing."
— Marian Keyes, bestselling author of The Woman Who Stole My Life
"Kelly is a beautiful writer who can conjure an atmosphere with exceptional skill…a fantastic psychological thriller replete with mystery and misdirection."
— Alex Marwood, bestselling author of The Darkest Secret

"Even now,days later, I can't stop thinking about this book and I know I've found a new-to-me author to enthusiastically follow."
— Vilma's Book Blog
"Kelly weaves a story with emotional weight. A pair of twists rotates guilt and absolution between characters."
— Paste Magazine
"Erin Kelly has a pleasantly crisp style and expertly hides the 'unreliable' twist."
— Raleigh News and Observer
"The shocker twist is a jaw-dropper"
— Good Housekeeping
"Erin Kelly is deservedly known as a master of surprise endings, and HE SAID/SHE SAID is no exception."
— Book Reporter