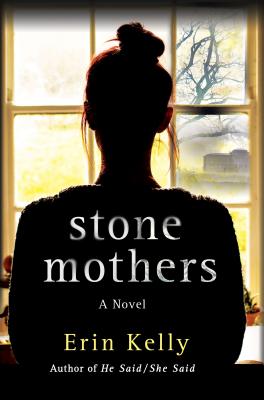 Stone Mothers (Hardcover)
A Novel
Minotaur Books, 9781250113719, 368pp.
Publication Date: April 23, 2019
* Individual store prices may vary.
Description
"Utterly engaging, terrifying, and unputdownable, this novel will haunt readers and have them wanting more from Kelly." — Booklist, Starred Review

Erin Kelly, the masterful author of He Said/She Said, delivers another intense, irresistible novel of psychological suspense.
You can't keep the secret.
You can't tell the truth.
You can't escape the past...
Marianne was seventeen when she fled her home in Nusstead – leaving behind her family, her boyfriend, Jesse, and the body they buried. Now, thirty years later, forced to return to in order to help care for her sick mother, she can feel the past closing around her. And Jesse, who never forgave her for leaving in the first place, is finally threatening to expose the truth.
Marianne will do anything to protect the life she's built, the husband and daughter who must never know what happened all those years ago. Even if it means turning to her worst enemy for help... But Marianne may not know the whole story – and she isn't the only one with secrets they'd kill to keep.
About the Author
Erin Kelly is the author of acclaimed thrillers and works as a freelance journalist for newspapers including The Sunday Times and the Daily Mail as well as magazines including Red, Marie Claire and Elle. She lives in London with her family. She is the author of He Said/She Said.
Praise For Stone Mothers: A Novel…
Advance praise for Stone Mothers
"The incomparable Erin Kelly has written another captivating, cleverly constructed contemporary novel." —Paula Hawkins
"A great read… a twisty, layered, nuanced story, filled with complexity and shadows."
—Ruth Ware
"A beautifully dark, Gothic story of characters haunted by their past: poignant and tragic, full of unexpected shifts and twists, addictively scary and thrillingly audacious." —Nicci French
"It is rare when exquisite plotting and damn fine writing come together, but Erin does it every time, seamlessly. Stone Mothers is an absorbing, humane and intriguing story that will have readers enthralled." —Liz Nugent
"Gripping, moving, impossible to put down and fiendishly readable.... She's done it again." —Laura Marshall
Praise for He Said/She Said
"It's a tribute to Kelly's sleight of storytelling hand that the disclosures are incremental but relentless in their chilling effect. Here, as in her other mind-blowing works, she concerns herself as much with her characters' emotional baggage as with precise, engaging plotting and adrenaline-bursting twists. Just don't get too complacent when reading Kelly: She's always got extra cards up her sleeves." — The Boston Globe
"A tour de force – a gripping, twisting, furiously clever read that asks all the right questions, and keeps you guessing until the very end. I loved it." — Ruth Ware
"Haunting. Mesmerizing. Unforgettable." — Gillian Flynn
"He Said/She Said" is a thriller to savor, and should be one of the highlights of the summer." — Associated Press
"This first-rate psychological thriller and deft exploration of the delicate dance of marriage and the secrets people keep works on multiple levels, and the passages about the early days of Laura and Kit's relationship—filled with the gossamer promise of new love—make what's in store for them even more harrowing. A stunning conclusion will take more than a few days to fade from memory." — Kirkus, Starred Review