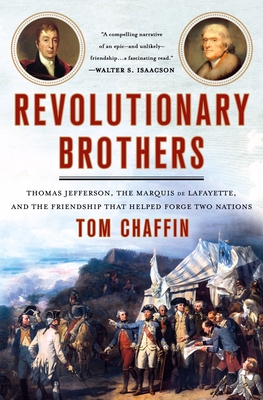 Revolutionary Brothers
Thomas Jefferson, the Marquis de Lafayette, and the Friendship that Helped Forge Two Nations
Hardcover

* Individual store prices may vary.
Other Editions of This Title:
Digital Audiobook (11/25/2019)
Paperback (11/24/2020)
CD-Audio (11/26/2019)
Description
In a narrative both panoramic and intimate, Tom Chaffin captures the four-decade friendship of Thomas Jefferson and the Marquis de Lafayette.

Thomas Jefferson and the Marquis de Lafayette shared a singularly extraordinary friendship, one involved in the making of two revolutions—and two nations. Jefferson first met Lafayette in 1781, when the young French-born general was dispatched to Virginia to assist Jefferson, then the state's governor, in fighting off the British. The charismatic Lafayette, hungry for glory, could not have seemed more different from Jefferson, the reserved statesman. But when Jefferson, a newly-appointed diplomat, moved to Paris three years later, speaking little French and in need of a partner, their friendship began in earnest.

As Lafayette opened doors in Paris and Versailles for Jefferson, so too did the Virginian stand by Lafayette as the Frenchman became inexorably drawn into the maelstrom of his country's revolution. Jefferson counseled Lafayette as he drafted The Declaration of the Rights of Man and remained a firm supporter of the French Revolution, even after he returned to America in 1789. By 1792, however, the upheaval had rendered Lafayette a man without a country, locked away in a succession of Austrian and Prussian prisons. The burden fell on Jefferson, along with Lafayette's other friends, to win his release. The two would not see each other again until 1824, in a powerful and emotional reunion at Jefferson's Monticello.

Steeped in primary sources, Revolutionary Brothers casts fresh light on this remarkable, often complicated, friendship of two extraordinary men.
Praise For Revolutionary Brothers: Thomas Jefferson, the Marquis de Lafayette, and the Friendship that Helped Forge Two Nations…
Praise for Revolutionary Brothers:

"A gripping narrative that offers a revelatory perspective on the combined origins of two nations...compelling drama and instructive history." —Wall Street Journal

"Gripping...lively writing." —Colonial Review

"Rich in narrative detail…for those who enjoy their history chock-full of action and anecdotes." —The American Scholar

"Chaffin has produced a comprehensive history of a long, mutually rewarding friendship…This exceedingly well-written chronicle will please all history lovers." —Library Journal

"The period covered by this book was as momentous as any in the history of France or the US...an insightful dual biography." —Booklist

"Chaffin has emerged with a text packed with facts and insights into both men as well as the tumultuous times in which they lived. A must-have." —Kirkus Reviews

"Compulsively readable…[a] worthy history."—Publishers Weekly

"A compelling narrative of an epic—and unlikely—friendship from the Enlightenment era, enlivened by bracing plot-turns and vividly-drawn characters...a fascinating read." —Walter S. Isaacson, bestselling author of Benjamin Franklin: An American Life

"A dual biography, exquisite in its execution, that opens wonderful old trapdoors connecting two great nations. In Chaffin's deft hands, we see how this dynamic duo literally made history together, shaping the raw material of a young nation while testing the possibilities—and limits—of a trans-Atlantic friendship that was lasting and true." —Hampton Sides, bestselling author of Blood and Thunder and On Desperate Ground

"Beautifully constructed and impressively balanced in its judgements on both men...a gripping read throughout." —Munro Price, historian and award-winning author of The Road from Versailles

"A remarkable story of two men and two revolutions...original and important...written with flair and grace." —Frank Cogliano, professor and author of Empire of Liberty: Thomas Jefferson's Foreign Policy (Yale University Press)

"Tom Chaffin's well-told tale of two revolutions centers on the fascinating, sometimes intersecting careers of Thomas Jefferson and the Marquis de Lafayette...Chaffin is a reliable and engaging guide as he takes us on a page-turning journey through tumultuous times." —Peter S. Onuf, Thomas Jefferson Foundation Professor of History, Emeritus, University of Virginia

"The key roles of two men who helped launch two revolutions that reshaped the Atlantic world in 1776 and 1789 and their friendship over almost half a century have found a worthy historian in Tom Chaffin...[a] dramatic story." —Professor James M. McPherson, Pulitzer Prize-winning author of Battle Cry of Freedom

Praise for Tom Chaffin:

"[A] biography that, like its subject, never knows a dull moment." —Pulitzer Prize-winning author James M. McPherson for Pathfinder

"An absorbing and illuminating read." —Nathaniel Philbrick, National Book Award-winning author of In the Heart of the Sea for Sea of Grey

"Fueled by obsessive scholarship and a boyish sense of wonder, Tom Chaffin takes us deep down into uncharted fathoms of the Civil War...fascinating." —Hampton Sides, bestselling author of Americana for The H.L. Hunley

"A major contribution to American historical writing." —Howard R. Lamar, historian and former Yale University president, for Pathfinder

"The boldest and most powerful book yet written on the saga of the H.L. Hunley." —Clive Cussler, New York Times bestselling author for The H.L. Hunley

"With the learning and literary style his readers have come to expect, Tom Chaffin, in Giant's Causeway, has provided the definitive account of Frederick Douglass' travels." —Walter Johnson, historian at Harvard University and bestselling author of River of Dark Dreams for Giant's Causeway

"Important scholarship and a splendid read." —David W. Blight, historian at Yale University and Pulitzer Prize-winning author of Frederick Douglass: Prophet of Freedom for Giant's Causeway
St. Martin's Press, 9781250113726, 544pp.
Publication Date: November 26, 2019
About the Author
Tom Chaffin is the author of, among other books, Giant's Causeway: Frederick Douglass's Irish Odyssey and the Making of an American Visionary; Sea of Gray: The Around-the-World Odyssey of the Confederate Raider Shenandoah; Pathfinder: John Charles Frémont and the Course of American Empire; and Revolutionary Brothers: Thomas Jefferson, the Marquis de Lafayette, and the Friendship that Helped Forge Two Nations. His writings have also appeared in the New York Times, the Oxford American, Time, Harper's, and other publications. He lives in Atlanta.
or
Not Currently Available for Direct Purchase