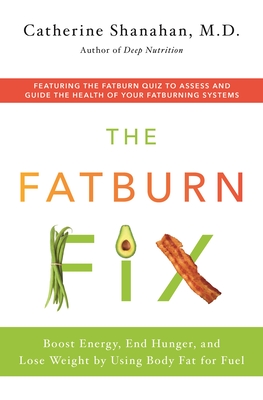 The Fatburn Fix
Boost Energy, End Hunger, and Lose Weight by Using Body Fat for Fuel
Hardcover

* Individual store prices may vary.
Other Editions of This Title:
Paperback (4/6/2021)
Description
A proven plan to optimize your health by reclaiming your natural ability to burn body fat for fuel

The ability to use body fat for energy is essential to health—but over decades of practice, renowned family physician Catherine Shanahan, M.D., observed that many of her patients could not burn their body fat between meals, trapping them in a downward spiral of hunger, fatigue, and weight gain.

In The Fatburn Fix, Dr. Shanahan shows us how industrially produced vegetable oils accumulate in our body fat and disrupt our body's energy-producing systems, driving food addictions that hijack our moods and habits while making it nearly impossible to control our weight. To reclaim our health, we need to detoxify our body fat and help repair our "fatburn" capabilities.

Dr. Shanahan shares five important rules to fix your fatburn:

1) Eat natural fats, not vegetable oils.
2) Eat slow-digesting carbs, not starchy carbs or sweets.
3) Seek salt.
4) Drink plenty of water.
5) Supplement with vitamins and minerals.


She then provides a revolutionary, step-by-step plan to help reboot your fatburn potential in as little as two weeks. This customizable two-phase plan is widely accessible, easy to follow, and will appeal to the full spectrum of diet ideologies, from plant-based to carnivore to keto and beyond. By making a few changes to what you eat and when, you will lose unwanted weight and restore your body's ability to store and release energy.

With The Fatburn Fix, Dr. Shanahan shows how regaining your fatburn is the key to effortless weight loss and a new, elevated life, paving the way to abundant energy and long-term health and happiness.
Praise For The Fatburn Fix: Boost Energy, End Hunger, and Lose Weight by Using Body Fat for Fuel…
Praise for Cate Shanahan, Deep Nutrition, and The Fatburn Fix

"Dr. Cate brought the seed oil issue front and center. Healthy fats matter. So much so that I created an entire product line to swap out bad fats with good."
—Mark Sisson, author of The Keto Reset Diet and founder of Primal Kitchen foods

"In Deep Nutrition, Dr. Cate delivered jaw-dropping science exemplifying why real food is a sacred necessity for our wellness. The Fatburn Fix argues convincingly that nothing is less sacred, less authentic, than refined seed oils. The more we can get them out of our family's food, the more we can feel better about what we eat."
—Shawn Stevenson, international bestselling author of Sleep Smarter and Eat Smarter

"The ability to burn fat is essential to our health. By highlighting the dangers of fueling with modern seed oils, Dr. Cate brings clarity to the often chaotic and confusing world of nutrition."
—Abel James, New York Times bestselling author and award-winning host of Fat-Burning Man

"I'm a big fan of turning your body into a fat burner. Getting toxic oils out of your diet is a key beginning step to turning your body into a fat burner. The Fatburn Fix is a pivotal book for understanding how bad fats are just as dangerous as sugar."
—Dr. Mindy Pelz, the Reset Doc

"I am so thankful to Dr. Cate for finally explaining (clearly!) the potential extent of polyunsaturated fat damage, so readers and listeners can make conscious food choices which work for them, not against them!"
—Melanie Avalon, host of The Melanie Avalon Biohacking Podcast and The Intermittent Fasting Podcast

"Dr. Cate Shanahan is a great leader in the crusade against refined seed oils as the single most destructive food to human health. She has forever changed the conversation and put the pillars of flawed and dated conventional stupidity on watch that they can't keep selling poison to the well-meaning consumer trying to eat healthy. The Fatburn Fix does a great job highlighting the important connection between ditching processed oils and unlocking your potential to burn stored body fat. She's also a skilled and dashing boat pilot."
—Brad Kearns, New York Times bestselling author, Get Over Yourself podcast host, and Guinness World Record speedgolfer

"As Dr. Cate astutely points out in this excellent book, mainstream advice regarding polyunsaturated fats is wrong and dangerous. If you care about your health you need to read this book."
—Paul Saladino, MD, author of blockbuster The Carnivore Code

"For the past 16 years I have been cooking for the L.A. Lakers just the way I grew up, only using wholesome nutritious ingredients. Dr. Cate's research further emphasizes the importance of continuing to eat healthy ingredients and natural fats. Today, I am glad I can use that knowledge and bring it to the NBA."
—Sandra Padilla, private chef to the stars and trusted by the L.A. Lakers

"[The Fatburn Fix] is amazing. Thank you, Dr. Cate! I'm a Functional Nutritional Therapy Practitioner and I know my stuff. This is the extra layer of knowledge I didn't know I needed. Well done!"
—Jennifer Dillman, ND, FNTP

"Dr. Cate dismantles the lie that seed oils are healthy, which may the biggest lie about nutrition and health because it's so insidious."
—Ken D Berry, MD, author of Lies My Doctor Told Me

"Dr. Cate alerts us to the harms of seed oils and she's convincing because she knows the chemistry better than anyone."
— Dr. Drew Pinskey, MD, globally recognized internal medicine and addiction medicine specialist, media personality, and New York Times bestselling author

"I use Deep Nutrition as my textbook for my Nutrition and Public Health course at Siena College. The word is out and I even have students that have graduated coming back to sit in on the class."
—Bridgit Goldman, senior teaching assistant professor of biology, Siena College

"Dr. Cate has had the single greatest impact on how we talk to people about fueling for both performance or durability. While we all are a little unique, the foundational principles of human nutrition are immutable. If you are looking to create a more durable, resilient body, no one is better at communicating nutritional truth than Dr. Cate."
—Dr. Kelly Starrett, physiotherapist coach and New York Times and Wall Street Journal bestselling author

"In the must-read, The Fatburn Fix, Cate Shanahan provides a concrete, evidence-based approach for people to approach metabolism and weight loss. This is a great successor to her excellent book, Deep Nutrition."
—Dr. Tro Kalayjian, medical director of Dr. Tro's Weight Loss and Primary Care

"Dr. Shanahan has had a significant impact on my practice of medicine. I am known as a Low Carb Doctor, but I never really appreciated the negative effects of processed seed oils on the health of my patients. I highly recommend The Fatburn Fix to my patients and have a loaner copy in my waiting room. It is amazing how quickly blood sugars and overall health improves with cutting se ed oils. It is not just about the carbs!"
—Dr. Brian Lenkzes, CEO of LowCarbMD San Diego, co-host of Low Carb MD Podcast and host of Life's Best Medicine Podcast

"Dr. Cate reordered my diet when I was with the L.A. Lakers, and the benefits, for me personally, were felt immediately and have served me to this day. I've come to take real food so seriously I started a small family farm. I know of no M.D./nutritionist more respected in the sports world than Dr. Cate Shanahan."
—Chris Kaman, former N.B.A. player
Flatiron Books, 9781250114495, 352pp.
Publication Date: March 24, 2020
About the Author
Catherine Shanahan, M.D. is a board-certified family physician. She trained in biochemistry and genetics at Cornell University before attending Robert Wood Johnson Medical School. She practiced medicine in Hawaii for a decade, where she studied ethnobotany, as well as the culinary habits of her healthiest patients. Her books include Deep Nutrition and The Fatburn Factor. She currently runs a metabolic health clinic in Denver, Colorado and serves as the Director of the Los Angeles Lakers PRO Nutrition Program.