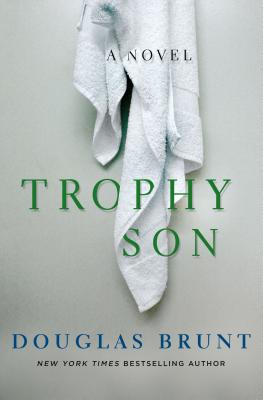 Trophy Son
A Novel
Hardcover

* Individual store prices may vary.
Other Editions of This Title:
Digital Audiobook (5/29/2017)
Paperback (6/12/2018)
Description
"Trophy Son brings Conroy's The Great Santini and Malamud's The Natural into the present day...A terrific book." -Harlan Coben

Private lessons. Professional coaches. Specialized camps for sports, math, music, and other fields. Today's children are pushed to achieve excellence—or else. But at what cost? New York Times bestselling author Douglas Brunt's third novel, Trophy Son, tells the story of a tennis prodigy, from young childhood to the finals of the US Open, Wimbledon, and other tournaments around the world.

Growing up in the wealthy suburbs of Philadelphia, Anton Stratis is groomed to be one thing only: the #1 tennis player in the world. Trained relentlessly by his obsessive father, a former athlete who plans every minute of his son's life, Anton both aspires to greatness and resents its all-consuming demands. Lonely and isolated—removed from school and socialization to focus on tennis—Anton explodes from nowhere onto the professional scene and soon becomes one of the top-ranked players in the world, with a coach, a trainer, and an entourage.

But as Anton struggles to find a balance between stardom and family, he begins to make compromises—first with himself, then with his health, and finally with the rules of tennis, a mix that will threaten to destroy everything he has worked for.

Trophy Son offers an inside look at the dangers of extraordinary pressure to achieve, whether in sports or any field, through the eyes of a young man defying his parents' ambitions as he seeks a life of his own.
Praise For Trophy Son: A Novel…
A USA Today Notable Book
A New York Post "Must Read" Book

"Trophy Son brings Conroy's The Great Santini and Malamud's The Natural into the present day, tackling our dangerous obsession with youth athletics and single-sport specialization. A terrific book." - Harlan Coben

"Keenly observed and provocative... Trophy Son follows prodigy Anton Stratis from an isolated childhood of grueling practice under the eye of his overbearing father to his dramatic rise through the competitive world of professional tennis." - Sports Illustrated

"A Dickens-loving tennis prodigy finds himself the hero of his father's plot in Douglas Brunt's Trophy Son, which convincingly renders a pro-sports fishbowl peopled by drug-enhanced, endorsement-emblazoned warriors - and the attempts of one weary soldier to escape with his soul." - Vogue

"This wise novel explores the themes of sacrifice and maniacal parenting and alerts us to the cost of success. The lessons go well beyond sports." - The Observer

"Trophy Son is a fascinating look at what sporting professionals sacrifice in order to succeed and the uncomfortable truths about domineering parents, grueling schedules, physical suffering, emotional pain and moral compromises." - Associated Press

"[Brunt is] a pro at making us care about Anton, and he burrows into his protagonist's troubled head. He nails the dysfunctional parent-child relationship fans have seen play out on so many tennis courts...his novel zips along nicely, perfect for summer and tennis season." –USA Today


"Fascinating...a cautionary tale about our achievement-obsessed society." –Town & Country

"By believably conjuring a professional tennis prodigy who is—of all things—poetic, sensitive, and well-read, Douglas Brunt's Trophy Son takes us deeper inside the modern men's game than any nonfiction account could." – James Kaplan, author of Sinatra: The Chairman and co-author of You Cannot be Serious with John McEnroe

"Brunt's reputation for conducting tireless research to create page-turning fiction is fully upheld here, along with narrative inventiveness… [and] a nuanced perspective." – Booklist

"Tennis fans who want to explore the demands of the sport - not just the physical demands, but the mental, emotional, and social ones as well - will find much to love in Trophy Son." - Book Reporter

St. Martin's Press, 9781250114808, 288pp.
Publication Date: May 30, 2017
About the Author
Douglas Brunt is the author of the New York Times bestseller Ghosts of Manhattan and The Means. A Philadelphia native, he lives in New York with his wife and their three children.
or
Not Currently Available for Direct Purchase