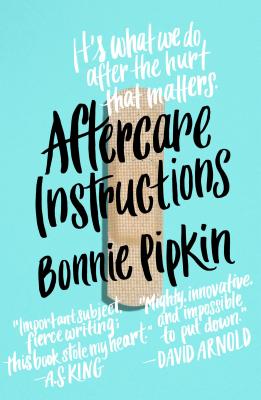 Aftercare Instructions
A Novel
Paperback

* Individual store prices may vary.
Other Editions of This Title:
CD-Audio (6/27/2017)
Paperback (5/3/2018)
Hardcover (6/27/2017)
Description
A big-hearted journey of furious friendship, crazy love, and unexpected hope after a teen's decision to end an unwanted pregnancy

"Troubled." That's seventeen-year-old Genesis according to her small New Jersey town. She finds refuge and stability in her relationship with her boyfriend, Peter—until he abandons her at a Planned Parenthood clinic during their appointment to terminate an unwanted pregnancy. The betrayal causes Gen to question everything.

As Gen pushes herself forward to find her new identity without Peter, she must also confront her most painful memories. Through the lens of an ongoing four act play within the novel, the fantasy of their undying love unravels line by line, scene by scene. Digging deeper into her past while exploring the underground theater world of New York City, she rediscovers a long forgotten dream. But it's when Gen lets go of her history, the one she thinks she knows, that she's finally able to embrace the complicated, chaotic true story of her life, and take center stage.

Aftercare Instructions, an electric debut full of heart and hope, follows Gen on a big-hearted journey from dorm rooms to diners to underground theaters—and ultimately, right into readers' hearts.

"Important, fierce. Pipkin stole my heart with this book." —A.S. King, author of Still Life with Tornado
"Mighty, innovative, and nearly impossible to put down." —David Arnold, author of Mosquitoland
"Incredibly honest and empathetic." —ALA Booklist
"Big-hearted, sensitive, and engrossing." —Publishers Weekly
Praise For Aftercare Instructions: A Novel…
ALA's Best Fiction for Young Adults List
A Bustle American Woman Book Club Pick
A PopSugar Best Book of the Summer
A Refinery29 Best Read of June

"This sharp, complex narrative is a coming-of-age novel that will feel especially resonant for women in the lens of 2017."
—Refinery29

"Sensitive, big hearted, engrossing...packs a big emotional punch."
—Publishers Weekly

"An incredibly honest and empathetic debut."
—ALA Booklist

"A new voice in contemporary fiction introduces a cast of characters and a story line that will stick with readers long after they are done. Purchase where contemporary YA fiction authors like Rainbow Rowell and John Green are popular."
—School Library Journal

"Important subject matter, fierce writing. Pipkin stole my heart with this book."
—A.S. King, Printz Honor-winning author of Still Life with Tornado

"With Aftercare Instructions, Bonnie Pipkin offers a mighty, innovative, and (often painfully) real debut. Its construction—the present day in prose, the backstory in screenplay—amps up the ticking clock, making it nearly impossible to put down. Readers may experience joy, heartache, and everything in between."
—David Arnold, New York Times bestselling author of Kids of Appetite and Mosquitoland

"Aftercare Instructions is an illuminating, beautiful portrait of a brave and troubled girl with a brave, brave heart. Moving, authentic, timely."
—Kathleen Glasgow, New York Times bestselling author of Girl in Pieces

"A raw, riveting story of love and family and the strength to stay standing when both begin to crumble. Bonnie Pipkin never flinches, and the result is a novel as powerful as it is essential."
—Robin Wasserman, critically acclaimed author of Girls on Fire

"Bonnie Pipkin presents more than a novel, but a confident and exciting writing career."
—New York Times bestselling and three-time Coretta Scott King Award-winning author Rita Williams-Garcia

"With quiet, subtle power, Bonnie Pipkin does not shy away from portraying the harsh realities of what can happen in the aftermath of a hard decision. Aftercare Instructions is a heart wrenching story that will touch and resonate with so many young adult readers."
—Printz Award winner and National Book Award Finalist An Na

"Do I have any criticisms? None."
—Boston Globe-Horn Book Award winner Tim Wynne-Jones

Flatiron Books, 9781250114853, 368pp.
Publication Date: June 5, 2018
About the Author
Bonnie Pipkin believes in prose, performances, puppet shows, and public displays of affection. Originally from California, Bonnie now lives in Brooklyn. She has an MFA from Vermont College of Fine Arts, teaches literature courses at Kean University, officiates weddings, and looks after a very cute cat. Aftercare Instructions is Bonnie's first novel.
1. In the opening scene when Genesis realizes that Peter has left her alone at Planned Parenthood, she thinks to herself, "The choice was for us, not me." What does it mean to make as personal choice as getting an abortion with someone else? How does Peter's presence throughout the story guide Genesis's decisions? Do you think his opinion is something she should have to consider in making her choices?
2. The author uses playwriting throughout the story as a way to shine light on Genesis's past. How does do these scenes allow us to get to know Genesis better? How does this format clue us into important elements of Genesis's character beyond simply providing a divide between past and present?
3. Throughout the story, we see a lot of family tension surrounding Genesis, and not just with her own family. Talk about the different family dynamics between Genesis and her own mom and Genesis and Mrs. Sage. How is Genesis the caretaker and child in both relationships?
4. How is the secret of Genesis's abortion used throughout the story to create tension in the plot? Do you think it says something larger about notions on abortion in our society?
5. What does Genesis find in Seth that allows her to grow as her own person? How does this relationship compare with Peter's and her relationship? How does it compare with her relationship with her dad?