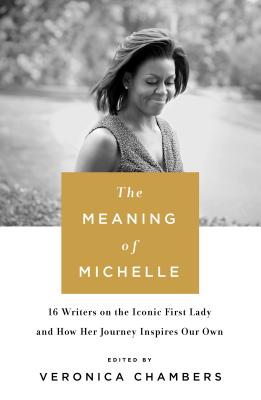 The Meaning of Michelle
16 Writers on the Iconic First Lady and How Her Journey Inspires Our Own
Hardcover

* Individual store prices may vary.
Other Editions of This Title:
Digital Audiobook (1/9/2017)
Paperback (1/16/2018)
Hardcover, Large Print (4/5/2017)
Description
A NEW IN NONFICTION PEOPLE PICK | A TIME TOP 10 NONFICTION BOOK OF 2017 | NAMED A BEST BOOK OF 2017 BY: The Huffington Post • Glamour • Bustle • RedEye

A Los Angeles Times bestseller

**One of BookRiot's '11 Books to Help Us Make It Through a Trump Presidency'**
**One of The Guardian's Essentials for Black History Month**

"Whenever I think about Michelle Obama, I think, 'When I grow up, I want to be just like her. I want to be that intelligent, confident, and comfortable in my own skin'." —Roxane Gay

"Even after eight years of watching them daily in the press, the fact that the most powerful man in the world is a Black man is still breathtaking to me. The fact that he goes home to a tight-knit, loving family headed by a Black woman is soul-stirring. That woman is Michelle. Michelle. That name now carries a whole world of meaning..." —From the Preface by Ava DuVernay

Michelle Obama is unlike any other First Lady in American History. From her first moments on the public stage, she has challenged traditional American notions about what it means to be beautiful, to be strong, to be fashion-conscious, to be healthy, to be First Mom, to be a caretaker and hostess, and to be partner to the most powerful man in the world. What is remarkable is that, at 52, she is just getting started.

While many books have looked at Michelle Obama from a fashion perspective, no book has fully explored what she means to our culture. The Meaning of Michelle does just that, while offering a parting gift to a landmark moment in American history. In addition to a tribute to Michelle Obama, this book is also a rollicking, lively dinner party conversation about race, class, marriage, creativity, womanhood and what it means to be American today.

Contributors include: Ava DuVernay, Veronica Chambers, Benilde Little, Damon Young, Alicia Hall Moran and Jason Moran, Brittney Cooper, Ylonda Gault Caviness, Chirlane McCray, Cathi Hanauer, Tiffany Dufu, Tanisha Ford, Marcus Samuelsson, Sarah Lewis, Karen Hill Anton, Rebecca Carroll, Phillipa Soo, and Roxane Gay
Praise For The Meaning of Michelle: 16 Writers on the Iconic First Lady and How Her Journey Inspires Our Own…
"Missing Mrs. O already? A new book reminds us why she remains a woman for our times...All the essays stand out as each writer stands up and attests to the ways in which Michelle Obama has defied stereotypes and pushed forward a vision and version of Black women that have always been there, but have often gone unacknowledged." —Essence

"Reflections on a woman who feels like a good girlfriend to a large portion of the American public, though they only know her from afar." —NPR Code Switch

"A series of thoughtful meditations on the complexities of the woman who is both partner to the leader of the free world and a powerful American figure in her own right. The Obama in these pages is both an icon and a homegirl. The writers take her seriously yet still write about her playfully." —The Washington Post

"Powerful." —Glamour

"Praises the groundbreaking First Lady from arms to alms." —Vanity Fair

"Thoughtful, textured and evocative. For many black women, it will be a soothing reiteration of things they already feel and know about a woman they already love. For many others, it could be a fascinating window." —Newsday

"A marvelous collection that taps into the love — not just admiration, though that's certainly there; not just respect, though it's there too — so many Americans have for the South Side girl-turned-Washington royalty." —The Chicago Tribune

"Features 16 essays about the First Lady and the impact she's had on the U.S., with 'Hamilton' alum Phillipa Soo and writer Roxane Gay among those sharing their insights." —The Hollywood Reporter

"[A] timely homage to forever first lady Michelle Obama [...] a good book to help ease your way through the end of the Obama presidency." —The Huffington Post

"Sixteen writers...share what it's been like to witness Michelle Obama in the White House. 'Witness' is the correct word. The first thing most writers admit is that they've been unable to take their eyes off her." —The New York Times

"An engaging and delightful collection to help readers recognize that Michelle Obama is a distinct American icon." —Library Journal

"Read it and shake things up yourself this year." —Dr. Oz The Good Life

"A diverse collection united by admiration in a 'praise song' anthology." —Bookpage

"A glorious tribute to an incredible woman." —Booklist (Starred Review)

"Gratitude resonates through each offering in this compilation, a warm tribute to an inspiring woman of color who has lived in the public eye for more than eight years." —Publisher's Weekly

"The variety of contributors allows for different perspectives on their common subject—as a fashion icon, a cultural arbiter, the self-proclaimed "mom-in-chief," partner in a mutual girl crush with Beyoncé, fitness and food advocate, and a wife who supports but does not defer." —Kirkus Reviews
St. Martin's Press, 9781250114969, 240pp.
Publication Date: January 10, 2017
About the Author
VERONICA CHAMBERS is the editor of the New York Times archival storytelling team, a new initiative devoted to publishing articles based on photographs recently rediscovered as the paper digitizes millions of images. She is the editor of The Meaning of Michelle, celebrating the former first lady, which was a Los Angeles Times bestseller and a Time Magazine Top Nonfiction of the year. Veronica has written several books as well, including Mama's Girl, a critically acclaimed memoir, and she co-wrote Yes, Chef with Marcus Samuelsson and 32 Yolks with Eric Ripert.
or
Not Currently Available for Direct Purchase