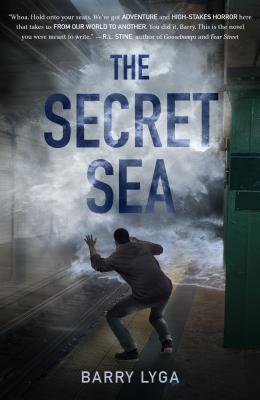 The Secret Sea (Paperback)
Square Fish, 9781250115249, 448pp.
Publication Date: August 22, 2017
Other Editions of This Title:
Prebound (8/22/2017)
Hardcover (8/23/2016)
* Individual store prices may vary.
Description
Twelve-year-old Zak Killian is hearing a voice. Could it be a guardian angel? A ghost? No, that's crazy. But sometimes the voice is so real. . . . It warns him of danger.
One day Zak is standing on the subway platform when the tunnel starts to fill with water. He sees it before anyone else. The voice warns him to run. His friends Moira and Khalid believe this is more than a premonition, and soon all three find themselves in an alternate universe that is both familiar and seriously strange. As Zak unravels the mystery behind the voice, he faces decisions that may mean the end of their world at home—if they can even get home!
Acclaimed author Barry Lyga explores the depths of friendship, the bonds of family, and the nature of the universe itself in The Secret Sea, his most propulsive and heartfelt book yet.
Praise for The Secret Sea:
"Hold onto your seats. We've got adventure and high-stakes horror here that takes us from our world to another. You did it, Barry. This is the novel you were meant to write." —R.L. Stine, author of Goosebumps and Fear Street
"Heart-pounding action. Powerful, eye-popping." —Gordon Korman, New York Times–bestsellingauthor of the Masterminds and Swindle series
"Readers will love the fast-paced action and terrifying details of the alternate timeline Zak and friends find themselves in, and the satisfying conclusion will leave them considering questions of identity and family." —Publishers Weekly
"Lyga returns to middle grade with a darkly compelling... look at family, morality, and the long-term effects even seemingly small choices can have. A thoughtful—and thought-provoking—piece of science fiction." —Booklist
"Full of twists and turns. . . . It is in some ways reminiscent of Andrew Smith's The Marbury Lens but not as dark. Science fiction fans of the TV show Fringe will binge read their way through this adventure." —VOYA
"The narrative's success ultimately relies on its compelling adventures and character development. This work ultimately delivers the sci-fi, fantasy, and dystopian goods and will draw in middle schoolers with its impressive world-building. A strong choice for many young adult and upper–middle grade collections." —School Library Journal
About the Author
Barry Lyga is the author of numerous acclaimed novels, including I Hunt Killers and The Astonishing Adventures of Fanboy and Goth Girl. He graduated from Yale University, then worked in the comic book industry for ten years and developed Free Comic Book Day. He lives in New Jersey with his wife and their daughter.
Praise For The Secret Sea…
"Hold onto your seats. We've got adventure and high-stakes horror here that takes us from our world to another. You did it, Barry. This is the novel you were meant to write." —R.L. Stine, author of Goosebumps and Fear Street
"Heart-pounding action. Powerful, eye-popping." —Gordon Korman, New York Times–bestselling author of the Masterminds and Swindle series
"Readers will love the fast-paced action and terrifying details of the alternate timeline Zak and friends find themselves in, and the satisfying conclusion will leave them considering questions of identity and family." —Publishers Weekly
"Lyga returns to middle grade with a darkly compelling...look at family, morality, and the long-term effects even seemingly small choices can have. A thoughtful—and thought-provoking—piece of science fiction." —Booklist
"Full of twists and turns. . . . It is in some ways reminiscent of Andrew Smith's The Marbury Lens but not as dark. Science fiction fans of the TV show Fringe will binge read their way through this adventure." —VOYA
"The narrative's success ultimately relies on its compelling adventures and character development. This work ultimately delivers the sci-fi, fantasy, and dystopian goods and will draw in middle schoolers with its impressive world-building. A strong choice for many young adult and upper–middle grade collections." —School Library Journal