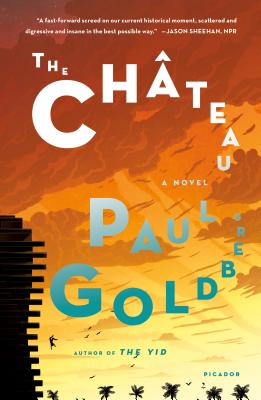 The Château
A Novel
Paperback

* Individual store prices may vary.
Other Editions of This Title:
Digital Audiobook (5/21/2018)
MP3 CD (5/22/2018)
Compact Disc (5/22/2018)
Hardcover (2/13/2018)
Description
"We have proverb in Florida...You know why it's good to be on beach?"

Bill smiles, but says nothing. He wants the guy to keep talking.

"Because on beach you are surrounded by idiots on only three sides."

"And on the remaining side you have what?" asks Bill.

"Sharks..."

Paul Goldberg, the acclaimed author of The Yid, takes us behind the scenes of a Florida condo board election, delivering a wild spin on Miami Beach, petty crime, Jewish identity, and life in Trump's America.
It is January 2017 and Bill has hit rock bottom. Yesterday, he was William M. Katzenelenbogen, successful science reporter at The Washington Post. But things have taken a turn. Fired from his job, aimless, with exactly $1,219.37 in his checking account, he learns that his college roommate, a plastic surgeon known far and wide as the "Butt God of Miami Beach," has fallen to his death under salacious circumstances. With nothing to lose, Bill boards a flight for Florida's Gold Coast, ready to begin his own investigation—a last ditch attempt to revive his career.
There's just one catch: Bill's father, Melsor.
Melsor Yakovlevich Katzenelenbogen—poet, literary scholar, political dissident, small-time-crook—is angling for control of the condo board at the Château Sedan Neuve, a crumbling high-rise in Hollywood, Florida, populated mostly by Russian Jewish immigrants. The current board is filled with fraudsters levying "special assessments" on residents, and Melsor will use any means necessary to win the board election. And who better to help him than his estranged son?
As he did in The Yid, Paul Goldberg has taken something we think we know and turned it on its ear. Featuring a colorful cast of characters, The Château guarantees that you will never look at condo boards, crime, kleptocracy, vodka, Fascism, or Florida the same way again.
Praise For The Château: A Novel…
"A master of dark, cutting humor, restless and allusive, Goldberg turns the Château, its Lexus-driving Russians, and a nearly 90-year-old American WWII veteran who drunkenly shoots at the ocean with his machine gun every night into a mad metaphor for Trump's America.... Following up his acclaimed debut, The Yid (2016), Goldberg confirms his status as one of Jewish fiction's liveliest new voices, walking in the shoes of such deadpan provocateurs as Mordecai Richler and Stanley Elkin."—Kirkus Reviews (starred review)
"A salty, witty, tragic comedy [about] Russian Jewish immigrants, Florida retirees, condo living, "Donal'd Tramp," elderly sex, old folks who can scam the early bird dinner specials, and more...This satire provides sharp commentary on American society as well as an affecting story of old people with nowhere to go and no way to get there." —Publishers Weekly

"Goldberg follows his delirious Stalin-era satire, The Yid (2016), with an equally caustic send-up of today's brand of authoritarianism...With allusions to Gogol...impishly comedic Goldberg—peer to Tom Wolfe, Leslie Epstein, and Stanley Elkin—cannily burlesques the toxicity of human folly under Trump and Putin."
—Donna Seaman, Booklist
"The Château is rich enough to read more than once." —Stephanie Shapiro, The Buffalo News

"The sign of a great literary noir is one that cannot decide whether it is about crime or about an existential crisis. This is the story of Paul Goldberg's novel The Château, a detective story that is as humorous as it is sinister…. The book treats the idea of a detective story with total irony, toppling it over onto itself—which is perhaps the greatest homage a writer can make these days to a particular form."—Alexander Aciman, Tablet
"Melsor and the residents of his condo feel wholly original, fleshed-out, and grounded in something real, in turn allowing Bill's characterization to rise above what we might expect…. Bill and Melsor's relationship, the wonky, beating heart of The Château, feels so well-worn and lived-in that its volatile pushes-and-pulls contain some genuinely touching moments…. Goldberg's book is clearly the culmination of some serious thought about what the alarming rise of MAGA-ness means, skillfully deployed in a glib, almost theatrical fictional setting with an undeniably intimate touch."
—Deborah Krieger, Popmatters.com
"Paul Goldberg's The Château is a timely, hilarious exploration of Floridian life in Donald Trump's America and is one of the most enjoyable romps we've experienced so far in 2018."
—Chelsea Hassler, PopSugar.com "The 20 Best New Books to Read in February"
"The Château is one of the best settings in recent fiction, a Hotel California transplanted to swampy Florida, or maybe the apartment building from Rosemary's Baby, full of cryptically satanic retirees eagerly awaiting the birth of the new presidency. Melsor's fellow inhabitants are lively and fun, even when we find ourselves wishing that they had died prior to voting for Donal'd Tramp the previous November…. Amid often zany comedy, Goldberg never loses sight of the deep tragedy of old Florida Jews supporting a man whose election has ushered in the resurgence of Nazism as a major political force and whose policies threaten to sink Florida into the sea..."
—David Burr Gerrard, The Brooklyn Rail
"A lively tale in a microcosm of Trump's (or Donal'd Tramp, as the Russian residents call him) America. The story all takes place in the week leading up to Trump's (or Tramp's) inauguration. "Make Château Great Again!" proclaims a leaflet in the building's elevator.... It's littered with witticisms and observations of the perhaps irony that a building of immigrants would be so enthusiastic about Trump."
—Marissa Stern, Jewish Exponent
"This is a farce for the modern age… A hilarious romp that's well worth your time."
—Charles Trapunski, BriefTake.com "Most Anticipated Books of February 2018"
"Goldberg…deftly grafts the language and ideas of Trump's presidential campaign, and now the first year of his presidency, onto his second fictional work. The effect is a reading experience that's unmistakably set in Trump's America, which could make you want to stop reading, but you shouldn't. In the growing category of Trump novels, which includes Salman Rushdie's The Golden House, this entry will make you laugh..."
—Michael Czobit, The Globe and Mail
"A scathing satire of Trump's America…. Goldberg's mordant satire – invoking and channeling a distinguished Russian literary tradition extending back to Gogol – hits home and bites hard. Set during the week before Trump's inauguration, Goldberg's novel unfolds within the Château Sedan Neuve, a crumbling high-rise condominium in Hollywood, Fla… Governed by a corrupt board – rigging bids with contractors doing shoddy work while longtime residents get evicted – it's a metaphor for America itself."
—Mike Fischer, Milwaukee Journal-Sentinel
"Clever, irreverent wordsmithing, a feature of Goldberg's The Yid, returns in The Château, another madcap romp among Russians. But these Russians live in Château Sedan Neuve, a once elegant, now decaying south Florida high-rise condominium…. Goldberg makes this the setting for vodka-saturated mayhem, where some of the craziest characters turn out to be the sanest, the crooked are called fascists, and many residents are linguistically challenged caricatures — boorish immigrants going figuratively to pot and literally to potbellies…."
—Neal Gendler, American Jewish World
"[An] outrageous comic romp."
—Tom Beer, Newsday
"Goldberg's absurd novel smartly evokes America in the age of Trump."
—The National Book Review
"A powerful and dark comedy that unfolds in the two weeks leading up to the inauguration of President Donald Trump. It is also a briskly paced crime novel festooned with pithy observations…. Goldberg skillfully depicts the fiery, no-holds-barred condo board battles with everything from slapstick routines to clever repartee."
—Tommy Schnurmacher, Jewish Book Council Paper Brigade
PRAISE FOR THE YID
"A dazzling tragicomic debut."—Jane Ciabattari, NPR.ORG
"[A] singular debut novel… An ambitious historical fantasy… The Yid is a screwball farce about atrocity....Paul Goldberg's animating intelligence gives all this madness a stunning coherence that, these days, we all too rarely get from either art or life."—Maureen Corrigan, NPR's Fresh Air

"The Yid is darkly playful and generous with quick insights into the vast weirdness of its landscape."—Glen David Gold, The Washington Post

Picador, 9781250116116, 384pp.
Publication Date: February 19, 2019
About the Author
Paul Goldberg's debut novel The Yid was published in 2016 to widespread acclaim and named a finalist for both the Sami Rohr Prize for Jewish Literature and the National Jewish Book Award's Goldberg Prize for Debut Fiction. As a reporter, Goldberg has written two books about the Soviet human rights movement, and has co-authored (with Otis Brawley) the book How We Do Harm, an expose of the U.S. healthcare system. He is the editor and publisher of The Cancer Letter, a publication focused on the business and politics of cancer. He lives in Washington, D.C.
or
Not Currently Available for Direct Purchase