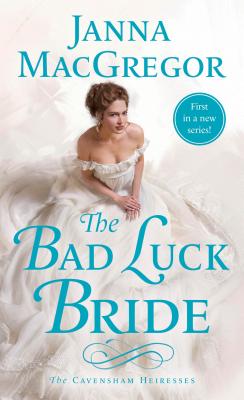 The Bad Luck Bride (Mass Market Paperbound)
St. Martin's Press, 9781250116123, 352pp.
Publication Date: May 2, 2017
Description
All were shocked at the announcement of the cursed Lady Claire Cavensham to Lord Alexander Hallworth, the Marquess of Pembrooke, especially since she is already engaged to another unfortunate Lord. Perhaps she will make it to the altar this time with one of these fine gentlemen Could her run of bad luck finally be at an end? It's highly doubtful in this writer's humble opinion. Midnight Cryer
No one is left breathless at the imperious pronouncement of her engagement to Lord Pembrooke more than Claire. She hardly knows the dangerously outrageous man But after three engagements gone awry and a fourth going up in glorious flames, she isn t in a position to refuse...especially once she realizes that Lord Pembrooke makes her want to believe she's not a bad luck bride anymore...
Alexander requires the hand of his enemy's fiancee in marriage in order to complete his plans for revenge. It's his good fortune that the cursed woman is desperate. However, what begins as a sham turns into something scandalously deeper. The beguiling lady has no business laying claim to his heart. But as a mission of revenge turns into fiery passion, Alexander wants nothing more than to break Claire's curse...and lead them both to their hearts desire.
The Bad Luck Bride is a stroke of good luck for readers the intricate plot, arresting characters,
and rich emotional resonance will leave you swooning. New York Times bestselling author Sabrina Jeffries
About the Author
Janna MacGregor was born and raised in the bootheel of Missouri. She credits her darling mom for introducing her to the happily-ever-after world of romance novels. Janna writes stories where compelling and powerful heroines meet and fall in love with their equally matched heroes. She is the mother of triplets and lives in Kansas City with her very own dashing rogue, and two smug, but not surprisingly, perfect pugs. She loves to hear from readers. The Bad Luck Bride is her first novel.
Advertisement