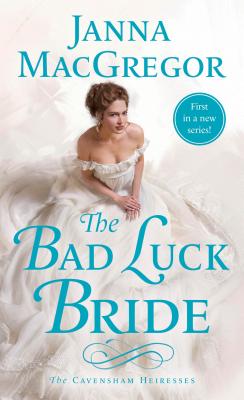 The Bad Luck Bride
The Cavensham Heiresses
Mass Market

* Individual store prices may vary.
Other Editions of This Title:
Digital Audiobook (9/14/2017)
Description
All were shocked at the announcement of the "cursed" Lady Claire Cavensham to Lord Alexander Hallworth, the Marquess of Pembrooke, especially since she is already engaged to another unfortunate Lord. Perhaps she will make it to the altar this time with one of these fine gentlemen! —Midnight Cryer
No one is left breathless at the imperious pronouncement of her engagement to Lord Pembrooke more than Claire. She hardly knows the dangerously outrageous man! But after three engagements gone awry and a fourth going up in glorious flames, she isn't in a position to refuse...
Alexander requires the hand of his enemy's fiancée in marriage in order to complete his plans for revenge. It's his good fortune that the "cursed" woman is desperate. However, what begins as a sham turns into something scandalously deeper...
"Full-bodied romance...with intelligence and heart."—Cathy Maxwell
"Captivating characters and a romance that sizzles."—Eloisa James
"Will leave you swooning."—Sabrina Jeffries

The Bad Luck Bride is the first in a new Regency romance series from Janna MacGregor!
Praise For The Bad Luck Bride: The Cavensham Heiresses…
"With its beautifully defined, exceptionally appealing protagonists, intriguing secondary characters, and graceful writing deftly leavened with wry wit, this classic romantic story line becomes something marvelously fresh and new, thus making MacGregor's stellar debut a must-read for any fan of Regency historicals." —Booklist (Starred Review)
"An enjoyably complex treat. Winningly, there's plenty of sizzle between the newlyweds in multiple passionate scenes, their efforts to build a meaningful partnership outside the bedroom make this a mature addition to any Regency shelf. An impressive debut." —Kirkus Reviews
"Debut author MacGregor brings England's Regency era to life in this sparkling launch for the Cavensham Heiresses romance series. This charming tale features a refreshing array of happy families, solid relationships…The book's promise of a delicious story is well realized, building anticipation for future installments." —Publishers Weekly
"Newcomer MacGregor delivers a well-paced, powerfully plotted debut where love and revenge vie for center stage. Here is a romance that reminds readers that love is complicated, healing and captivating. MacGregor's characters are carefully drawn, their emotions realistic and their passions palpable. Watch for MacGregor to make her mark on the genre." —RT Book Reviews
"The Bad Luck Bride is a deftly woven Regency romance, interspersed with plots and plans and passion. Ms. MacGregor is now at the top of my automatic buy list." — Night Owl Reviews (Top Pick!)
"A delightful debut! Janna MacGregor bewitched me with her captivating characters and a romance that sizzles off the page. I'm already a huge fan!" — New York Times bestselling author Eloisa James
"The Bad Luck Bride is a stroke of good luck for readers—the intricate plot, arresting characters, and rich emotional resonance will leave you swooning." —New York Times bestselling author Sabrina Jeffries
"Readers, rejoice! We have a new writer to celebrate. Janna MacGregor writes with intelligence and heart. The Bad Luck Bride is a full-bodied Romance about what it truly means to love, to forgive, and to heal. Plus, it introduces us to characters we will enjoy as they grow and develop. Smart, smart Romance." —New York Times bestselling author Cathy Maxwell
"Janna MacGregor's The Bad Luck Bride is a seductive tale filled with suspense and unforgettable characters. A must-buy for historical romance readers."—USA Today bestselling author Alexandra Hawkins
"A diamond-bright debut, with a passionate heroine and worthy hero to root for." — Maggie Robinson, author of The Unsuitable Secretary
"This novel ranks high with seasoned romance authors and I am ecstatic to read what is to come in this series." — Lindsey Grey
"Janna MacGregor has a flare for writing a romance that beckons and captivates readers." — Urban Book Reviews
"A fun and entertaining read." — Write-Escape Reviews
"Bad Luck Bride is full of love, strength, hope and resilience. A well written and exciting read that I could not put down." — Working Mommy Journal
"Compelling and flawed characters, an easy, flowing writing style, and an interesting, complex storyline make The Bad Luck Bride a deep and entertaining romance read." — Okie Dreams book reviews
St. Martin's Paperbacks, 9781250116123, 352pp.
Publication Date: May 2, 2017
About the Author
Janna MacGregor was born and raised in the bootheel of Missouri. She is the author of the Cavensham Heiresses series, which begins with The Bad Luck Bride.
Janna credits her darling mom for introducing her to the happily-ever-after world of romance novels. Janna writes stories where compelling and powerful heroines meet and fall in love with their equally matched heroes. She is the mother of triplets and lives in Kansas City with her very own dashing rogue, and two smug, but not surprisingly, perfect pugs. She loves to hear from readers.