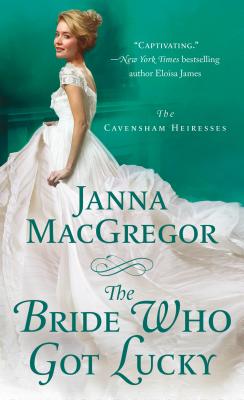 The Bride Who Got Lucky
The Cavensham Heiresses
Mass Market

* Individual store prices may vary.
Description
He would do anything to protect her. Even marry her…

The son of a cold-hearted duke, Nicholas St. Mauer isn't one to involve himself in society…or open his own heart to anyone. But driven by honor, the reclusive Earl of Somerton feels obliged to keep a watchful eye on Lady Emma Cavensham. She possesses a penchant for passions unbecoming a woman that finds Nick in constant peril of losing his well-structured solitude. She even dared kiss Nick once—an utterly unladylike, and delightful, lapse…

Emma can't deny the appeal of the earl's attention, and occasional affection, but she has no need for a man. There are worse fates than spinsterhood, as Emma knows too well. She still mourns the loss of her dear friend Lena, and is determined to prove Lena's husband responsible for her death before he lures another innocent woman into a brutal marriage. But as Emma pursues her prey, a compromising moment upends all her plans. Now, with gossip swirling and her reputation in tatters, Nick may be the only man brave enough to join in Emma's cause. . .and fight for her heart.

The Bride Who Got Lucky is a sweeping Regency romance from Janna MacGregor in her Cavensham Heiresses series.

Praise for Janna MacGregor's THE BAD LUCK BRIDE

"Full-bodied romance…with intelligence and heart."—Cathy Maxwell
"Sparkling." —Publishers Weekly
"Will leave you swooning."—Sabrina Jeffries
Praise For The Bride Who Got Lucky: The Cavensham Heiresses…
"MacGregor creates a delightful near romp of a romance with just the right amount of angst, sensuality and emotion. With its realistic dialogue, quick pace and "friendship to love" theme, it's the readers who are lucky enough to relax with another Cavensham heiress and the man of her dreams. MacGregor is well on her way to becoming a fan favorite." — RT Book Reviews

"Rising star MacGregor once again demonstrates her remarkable gift for effortlessly elegant writing, richly nuanced characterization, and lushly sensual love scenes in the second brilliant installment in her new Cavensham Heiresses series, following The Bad Luck Bride." — Booklist (Starred Review)

"MacGregor has a real talent for developing every facet of a romance." — Kirkus Reviews

"A heady mix of action, wit, and sexual tension. Readers will eagerly turn the pages to see how this intense story concludes." — Publishers Weekly

"Deliciously provocative in historical detail...there is everything in this novel and more. There is tingling suspense, an intriguing mystery, sizzling chemistry between Emma and Nick, emotional upheavals and of course a scorching romance. This is definitely a keeper! The Bride Who Got Lucky is absolutely brilliant!" — Romance Junkies (5 stars)

"This book is truly enchanting." — Bookriot

"MacGregor has another smashing success on her hands with her second novel." — Lindsey Gray

"The cover quote for The Bride Who Got Lucky by Janna MacGregor is from Eloisa James. The quote simply states, "CAPTIVATING." Ms. James: You are completely correct. I would also add that The Bride Who Got Lucky is delightful and totally enchanting." — Straight Shootin' Book Reviews

"Janna MacGregor is a new voice in historical romance and is off to a resounding great start." — Guilty Pleasures Book Reviews

"This well-written book is captivating, touching, as well as, heart-wrenching. The Bride Who Got Lucky is a story well told." — Write-Escape

"What a sweet, utterly romantic book by the consistently wonderful Janna MacGregor!" — Lady with a Quill

"What a delightful book! Ms. MacGregor has a flair for creating real characters--their wants, passions, regrets and mistakes." — Two Ends of a Pen

"With thanks to Eloisa James for recommending this author, a new favorite for sure. This is a terrific read and I'm looking forward to more in this series." — Book Bitch
St. Martin's Paperbacks, 9781250116147, 368pp.
Publication Date: October 31, 2017
About the Author
Janna MacGregor was born and raised in the bootheel of Missouri. She is the author of the Cavensham Heiresses series, which begins with The Bad Luck Bride.

Janna credits her darling mom for introducing her to the happily-ever-after world of romance novels. Janna writes stories where compelling and powerful heroines meet and fall in love with their equally matched heroes. She is the mother of triplets and lives in Kansas City with her very own dashing rogue, and two smug, but not surprisingly, perfect pugs. She loves to hear from readers.
or
Not Currently Available for Direct Purchase