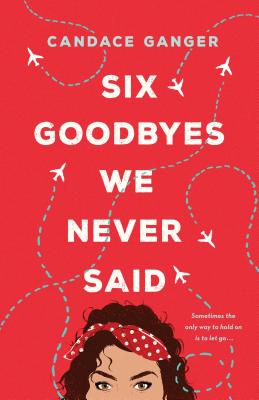 Six Goodbyes We Never Said
Hardcover

* Individual store prices may vary.
Description
Two teens meet after tragedy and learn about love, loss, and letting go

Naima Rodriguez doesn't want your patronizing sympathy as she grieves her father, her hero—a fallen Marine. She'll hate you forever if you ask her to open up and remember him "as he was," though that's all her loving family wants her to do in order to manage her complex OCD and GAD. She'd rather everyone back the-eff off while she separates her Lucky Charms marshmallows into six, always six, Ziploc bags, while she avoids friends and people and living the life her father so desperately wanted for her.

Dew respectfully requests a little more time to process the sudden loss of his parents. It's causing an avalanche of secret anxieties, so he counts on his trusty voice recorder to convey the things he can't otherwise say aloud. He could really use a friend to navigate a life swimming with pain and loss and all the lovely moments in between. And then he meets Naima and everything's changed—just not in the way he, or she, expects.

Candace Ganger's Six Goodbyes We Never Said is no love story. If you ask Naima, it's not even a like story. But it is a story about love and fear and how sometimes you need a little help to be brave enough to say goodbye.
Praise For Six Goodbyes We Never Said…
PASTE, "Best Young Adult Books of September"

"[A] beautiful book which discusses mental health issues and loss in a meaningful, relatable way with unique characters and an enticing storyline. Any fans of contemporary fiction will adore this." - The Nerdy Daily

"Ganger's strong, layered characterizations provide depth in this unique, powerful story of loss told from inside the raw pain." - Booklist

"Two teens maneuver painful routes through profound grief as well as the complex quagmire of severe mental illness... Ultimately hopeful, and readers will connect with the messy, visceral lives simmering on the page. Profoundly emotional and truthful." - Kirkus

"With great empathy, Ganger alternates the protagonists' points of view, revealing the way Naima navigates her OCD, anxiety and depression, and PTSD, and Dew handles his social anxiety amid their grief, loneliness, and sorrow. Through the teens' humorously awkward gravitation toward each other, Ganger creates a heartfelt, convincing story about the restorative power of self-care and friendship." - Publishers Weekly

"Naima is diagnosed by the author with obsessive-compulsive disorder, depression, anxiety, and post-traumatic stress disorder, while Dew is diagnosed with social anxiety. These issues are explored with humanizing examples that invite empathy. Sure to be reassuring to those working their way through grief." - School Library Journal

"A no-filter story of living with loss, guilt, and mental illness. Naima and Dew are a mess of imperfections, and you'll want nothing more than for them to figure out how to be okay(ish) again." - Rebecca Barrow, author of This is What It Feels Like

"Candace Ganger weaves a beautiful story of loss, grief and the struggle to move on in Six Goodbyes We Never Said. One of the realest voices of our generation, Ganger infuses this story with relatable, flawed teens who must learn how to cope in this world or be lost forever. I laughed and cried while reading and this book will stick with me for ages." - Jessica Burkhart, editor of Life Inside My Mind: 31 Authors Share Their Personal Struggles

"Six Goodbyes We Never Said is a knowing tour de force filled with crackling wit, pain, and mini, freeze-dried marshmallows. Original and funny, the best parts may be found in the small moments, especially Ganger's hilarious, spot-on dialogue, as well as tucked within the brilliantly-placed parentheticals. All that and a bowl of Lucky Charms. Or maybe six boxes." - Gae Polisner, award-winning author of The Memory of Things and In Sight of Stars

"Pure, raw emotion. Naima and Dew broke my heart from the opening pages, with the intensity and honesty of their grief. But it is how they come to heal—through family, unlikely but unconditional, connected by the wounded places in themselves—that will stay with me. Ganger's rendering of loss is complicated, unflinching, and ultimately beautiful." - Jared Reck, author of A Short History of the Girl Next Door

"Candace Ganger's heartbreakingly honest, raw story of two teens struggling with grief and mental illness in the wake of incomprehensible loss is a moving testament to the power of human connection and forgiveness. Dew and Naima will stay in your heart long after the final page." - Robin Reul, author of My Kind of Crazy

"Naima and Dew show such ferocious tenacity as they fight their way through enormous, all-consuming loss; I couldn't help but love and root for them. Their story will break your heart and heal your soul." - Misa Sugiura, award-winning author of It's Not Like It's a Secret
Wednesday Books, 9781250116246, 320pp.
Publication Date: September 24, 2019
About the Author
CANDACE GANGER is the author of The Inevitable Collision of Birdie & Bash as well as a contributing writer for Hello Giggles and obsessive marathoner. Aside from having past lives as a singer, nanotechnology website editor, and world's worst vacuum sales rep, she's also ghostwritten hundreds of projects for companies, best-selling fiction and award-winning nonfiction authors alike. Candace—aka—Candyland—has a severe Milky Way latter addiction + eats way too many donuts/doughnuts but all things in excess, amiright? FYI: She's TOTALLY awkward in person (#sorrynotsorry). She lives in Ohio with her family.
or
Not Currently Available for Direct Purchase