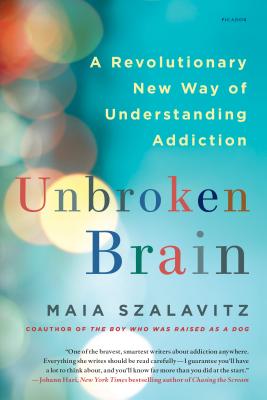 Unbroken Brain
A Revolutionary New Way of Understanding Addiction
Paperback

* Individual store prices may vary.
Other Editions of This Title:
MP3 CD (9/20/2016)
Description
A NEW YORK TIMES BESTSELLER

More people than ever before see themselves as addicted to, or recovering from, addiction, whether it be alcohol or drugs, prescription meds, sex, gambling, porn, or the internet. But despite the unprecedented attention, our understanding of addiction is trapped in unfounded 20th century ideas, addiction as a crime or as brain disease, and in equally outdated treatment.

Challenging both the idea of the addict's "broken brain" and the notion of a simple "addictive personality," Unbroken Brain offers a radical and groundbreaking new perspective, arguing that addictions are learning disorders and shows how seeing the condition this way can untangle our current debates over treatment, prevention and policy. Like autistic traits, addictive behaviors fall on a spectrum -- and they can be a normal response to an extreme situation. By illustrating what addiction is, and is not, the book illustrates how timing, history, family, peers, culture and chemicals come together to create both illness and recovery- and why there is no "addictive personality" or single treatment that works for all.

Combining Maia Szalavitz's personal story with a distillation of more than 25 years of science and research, Unbroken Brain provides a paradigm-shifting approach to thinking about addiction.
Praise For Unbroken Brain: A Revolutionary New Way of Understanding Addiction…
"Maia Szalavitz is one of the bravest, smartest writers about addiction anywhere. Everything she writes should be read carefully - I guarantee you'll have a lot to think about, and you'll know far more than at the start."
— Johann Hari, New York Times bestselling author of Chasing the Scream

"Maia Szalavitz is one of our most incisive thinkers about neuroscience in general and addiction in particular and her writing is astonishingly clear and compelling. In the timely, important, and insightful Unbroken Brain,Szalavitz seamlessly interweaves her moving personal story with her investigation into what addiction is (and isn't) and how we can most effectively prevent and treat it." —David Sheff, New York Times bestselling author of Clean and Beautiful Boy

"Through the lens of her own gripping story of addiction – supported with empirical evidence – Szalavitz persuasively shows that addiction is a disorder of learning, not one characterized by progressive brain dysfunction."—Carl Hart, Ph.D., author of the Pen/Faulkner award-winning High Price: A Neuroscientist's Journey of Self-Discovery That Challenges Everything You Know About Drugs and Society

"Of the countless writers out there who's focus is addiction, no one can begin to touch the brilliance of Maia Szalavitz. She is by far my favorite addiction writer, perhaps one of my favorite writers ever. Her passion and exceptional writing talent combined with her exhaustive research, create a book that will inspire, educate, enrage, and entertain. I can only promise one thing: if you read this book, you will never be the same again."
—Kristen Johnston, actress, author of the New York Times bestselling memoir Guts, addiction advocate, founder of SLAM, NYC

"As more professionals realize that addiction isn't really a disease, our challenge is to determine exactly what it is. Szalavitz catalogs the latest scientific knowledge of the biological, environmental and social causes of addiction and explains precisely how they interact over development. The theory is articulate and tight, yet made accessible and compelling through the author's harrowing autobiography. Unbroken Brain provides the most comprehensive and readable explanation of addiction I've yet to see." —Marc Lewis, author of The Biology of Desire

"... a new way of looking at drug addiction that offers a fresh approach to managing it. [Salavitz] writes frankly about her background .... In a heartfelt manner, she exposes her own fears and pain ... A dense blending of self-exposure, surprising statistics, and solid science reporting that presents addiction as a misunderstood coping mechanism, a problem whose true nature is not yet recognized by policymakers or the public." —Kirkus Reviews

"Szalavitz makes a novel and even beautiful proposal. Addiction, she hypothesizes, is a developmental disorder. Specifically, it is a learning disorder. . . .[Szalavitz] explores problems with the criminalization of drugs, the place of racism in our culture's treatment of drugs and addiction, and she looks closely and illuminatingly at different treatment methods. There's a lot of news you can use in this book if you or someone you love is an addict." -npr.org

"Journalist Szalavitz offers a multifaceted, ground-up renovation of the concept of addiction--both its causes and its cures."—Publishers Weekly

"Anyone who has battled addiction or seen it harm a loved one will gain insights from "Unbroken Brain," and if it influences policymakers, too, everyone will benefit."-Associated Press

"Ms. Szalavitz deftly threads her life story through the book to illustrate the dynamics that put people at risk of addiction." —The Wall Street Journal
Picador, 9781250116444, 352pp.
Publication Date: May 9, 2017
About the Author
MAIA SZALAVITZ is widely viewed as one of the premier American journalists covering addiction and drugs. A neuroscience writer for TIME.com and a former cocaine and heroin addict, she understands the science and its personal dimensions in a way that few others can. She is co-author of Born for Love: Why Empathy is Essential - and Endangered and The Boy Who Was Raised as a Dog, both with Dr. Bruce D. Perry. Her 2006 book, Help at Any Cost: How the Troubled-Teen Industry Cons Parents and Hurts Kids is the first book-length exposé of the "tough love" business that dominates addiction treatment. She writes for a variety of publications includingTIME.com, theNew York Times, New York Magazine, Pacific Standard, Scientific American, Nautilus, Matter, Elle, Psychology Today, VICE, and Marie Claire.