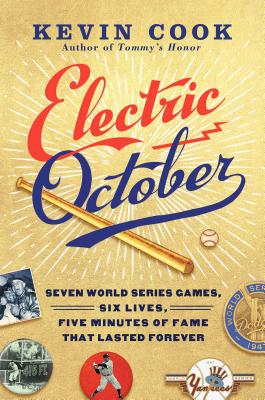 Electric October
Seven World Series Games, Six Lives, Five Minutes of Fame That Lasted Forever
Hardcover

* Individual store prices may vary.
Other Editions of This Title:
Digital Audiobook (8/14/2017)
Paperback (10/1/2019)
MP3 CD (8/15/2017)
Compact Disc (8/15/2017)
MP3 CD (8/15/2017)
Compact Disc (8/15/2017)
Description
The epic World Series between the Yankees and the Dodgers and the six men whose lives were changed forever
The 1947 World Series was "the most exciting ever" in the words of Joe DiMaggio, with a decade's worth of drama packed into seven games between the mighty New York Yankees and underdog Brooklyn Dodgers. It was Jackie Robinson's first Series, a postwar spectacle featuring Frank Sinatra, Ernest Hemingway and President Harry Truman in supporting roles. It was also the first televised World Series – sportswriters called it "Electric October."
But for all the star power on display, the outcome hinged on role players: Bill Bevens, a journeyman who knocked on the door of pitching immortality; Al Gionfriddo and Cookie Lavagetto, bench players at the center of the Series' iconic moments; Snuffy Stirnweiss, a wartime batting champion who never got any respect; and managers Bucky Harris and Burt Shotton, each an unlikely choice to run his team. Six men found themselves plucked from obscurity to shine on the sport's greatest stage. But their fame was fleeting; three would never play another big-league game, and all six would be forgotten.
Kevin Cook brings the '47 Series back to life, introducing us to men whose past offered no hint they were destined for extraordinary things. For some, the Series was a memory to hold onto. For others, it would haunt them to the end of their days. And for us, Cook offers new insights—some heartbreaking, some uplifting—into what fame and glory truly mean.
Praise For Electric October: Seven World Series Games, Six Lives, Five Minutes of Fame That Lasted Forever…
Winner of the Ron Gabriel Award of the Society for American Baseball Research

"Heartfelt and entertaining. . . . Cook's narrative is splendid, but the subtext of his book is even better." -- The Wall Street Journal
"A wonderful book by someone who clearly loves the game and the seemingly small moments that cement that love. Bravo!"--Ken Burns
"A poignant study that goes beyond baseball."--The New York Times
"The 1947 World Series had everything: Joe DiMaggio and Jackie Robinson, Yankee Stadium and Ebbets Field. It went a full and fully dramatic seven games, with enduring legends in both dugouts. And yet, as so often happens in baseball, bit players jumped from the agate type into the headlines as well. Kevin Cook offers a fine appreciation of the games, the subplots, and the personalities that made '47 a true Fall Classic."--Bob Costas
"A magnificent, Hall of Fame caliber addition to baseball literature."--George F. Will

"[An] essential summer read... a fascinating deep dive into the unlikely characters that made the 1947 World Series between the Yankees and Dodgers a classic"--New York Post
"Entertaining, well-researched history.... In profiling the lives of these six overlooked men, Cook reveals the complicated reality of baseball's golden era."--Publishers Weekly (starred review)

"An impressively reported, smoothly written book"--Kirkus Reviews

"[An] entertaining slice of baseball history."--Booklist
"An outstanding collection of stories about men, about life and about one glorious World Series, it is one that all baseball readers should add to their libraries."--SportsBookGuy.com
"Electric October is a great baseball story and a classic American tale, as the six hard-working men at the heart of the narrative seized the moment when fate called. Kevin Cook has crafted one of the best books you'll read this year."--James Bradley, author of Flags of Our Fathers and The China Mirage
"The pleasures of Electric October are many: from the spectacle of a Babe Ruth popup to the insights of the boy-manager Bucky Harris; from the origin of the relief specialist to the inception of a signature radio call; from a famous running catch to a terrifying prank among teammates. You'll also learn how it feels to be fired – because Kevin Cook reveals that disappointment, and what skilled men do with it, has defined baseball across its many years."--Nicholas Dawidoff, author of The Catcher Was a Spy and The Crowd Sounds Happy
"The lives on the margins always have been far more interesting to me than the ones at the top of the sports page. That's what makes Electric October such a wonder. Six character actors named Snuffy and Cookie, Burt and Al, and Bill and Bucky have their leading-man moments during the implausible events of the 1947 World Series. There is magic here and we all get to share in it. Terrific." --Leigh Montville, author of The Big Bam: The Life and Times of Babe Ruth and Sting Like a Bee: Muhammad Ali vs. the United States of America, 1966-1971
Henry Holt and Co., 9781250116567, 304pp.
Publication Date: August 15, 2017
About the Author
Kevin Cook is the author of Electric October and several other books on sports and the people who play them, including Tommy's Honor and The Dad Report. He is a former senior editor at Sports Illustrated who has written for The New York Times, Men's Journal, GQ, Playboy, Smithsonian, and many other publications. He has appeared on CNN, ESPN, and Fox TV. An Indiana native, he now lives in Northampton, Massachusetts.
or
Not Currently Available for Direct Purchase