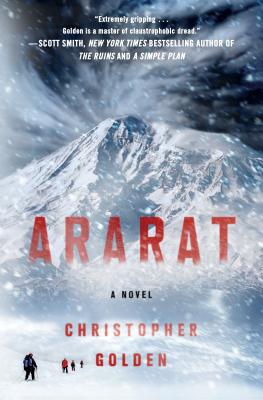 Ararat (Hardcover)
St. Martin's Press, 9781250117052, 320pp.
Publication Date: April 18, 2017
Description
Fans of Dan Simmons THE TERROR will love ARARAT, the thrilling tale of an adventure that goes awry. When a newly engaged couple climbs Mount Ararat in Turkey, an avalanche forces them to seek shelter inside a massive cave uncovered by the snow fall. The cave is actually an ancient, buried ship that many quickly come to believe is really Noah's Ark. But when a team of scholars, archaeologists, and filmmakers make it inside the ark for the first time, they discover an elaborate coffin in its recesses and when they break it open, they find that the cadaver within is an ugly, misshapen thing and it has horns. A massive blizzard blows in, trapping them in that cave thousands of meters up the side of a remote mountain but they are not alone.
About the Author
CHRISTOPHER GOLDEN is the New York Times bestselling author of Snowblind, Dead Ringers, Tin Men, and Of Saints and Shadows, among many other novels. With Mike Mignola, he is the co-creator of two cult favorite comic book series, Baltimore and Joe Golem: Occult Detective. Golden is also the editor of such anthologies as Seize the Night, The New Dead, and Dark Cities, and the co-host of the popular podcast Three Guys with Beards. He lives in Massachusetts.
Advertisement