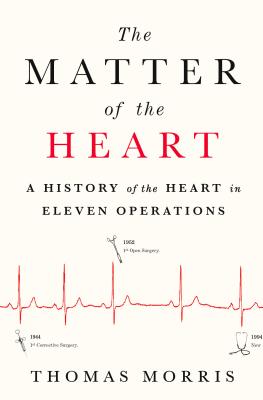 The Matter of the Heart (Hardcover)
A History of the Heart in Eleven Operations
Thomas Dunne Books, 9781250117168, 432pp.
Publication Date: January 16, 2018
* Individual store prices may vary.
Description
An eye-opening and heroic story of pioneering heart surgeons, structured around eleven operations.
For thousands of years the human heart remained the deepest of mysteries; both home to the soul and an organ too complex to touch, let alone operate on.
Then, in the late nineteenth century, medics began going where no one had dared go before. The following decades saw the mysteries of the heart exposed, thanks to pioneering surgeons, brave patients and even sacrificial dogs.
In eleven landmark operations, Thomas Morris tells us stories of triumph, reckless bravery, swaggering arrogance, jealousy and rivalry, and incredible ingenuity: the trail-blazing 'blue baby' procedure that transformed wheezing infants into pink, healthy children; the first human heart transplant, which made headline news around the globe. And yet the heart still feels sacred: just before the operation to fit one of the first artificial hearts, the patient's wife asked the surgeon if he would still be able to love her.
The Matter of the Heart gives us a view over the surgeon's shoulder, showing us the heart's inner workings and failings. It describes both a human story and a history of risk-taking that has ultimately saved millions of lives.
About the Author
Thomas Morris worked for the BBC for many years as a successful radio producer, with a particular interest in scientific and medical topics. He is now a freelance writer, and his journalism has appeared in outlets including The Times and The Financial Times. He lives in London.
Thomas is the author of The Matter of the Heart: A History of the Heart in Eleven Operations.
Praise For The Matter of the Heart: A History of the Heart in Eleven Operations…
"Morris does an admirable job of capturing the agony and the ecstasy of those turbulent times...a thoroughly engaging history." —The Wall Street Journal
"Morris's expert guided tour of cardiac surgery and its quirky, brilliant innovators covers a dazzling and dizzying array of procedures and hints at tantalizing prospects for future surprises." —Publishers Weekly (starred review)

"Because of that rich cast of characters, "The Matter of the Heart" is more than a litany of medical advances—it's the story of the gritty, bloody and deadly experiences that underlie scientific progress." —The Washington Post
"A fascinating history." —Booklist

"This is a book of learned asides and extensive trivia, but it's always enfolded in a well-developed narrative with no end of heroes...and no end of technical problems to overcome. Just the thing for aspiring heart surgeons, who may one day soon be 3-D printing new hearts that will be 'dispatched in drones to wherever they are needed.'" —Kirkus Reviews
"Thrilling ... Significant and often immersive… The "dizzying" story of heart surgery is every bit as important as that of the nuclear, computer or rocket ages. And now it has been given the history it deserves." —James McConnachie, The Sunday Times

"The research that has gone into this book is simply staggering, and Morris has achieved much more than a history of heart operations… It is a study of human beings driven by Olympian ambition and bottomless curiosity. It is, in the end, a book about wonder. And a wonderful book." —Frances Wilson, The Daily Telegraph

"Gripping... The Matter of the Heart details the breathtaking advances that have been made in the past 100 years." —John Crace, The Guardian

"Thomas Morris has written not a history of medical ideas about the heart, but a history of heart surgery... The stories come quickly: fluent, wry, admiring... Morris has made something unique: a history less of people than of procedures, but lively, enthusiastic and brimming with detail ... anything but boring" —Gavin Frances, The New Statesman

"Fascinating and compelling... There are also remarkable tales of survival against the odds, perseverance, ingenuity and awe-inspiring feats...Morris deftly constructs an engaging narrative" —Manjit Kumar, Literary Review
"With the cut and thrust of cardiac surgery now demystified, we forget that venturing into the thoracic cavity once seemed as daunting as polar exploration. Or more so: as Thomas Morris reveals in this stirring chronicle, even touching a beating heart was long viewed as impossible… Told through 11 pivotal operations, it's a tale of ingenuity... It's rich, too, in alarming details — not least, the injections of strychnine and whisky that featured in early surgery" —Barbara Kiser, Nature
"Thomas Morris does for the history of cardiac surgery what The Right Stuff and Hidden Figures did for the space race... The book is - appropriately - pulse-thumpingly gripping and will be enjoyed by anyone who, in any sense of the phrase, has a heart" —Mark Lawson
"Tremendous. An exhilarating sweep through ancient history and contemporary practice in surgery of the heart. It's rich in extraordinary detail and stories that will amaze you. A wonderful book" —Melvyn Bragg
"[Thomas Morris] succeeds where many such experts have failed in distilling the complexity of this organ into a highly readable and fascinating narrative… in 350 easy-to-read pages ... [he] captur[es] the majesty and pace of more than 80 years of scientific innovation ... the degree to which this book has been researched is breathtaking" —David Warriner, Independent Nurse
"Standing outside this precious and pressured world, Morris provides an even-handed and honest survey of the pioneers and their breakthroughs…intelligent" —Wendy Moore, The Times
"Magnificent… Thomas Morris provides us with a thoughtful, engaging and rigorous account of how cardiac surgeons through history have sought to undo the ravages wrought on the heart… The results are a triumph of both the human imagination, emotional resilience and supreme self-confidence… It is peppered with vibrant anecdotes as well as biographical accounts of the individuals who made these important contributions" —Adrian Woolfson, Spectator
"Morris's book is where readers should go for riveting historical accounts of surgical brilliance" —Joanna Bourke, Prospect