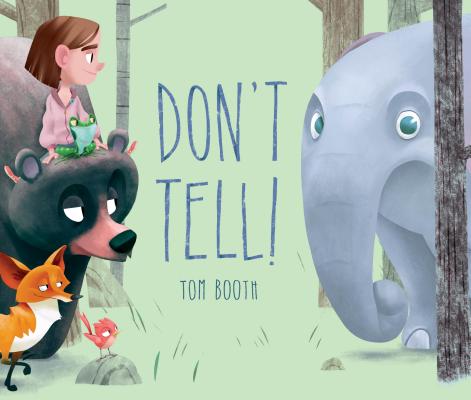 Don't Tell! (Hardcover)
Feiwel & Friends, 9781250117373, 32pp.
Publication Date: June 5, 2018
* Individual store prices may vary.
Description
Once again Tom Booth, author of Don't Blink!, breaks the fourth wall to delight and entice readers young and old in this sweet and funny, experiential picture book.
How did you find this book? Don't you know this book is a secret book?
Readers will delight in being asked how they found this book. Did Monkey tell? Was it Owl? Giraffe?
Maybe the animal who "told" would rather share than keep a secret. Especially when sharing a book as good as this one makes him so happy!
About the Author
Tom Booth is an author, illustrator, and character designer who has worked in both animation and publishing at Macmillan, Scholastic, Simon & Schuster, Workman Publishing, and Nicktoons. Tom made his earliest marks—sometimes on his parents' antique kitchen table—growing up in Pennsylvania. Now living in Brooklyn, New York, Tom is currently at work on several picture books on a table all his own. His books include Derek Jeter Presents Night at the Stadium and Don't Blink!.
Praise For Don't Tell!…
"Utilizing the same style, tone, format, central character, and several of the same curious creatures from Don't Blink!, Booth turns his attention from an epic staring contest to a secret with this latest. ... It has the potential to spark conversations about keeping secrets and to inspire reading."-- School Library Journal


Praise for DON'T BLINK by Tom Booth:

"The staring contest: it's a refreshingly low-tech competition, and Booth captures the silly thrill of it all. His story opens with a bright-eyed girl sitting cross-legged in a minimally rendered outdoor setting. She looks straight at the reader, shouts "Go," and assumes a fixed (but always amiable) gaze." —Publishers Weekly, starred review

"Competitive readers will love this picture book.... A young girl kicks the tale off with a challenge: a staring contest. Before you can say "go," she's looking out at the reader, gaze friendly but unblinking (she won't be easy to beat). A bird flies along and asks if it too can join in on the contest." —Bookish.com, Summer 2017's Best Children's Books
"A jolly fun interactive read-aloud, perfect for one-on-one and small group sharing." —School Library Journal