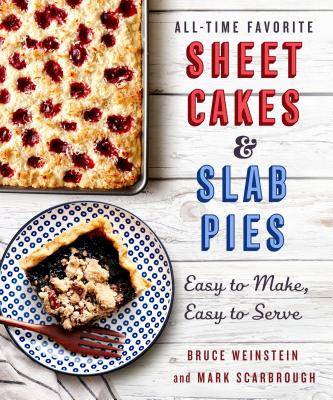 All-Time Favorite Sheet Cakes & Slab Pies (Paperback)
Easy to Make, Easy to Serve
St. Martin's Griffin, 9781250117588, 224pp.
Publication Date: October 24, 2017
* Individual store prices may vary.
Description
Sheet cakes and slab pies have long been a staple at holidays, family reunions, and potlucks everywhere. Now authors Bruce Weinstein and Mark Scarbrough are reinventing these American originals with their new book All-Time Favorite Sheet Cakes & Slab Pies. And why not? Slab pies are the perfect flavor trifecta of flaky crust, jammy filling, and crumbly topping, while sheet cakes ensure that every bite of cake has a thick layer of frosting—satisfying even the most voracious sweet-tooth. Best of all, these delightful sweets are simple to make and can serve a crowd with ease.
Whether you're looking for a timeless classic like Blueberry Buckle or craving something simply indulgent like the Bacon-Peanut Butter Cake with Maple Buttercream, with over 100 recipes inside you'll find the perfect dessert for every occasion. In addition to the cakes and pies there are also recipes for cheesecakes, Danish, coffee cakes, and more. With some simple ingredients and a trusty sheet pan, you'll soon be whipping up scrumptious pies and cakes—all of them easy to make, fun to serve, and wonderful to eat.
About the Author
Bruce Weinstein is the chef and co-creator of All-Time Favorite Sheet Cakes & Slab Pies with Mark Scarbrough. A life-long New Yorker, he wanted to leave the city--so he now lives in rural New England. Don't ask. He can rip through Chopin Nocturnes, knits whenever he's not cooking, and is quick to ask "Who's up for a cocktail?" He went to "Fame" for high school, took off for chef school, and put in his time at Manhattan advertising firms. He loves Modigliani, is indifferent to Picasso, and has been forced to sit through more post-modern, avant-garde music than anyone should. His patience is boundless--except when it comes to bridge.

Mark Scarbrough is the writer and co-creator of All Times Favorite Sheet Cakes & Slab Pies with Bruce Weinstein. A former academic, he's sometimes snarky because he's ridiculously innocent in the marrow. He reads Dante for fun and hangs out in art museums on sunny afternoons. He's a bemused Texan in snow drifts, a dumbfounded progressive, and a self-confessed culinary snob. He still teaches literature on the side and leads raucous book groups at Connecticut libraries.
Praise For All-Time Favorite Sheet Cakes & Slab Pies: Easy to Make, Easy to Serve…
"[A] fun and innovative cookbook...this is a versatile collection spanning flavors and occasions....This laid-back approach to baking is sure to entice home bakers of all levels to get out that sheet pan and invite a hungry crowd."—Publisher's Weekly