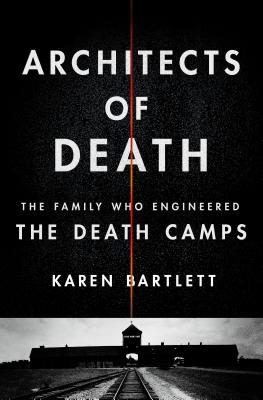 Architects of Death
The Family Who Engineered the Death Camps
Hardcover

* Individual store prices may vary.
Description
A sobering story of an industrial family's cold efficiency behind the design of the ovens at Auschwitz

Architects of Death tells the astonishing story of how the gas chambers and crematoria that facilitated the murder and incineration of more than one million people in the Holocaust were designed not by the Nazi SS, but by a small respectable family firm of German engineers. Topf and Sons designed and built the crematoria at the concentration camps at Auschwitz-Birkenau, Buchenwald, Belzec, Dachau, Mauthausen, and Gusen. At its height, 66 Topf triple muffle ovens were in operation—46 of which were at Auschwitz.

These were not Nazi sadists, but men who were playboys and the sons of train conductors. They were driven not by ideology, but by love affairs, personal ambition, and bitter personal rivalries. Even while their firm created the ultimate human killing and disposal machines, their company sheltered Nazi enemies from the death camps. The intense conflagration of their very ordinary motives created work that surpassed in inhumanity even the demands of the SS.

But the company that achieved this spectacularly evil feat of engineering typify the banality of evil. In the 1930s their family firm produced apparatus for all sorts of industries—baking, brewing, the firing of ceramics. Ovens for crematoria accounted for only a small proportion of their business, but it is for these that the Topf brothers became infamous. Their name can still be seen stamped on the iron furnaces of Auschwitz.
St. Martin's Press, 9781250117700, 320pp.
Publication Date: August 21, 2018
About the Author
Karen Bartlett is a writer and journalist based in London. She has written extensively for the Sunday Times, The Times, The Guardian, and WIRED from Africa, India, and the US, and has presented and produced for BBC Radio. Most recently, she worked with Eva Schloss, writing her Sunday Times bestselling autobiography After Auschwitz: A Story of Heartbreak and Survival by the Stepsister of Anne Frank.
or
Not Currently Available for Direct Purchase