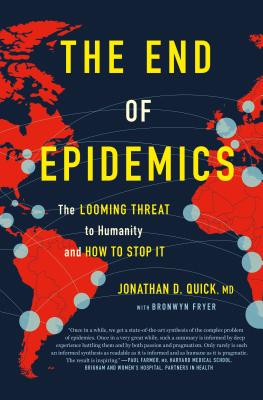 The End of Epidemics (Hardcover)
The Looming Threat to Humanity and How to Stop It
St. Martin's Press, 9781250117779, 304pp.
Publication Date: January 30, 2018
* Individual store prices may vary.
Description
"Dr. Quick's urgent message makes one hope that this book will reach a huge audience and that its exhortations will be acted on everywhere." - Meredith Wadman, The Wall Street Journal
A leading doctor offers answers on the one of the most urgent questions of our time: How do we prevent the next global pandemic?
The 2014 Ebola epidemic in Liberia terrified the world—and revealed how unprepared we are for the next outbreak of an infectious disease. Somewhere in nature, a killer virus is boiling up in the bloodstream of a bird, bat, monkey, or pig, preparing to jump to a human being. This not-yet-detected germ has the potential to wipe out millions of lives over a matter of weeks or months. That risk makes the threat posed by ISIS, a ground war, a massive climate event, or even the dropping of a nuclear bomb on a major city pale in comparison.
In The End of Epidemics, Harvard Medical School faculty member and Chair of the Global Health Council Dr. Jonathan D. Quick examines the eradication of smallpox and devastating effects of influenza, AIDS, SARS, and Ebola. Analyzing local and global efforts to contain these diseases and citing firsthand accounts of failure and success, Dr. Quick proposes a new set of actions which he has coined "The Power of Seven," to end epidemics before they can begin. These actions include:
- Spend prudently to prevent disease before an epidemic strikes, rather than spending too little, too late
- Ensure prompt, open, and accurate communication between nations and aid agencies, instead of secrecy and territorial disputes
- Fight disease and prevent panic with innovation and good science
Practical and urgent, The End of Epidemics is crucial reading for citizens, health professionals, and policy makers alike.
About the Author
DR. JONATHAN D. QUICK is Senior Fellow and former president and CEO at Management Sciences for Health in Boston. He is an instructor of medicine at the Department of Global Health and Social Medicine at Harvard Medical School and Chair of the Global Health Council. He has worked in more than seventy countries. He lives in Massachusetts.
Bronwyn Fryer is a collaborative writer and former senior editor of the Harvard Business Review. She is a veteran business writer, researcher and editor who collaborates with thought leaders to produce influential books, articles, and other publications. She lives in Montpelier, Vermont.
Bronwyn is the coauthor, with Jonathan D. Quick, M.D., of The End of Epidemics.
Praise For The End of Epidemics: The Looming Threat to Humanity and How to Stop It…
"Once in a while, we get a state-of-the-art synthesis of the complex problem of epidemics. Once in a very great while, such a summary is informed by deep experience battling them and by both passion and pragmatism. Only rarely—and this is the case in Quick's The End of Epidemics—is such an informed synthesis as readable as it is informed and as humane as it is pragmatic. The result is inspiring." —Paul Farmer, MD, Harvard Medical School, Brigham and Women's Hospital, Partners In Health
"Dr. Quick makes a compelling case for the public and private sector to elevate their work on preparation, response, and rehabilitation around epidemics. The End of Epidemics makes the case from a social and an economic perspective that we have a collective responsibility to take action now."—Paul Polman, Chief Executive Officer, Unilever
"A down-to-earth account of what we know about epidemics, packaged wisely in seven basic recommendations for action. The End of Epidemics proposes a new marriage of stakeholders: patients, communities, industry, doctors, political leaders, NGOs, and philanthropies. Must-read!"—Dr. Joanne Liu, International President, MSF (Doctors Without Borders)
"Rich in stories, The End of Epidemics is a powerful wake-up call to get serious about epidemic threats. Quick offers down-to-earth solutions to prevent small and mega pandemics a hundred years after the catastrophic 1918 Spanish flu."—Professor Peter Piot, Director, London School of Hygiene and Tropical Medicine
"The End of Epidemics presents the challenge represented by global epidemiological risks and offers a convincing set of prescriptions to address them. It is a captivating book that combines the best public health evidence with compelling real-life stories."—Dr. Julio Frenk, President, University of Miami; former Minister of Health, Mexico; and former Dean, Harvard T.H. Chan School of Public Health
"The End of Epidemics presents actions, insights, and a compelling tale of how individuals—whether citizens or leaders—can stand together with science and innovation to slow or stop the ever-present risk of disease outbreaks and epidemics. His message: the Power of Seven, the power of one, the power of many."—Dr. Heidi Larsen, Director, Vaccine Confidence Project
"Jonathan Quick offers a compelling and intensely readable plan to prevent worldwide infectious outbreaks. The End of Epidemics is essential reading for those who might be affected by a future pandemic—that is, just about everyone."—Sandeep Jauhar, bestselling author of Intern: A Doctor's Initiation and Doctored: The Disillusionment of an American Physician

"Dr. Jonathan Quick has written an insightful, accessible, and personal history of modern epidemics, including such killers as smallpox and Ebola, and their dramatic impact on our lives and world. More importantly, Dr. Quick is not merely wringing his hands about the infectious catastrophes that are surely facing us, he focuses on the important actions needed to prevent social, economic, and health consequences of inattention. Governments, international institutions, the private sector, and civil society had better take heed: prepare and plan now—or pay the price, in dollars and lives, tomorrow."
—Rear Admiral Kenneth Bernard, former senior official for Biodefense and Health Security under presidents George W. Bush and Bill Clinton
"Infectious disease outbreaks rival natural disasters and wars in their capacity to endanger human health, cripple economies, and disrupt societies. The End of Epidemics shows us that by learning from the past we can build a world more resilient to infectious disease. But we must act quickly."
—Dr. Jeremy Farrar, Director, Wellcome Trust
"Quick is an internationally recognized leader in global heath—his focus on innovation and new technologies is vital to pandemic threat prevention and preparedness to save lives around the globe."
—Dr. Rajiv Shah, President, Rockefeller Foundation
"Dr. Quick has written a fascinating book. Following decades of working in some of the world's most epidemic-prone countries, he argues for scientific and public health developments that can save humanity from deadly microorganisms."
—Dr. David Heymann, Professor, Infectious Disease Epidemiology, London School of Hygiene and Tropical Medicine
"A well-documented and gripping account of the peril posed by pandemics. Dr. Quick, a global health leader from the front lines of the AIDS and Ebola [epidemics], weaves rich historical facts and decades of personal experience to ring the alarm over the pandemic threat."
—Dr. Ariel Pablos Mendez, former head of Global Health, U.S. Agency for International Development
"Sobering reading for public health officials and infectious disease students and perhaps inspiration for would-be activists to get busy. For general readers: get your flu shot." - Kirkus Reviews

"[I]nformative...Without excess alarmism, Quick and Fryer show that such factors as climate change, terrorism, and the global food system put the next pandemic just around the corner." - Publishers Weekly

"For readers interested in their own well-being and public health as well as ways to advocate for issues of great concern and urgency." - Library Journal

"Pragmatic, insightful and research-rich, this is a key volume for the policymaker's shelf." - Nature Magazine

"What makes the book a good, highly readable primer are its convincing examples and vivid human stories" - The Economist