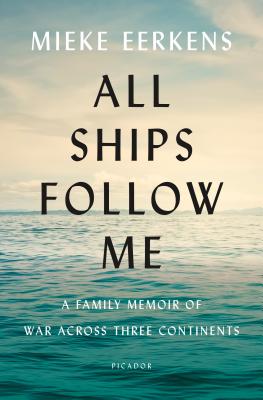 All Ships Follow Me
A Family Memoir of War Across Three Continents
Hardcover

* Individual store prices may vary.
Other Editions of This Title:
Digital Audiobook (4/1/2019)
Paperback (4/14/2020)
Description
An engrossing, epic saga of one family's experiences on both sides of WWII, All Ships Follow Me questions our common narrative of the conflict and our stark notions of victim and perpetrator, while tracing the lasting effects of war through several generations.

In March 1942, Mieke Eerkens' father was a ten-year-old boy living in the Dutch East Indies. When the Japanese invaded the island he, his family, and one hundred thousand other Dutch civilians were interned in a concentration camp and forced into hard labor for three years. After the Japanese surrendered, Mieke's father and his family were set free in a country that plunged immediately into civil war.

Across the globe in the Netherlands, police carried a crying five-year-old girl out of her home at war's end, abandoned and ostracized as a daughter of Nazi sympathizers. This was Mieke's mother. She would be left on the street in front of her sealed home as her parents were taken away and imprisoned in the same camps where the country's Jews had recently been held. Many years later, Mieke's parents met, got married, and moved to California, where she and her siblings were born. While her parents lived far from the events of their past, the effects of the war would continue to be felt in their daily lives and in the lives of their children.

All Ships Follow Me moves from Indonesia to the Netherlands to the United States, and spans generations, as Mieke recounts her parents' lives during and just after the war, and travels with them in the present day to the sites of their childhood in an attempt to understand their experiences and how it formed them. All Ships Follow Me is a deeply personal, sweeping saga of the wounds of war, and the way trauma can be passed down through generations.
Praise For All Ships Follow Me: A Family Memoir of War Across Three Continents…
"Mieke Eerkens has written a unique and harrowing account of the era through the history of her parents, and while deeply moving and brilliantly written, the particular backdrops give the story's flavor an air of ambiguity and controversy.... Eerkens' book provides a unique look at a different aspect of World War II, and it's a beautifully told story of an ambiguous situation."--PopMatters

"This memoir is honest, unflinching, reflective, and carefully researched. . . . Eerkens's self-awareness and desire to honestly grapple with the history in front of her is worth every sentence. Reality is never an absolute, and truth is always messy."--Book Riot

"A generational memoir of war and its long-lasting effects on descendants....The author examines the psychology of loss on the part of children caught helplessly in tumultuous events....The sins of the fathers are visited on their children, indeed. Eerkens' poignant book sheds new light on the history of World War II."—Kirkus Reviews

"A war memoir that reads as hauntingly and movingly as a novel...[A] fresh and courageous look at Dutch, and indeed global, history, and as importantly, at her parents, whose personal growth, strength, and perseverance are nothing short of marvelous. Highly recommended."--Historical Novel Society

"In this masterful memoir, Eerkens has written an epic account of her family's colonial and wartime past that reckons with the often mysterious and misunderstood legacy of intergenerational trauma. Lyric, meditative, and deeply reported, this is an essential book that reveals so much about what we need to know about being human."—Jennifer Percy, author of Demon Camp: A Soldier's Exorcism

"A thrilling, brilliantly told, briskly paced adventure story that could not be more timely. In exploring the resilience of her Dutch parents, who survive fascinating childhoods—he, as a young boy in a Japanese concentration camp in Indonesia, she, as a young girl in a family persecuted by their fellow Dutch citizens for assisting their German oppressors—Mieke Eerkens asks what it means to be at once a victim, a colonist, and a collaborator. All Ships Follow Me is an important work of literary nonfiction and essential reading for Americans wondering about the responsibility they bear in the modern age. It's a book you'll read in one sitting but will be haunted by for years to come."—Kerry Howley, author of Thrown

"Setting her book within the chaotic and tragic aftermath of World War II, Mieke Eerkens has composed a provocative and beautiful story in All Ships Follow Me that boldly tightens its aperture on a single family's experience, and unflinchingly exposes the welts of history that can affect us all, and the inheritance of a sorrow we share."—John D'Agata, author of About a Mountain

"The confluence of conflicting war traumas fuels the emotional heart of Mieke Eerkens' insightful narrative. All Ships Follow Me is an excavation of the scars of war drawn from personal interviews, archival documents, and immersion in the physical and psychic spaces of the past. It is also an imaginative quest to understand how trauma influences generations, sometimes directly through behavioral quirks and aberrations but also through a vulnerability to sadness and the illusion of home."--Patricia Foster, author of All the Lost Girls

"A remarkable and unique portrait of inter-generational family trauma and collective guilt, All Ships Follow Me troubles the waters, in the most nuanced and moving fashion, of more conventional journeys of victimhood and good guys triumphing over bad guys. In no way an apologist for her father's side of the family, Dutch colonists of Indonesia for generations, or of her maternal grandfather's participation in fascist politics in wartime Holland, Eerkens nonetheless spares us excessive mea culpas. Instead, she takes an unflinching and riveting look at the complex histories of both sides of her family and the persistent if invisible legacies of World War II and colonialism that followed her to her childhood home in Southern California."--Robin Hemley, author of Nola: A Memoir of Faith, Art, and Madness
Picador, 9781250117793, 336pp.
Publication Date: April 2, 2019
About the Author
MIEKE EERKENS teaches creative writing online for UCLA Extension's Writers' Program and as a visiting instructor for the Iowa Summer Writing Program. Her writing has appeared in The Atlantic, Creative Nonfiction, Los Angeles Review of Books, and Guernica, among others. She earned an M.A. in English from Leiden University in the Netherlands, and an M.F.A. from the University of Iowa. She divides her time between Amsterdam and California. All Ships Follow Me is her first book.
or
Not Currently Available for Direct Purchase