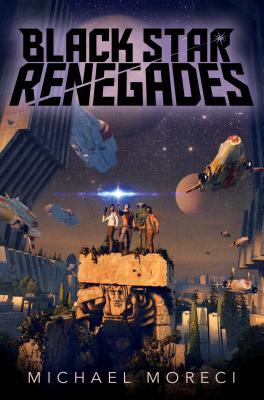 Black Star Renegades
Hardcover

* Individual store prices may vary.
Other Editions of This Title:
Digital Audiobook (1/1/2018)
Paperback (1/15/2019)
Description
In the tradition of Star Wars, a galaxy-hopping space adventure about a galactic kingdom bent on control and the young misfit who must find the power within before it's too late.

SyFy Wire—January Sci-Fi and Fantasy Books to Pick Up as soon as Possible
The Verge—18 Science Fiction and Fantasy Books to Read in January
Chicago Review of Books—Best New Books of January

Cade Sura holds the future of the galaxy in his hands: the ultimate weapon that will bring total peace. He didn't ask for it, he doesn't want it, and there's no worse choice to wield it in all of space, but if he doesn't, everyone's totally screwed. The evil Praxis kingdom is on the cusp of having every star system under its control, and if that happens, there'll be no contesting their cruel reign. Especially if its fanatical overlord, Ga Halle, manages to capture Cade and snag the all-powerful weapon for herself.

Cade can't hide from Praxis, and he can't run from the destiny that's been shoved into his hands. So he only has one option:

He has to fight.

Cade's not going to let destiny send him on a suicide run, though. With some help from his friends—rebels and scoundrels alike—Cade's going to use this weapon to chart a new destiny for the galaxy, and for himself.

He just has to do so before everyone around him discovers that he's a complete and total fraud.

Blending the space operatics of Star Wars and the swagger of Guardians of the Galaxy, Black Star Renegades is a galaxy-hopping adventure that blasts its way from seedy spacer bars to sacred temples guarded by deadly creatures—all with a cast of misfit characters who have nowhere to go and nothing to lose.
Praise For Black Star Renegades…
Chicago Review of Books 10 Best Science Fiction Books of the Year

"Part 'Star Wars' homage, part unexpected coming-of-age novel...Moreci balances character with plot very well; the story moves at a brisk pace, and the frequent action sequences fit in well with the overall story. [A] complex, self-aware and fun romp through space. Fascinating...Thought-provoking...I was on the edge of my seat." —Los Angeles Times

"Those who dig Arthurian legend, Guardians of the Galaxy cosmic high jinks and especially Star Wars mythology will find oodles to love....Character relationships, a sense of familial duty and a fast-paced narrative all make Renegades a worthwhile read." —USA Today (three stars)

"This book really, truly feels like the next big thing. It's not a shocker that combining Star Wars, Guardians of the Galaxy, Lord of the Rings, and classic pulp would result in an awesome story, but it is surprising at how Moreci is able to take all those elements and make them into something that feels fresh. If you like any of the franchises we've mentioned in this review, you'll like Black Star Renegades."
—Nerdist

"Moreci's debut novel is a delightful mash-up of genre tropes: a reluctant hero, swashbuckling space adventure, martial arts, an evil empire, a scrappy band of outcasts, and a sentient killer robot. It's a loving ode to the science fiction Moreci grew up with. The pacing is fast and exciting, strong on action and generous with humor." —Booklist

"A propulsive space opera that is also an unapologetic love letter to Star Wars. . . . Impossible not to love . . . . From intergalactic space battles to blaster fights to rogue robots and various hives of scum and villainy, this shiny space opera is bound to be a pleasure for fans of all stripes." —Kirkus Reviews

"Combining Marvel wit with the geeky jokes of Galaxy Quest, the book is set in a universe filled with Jedi-like warriors, star-destroying weapons, and planet-hopping misfits." —Chicago Magazine

"Moreci delivers a story that recalls his work for the Star Wars franchise: it brims with exotic locales, weird aliens, an evil empire, and a Jedilike hero with a cohort of misfits. . . . Moreci's sci-fi adventure delivers plenty of action." —Publishers Weekly

"Moreci's novel starts off his intended trilogy with flair: it's a bold space opera of a book, and like any good space opera, it introduces us to a wide range of flawed, fascinating characters in a dizzying array of vivid locales. It's funny, fast-paced and full of satisfyingly sudden conflict. . . . The action — as rapid as the snappy dialogue — will keep most readers pinned to the page." —RT Book Reviews

"A beach read for nerds — like Ready Player One or Andy Weir's The Martian and Artemis. It's a lighthearted, nostalgic novel that focuses on vibrant characters and adventure, built out of recognizable parts from the likes of Star Wars, Guardians of the Galaxy, and Arthurian legend. As such, it's a genuinely entertaining adventure that understands what people love about grand struggles between good and evil." —The Verge

"Michael Moreci has tapped into something that feels classically sci-fi but wholly new and refreshing. BLACK STAR RENEGADES hits on a place in our hearts reserved for early childhood recollections of the original Star Wars films and the first time we witnessed a Skywalker losing a hand. This riveting book carries all the clever quips, character melodrama and ship-to-ship combat we could ask for in a Grade-A space opera while also taking common and oftentimes overused tropes and kicking them over." —Teen Reads

"Engaging and inventive twists on a much-loved genre. A fun ride for space opera fans!" —John Jackson Miller, New York Times bestselling author of Star Wars: A New Dawn

"Black Star Renegades is a wonderful Star Wars book that just happens to not be set in the Star Wars universe. . . . The magic of Moreci's book is in the way he takes these elements and creates a story that blasts off and doesn't let up. The backdrop is written with care and brings the reader into a universe that, despite first-glance similarities to the familiar Galaxy, stands apart and feels fresh and worthy of its creation. . . . Definitely read this." —Stardust Pop

"A must-read." —Michigan Avenue Magazine

St. Martin's Press, 9781250117847, 384pp.
Publication Date: January 2, 2018
About the Author
MICHAEL MORECI is a novelist and author of comic books, who was recently named in Newcity Lit's "Lit 50: Who Really Books in Chicago 2018." His comics include the critically acclaimed sci-fi trilogy Roche Limit and the military horror drama Burning Fields. He's also written Suicide Squad for DC, Planet of the Apes for Boom!, and his other original titles include Curse, Hoax Hunters, ReincarNATE, and Black Hole Repo. As a novelist, Michael is the author of Spy Swap, an espionage thriller for Tor/Forge. He lives in Chicago with his wife, two sons, and dog.
or
Not Currently Available for Direct Purchase