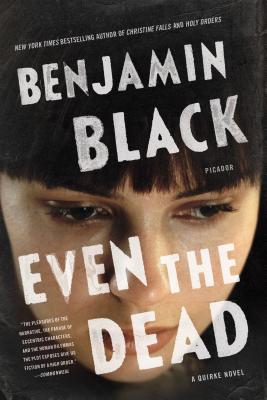 Even the Dead (Paperback)
A Quirke Novel
Picador, 9781250117878, 304pp.
Publication Date: January 3, 2017
* Individual store prices may vary.
Description
Even the Dead---Benjamin Black's seventh novel featuring the endlessly fascinating Quirke---is a story of surpassing intensity and surprising beauty.
A car crashes into a tree in central Dublin and bursts into flames. The police assume the driver's death was either an accident or a suicide, but Quirke believes otherwise. Then his daughter Phoebe gets a mysterious visit from an acquaintance, who later disappears. Phoebe asks her father for help, and Quirke in turn seeks the assistance of his old friend Inspector Hackett. Before long the two men find themselves untangling a twisted string of events that takes them deep into a shadowy world where one of the city's most powerful men uses the cover of politics and religion to make obscene profits.
About the Author
Benjamin Black is the pen name of the Man Booker Prize-winning novelist John Banville. The author of the bestselling and critically acclaimed series of Quirke novels—as well as The Black-Eyed Blonde, a Philip Marlowe novel—he lives in Dublin.
Praise For Even the Dead: A Quirke Novel…
"With its flowing prose, penetrating observation, and deft evocation of time and place, Even the Dead is an unalloyed pleasure from start to finish."—Commonweal
"At the heart of Even the Dead is an insidious plot....Black, the pen name of Booker Award–winning novelist John Banville, never worries about letting the plot dangle, breathing lovely, rich emotion through these pages with his unhurried, reflective prose....You linger over his descriptions."—Chicago Tribune
"There are now seven [novels] that feature Quirke, and by the latest, Even the Dead, they make a series with a complex intertwining of places, obsessions, memories, and characters, many of whom return frequently....We can now look at the books as an ensemble that does something remarkable within the detective genre."—The New York Review of Books
"Black fashions a meticulously written installment notable for its palpable sense of place, a slate of fully drawn characters, and a meaningful denouement....The investigation's tense, yet largely nonviolent, resolutions carry great resonance for Quirke."—Kirkus Reviews (starred review)
"EW's books editor Tina Jordan is a major fan of Benjamin Black's (author John Banville's pen name) Quirke series—and his seventh, Even the Dead, is as great as ever. If you haven't yet met Quirke, an alcoholic pathologist, prepare to binge read the first six books in a fever so you can get to this one."—Entertainment Weekly (11 Books You Have to Read in January)
"With its flowing prose, penetrating observation and deft evocation of time and place, Even the Dead is an unalloyed pleasure from start to finish....Banville/Black's masterly evocation of [Dublin], with its smoke-shrouded and boozy pubs, the decrepit, uncared-for buildings, the unruly traffic and the often depressed mien of the average Dubliner, is scarily accurate."—The Independent (London)
"Reminiscent of the Maisie Dobbs series by Jacqueline Winspear or Charles Todd's Ian Rutledge series...[Even the Dead] quickly draws readers in—even readers new to the series....Benjamin Black (a pseudonym of John Banville) has a gift for finely drawn characters and small details. And Quirke's undeniable eccentricity lends him an irresistible charm that will keep the reader engaged until the very end."—Shelf Awareness

"In Black's hands, Dublin is a mysterious beauty menaced by its powerful elite. Quirke's latest entanglement forces him to revisit some unresolved issues that go back to the series' beginnings....Fans will welcome this tying up of loose ends."—Booklist

"Black (aka Man Booker Prize–winner John Banville) certainly knows how to spin an engaging, often suspenseful noir."—Publishers Weekly