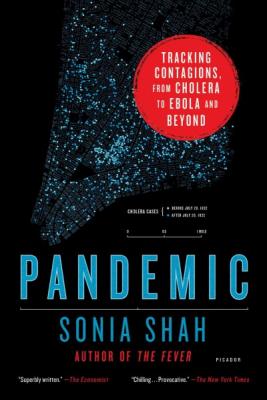 Pandemic (Paperback)
Tracking Contagions, from Cholera to Ebola and Beyond
Picador, 9781250118004, 288pp.
Publication Date: February 14, 2017
Other Editions of This Title:
Hardcover (2/16/2016)
* Individual store prices may vary.
Description
A thrilling glimpse into the next likely global contagion---and how to stop it.
Over the past fifty years, more than three hundred infectious diseases have emerged or reemerged in new territory. Experts around the world are bracing for a deadly, disruptive pandemic.
In Pandemic: Tracking Contagions, from Cholera to Ebola and Beyond, prizewinning journalist Sonia Shah reveals how that could happen, by drawing parallels between cholera---one of history's most deadly and disruptive pandemic-causing pathogens---and the new diseases that stalk us today. As Shah traces each stage of cholera's dramatic journey from harmless microbe to world-changing pandemic, she reports on the pathogens that have followed cholera's footsteps---from the MRSA bacterium that besieges her own family to the never-before-seen killers emerging from China's wet markets, the surgical wards of New Delhi, the slums of Port-au-Prince, and the suburban backyards of the East Coast. A true story that is both gripping and alarming, Pandemic delves deep into the convoluted science, strange politics, and the checkered history of one of the world's deadliest diseases, offering a prelude to the future that's impossible to ignore.
About the Author
Sonia Shah is an investigative journalist and the critically acclaimed author of The Body Hunters: Testing New Drugs on the World's Poorest Patients and Crude: The Story of Oil. Her writing has appeared in The Washington Post, The Boston Globe, New Scientist, The Nation, and elsewhere.
Praise For Pandemic: Tracking Contagions, from Cholera to Ebola and Beyond…
Praise for Pandemic
"Shah's book should be required reading." —The New York Review of Books
"The world's ability to put the lid on pandemics has come a long way since the days when the plague, cholera and smallpox ravaged unchecked. Ms Shah's book is a superbly written account of how we got here and what might await us." —The Economist
"[Shah] has succeeded in producing a lively, rigorously researched and highly informative read." —The Wall Street Journal
"Investigative science journalist Shah (The Fever, 2011) is at it again, and if the words, and beyond, in her latest book's subtitle don't grab a reader's attention, they should . . . Yes, Shah is back and in rare form. And this time it's personal."—Donna Chavez, Booklist (starred review)
"Shrewdly articulated . . . thought-provoking and well-documented" —Nature Microbiology
"[A] grounded, bracingly intelligent study" —Nature
"Shah proves a disquieting Virgil, guiding us through the hells ruled by [infectious diseases] . . . the power of Shah's account lies in her ability to track simultaneously the multiple dimensions of the public-health crises we are facing." —The Chicago Tribune
"In this absorbing, complex, and ominous look at the dangers posed by pathogens in our daily lives, science journalist Shah (The Fever) cautions that there are no easy solutions . . . Shah's warning is certainly troubling, and this important medical and social history is worthy of attention—and action." —Publishers Weekly
Praise for The Fever
"An often rollicking read . . . Shah has put together an engrossing cast of doctors, malariologists and historical figures." —TIM MORRISON, Time
"Sonia Shah 's tour-de-force history of malaria will convince you that the real sound track to our collective fate [is] the syncopated whine-slap, whine-slap of man and mosquito duking it out over the eons." —ABIGAIL ZUGER , M . D ., The New York Times
"This insightful book explores the human struggle with malaria not just from a scientific angle, which is cogently detailed without being overwhelming, but also from sociological and anthropological perspectives . . . Shah is to be commended." —DENNIS ROSEN, The Boston Globe
"The lessons of history should give us pause . . . Many [issues] are brilliantly exposed in Ms. Shah's book ." — W. F . B YNUM, The Wall Street Journal
"Meticulously researched and passionately written . . . One of this year 's most significant science books for the general reader." —DAVID WALTON, The Plain Dealer (Cleveland)
"A fascinating history . . . Insightful, even revelatory." —WENDY ORENT , The New Republic