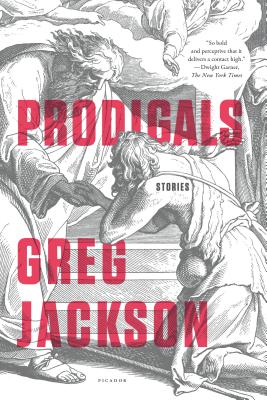 Prodigals (Paperback)
Stories
Picador, 9781250118059, 240pp.
Publication Date: March 7, 2017
Other Editions of This Title:
Hardcover (3/1/2016)
* Individual store prices may vary.
Description
During a violent storm, a filmmaker escapes New York, accompanied by a woman who may be his therapist. A lawyer in the throes of divorce seeks refuge at her seaside cottage only to find a vagrant girl living in it. A dilettantish banker sees his ambitions laid bare when he comes under the influence of two strange sisters. A group of friends gathers in the California desert for one last bacchanal, and a journalist finds his visit to the French country home of a former tennis star take a deeply unnerving turn.
Strivers, misfits, and children of privilege, the restless, sympathetic characters in Jackson's stellar short story collection, Prodigals, hew to passion and perversity through life's tempests. Theirs is a quest for meaning and authenticity in lives spoiled by self-knowledge and haunted by spiritual longing. Lyrical and unflinching, cerebral and surreal, this collection maps the degradations of contemporary life with insight and grace.
About the Author
Greg Jackson's work has appeared in The New Yorker, Granta, and the Virginia Quarterly Review. He has been a fiction fellow at the Fine Arts Work Center in Provincetown and a resident at the MacDowell Colony, and he holds an MFA in creative writing from the University of Virginia. Prodigals is his first book.
Praise For Prodigals: Stories…
Winner of the 2019 Bard Prize
"[A] fervent debut . . . with a language both hallucinatory and philosophical . . . [Prodigals] is a profound allegory of our addiction to success." —Antonio Ruiz-Camacho, The New York Times Book Review
"The writing in Greg Jackson's first book of stories, Prodigals, is so bold and perceptive that it delivers a contact high . . . You may sometimes feel you are reading a furious, Instagram-era updating of Ann Beattie's short stories . . . There's also the crunch of writers like Ian McEwan and Martin Amis in Mr. Jackson's prose. Best of all there's that sense — only the excellent ones give it to you — that whatever topic the author turns his mental LED lights toward will be powerfully illuminated . . . What makes these stories radiant . . . is how invested Mr. Jackson is in peeling off the rind of life, in getting to the juice . . . 'The passage of experience back through us' — that's a powerful line, and it represents what this young writer is capable of delivering, right now and, if fortune smiles, long into the future." —Dwight Garner, The New York Times

"There are ethics at stake and, more important, crackling and careening Fitzgerald-worthy sentences that gather into Cheeveresque specimens of narrative architecture. Even stories that come apart (deliberately, in the case of 'Metanarrative Breakdown') feel like the work of a writer with several books behind him, instead of none." —Boris Kachka, New York
"Jackson is incredibly funny and amazingly sharp in his observations of regrets and disappointment, and the compelling stories are full of wisdom. This book has a lot of warmth in spite of the cold hard truths they tell. His characters struggle with morality in the face of a world where morals seem no longer worth having, and hopes and dreams are constantly being downgraded until they are simply stories they tell themselves to help them get through the day . . . Jackson deftly shows the nuances of adult consciousness with dark humor and compassion, and this pithy collection is a powerful debut sure to bring him recognition." —Liberty Hardy,Electric Literature
"Jackson is a virtuosic talent, and his distinctive, maximalist prose style alone will make Prodigals one of the more memorable debuts of 2016 . . . This collection succeeds in addressing a generation's internal crises with remarkable comprehension and insight. In its best moments, it makes a persuasive argument for the uniquesomething of its author." —MIchael Deagler, The Rumpus
"Upwardly mobile, young(ish), and utterly lost: Such are the characters of Jackson's short fiction. He probes them with insight and sentences so finely wrought, they verge on aphorism." —O Magazine
"[A] Deeply felt and sparklingly erudite debut collection . . . Jackson's exquisite insight and mandarin prose style call to mind David Foster Wallace and Ben Lerner, but his preoccupation with the demise of romance, wonderment, and spirituality in our hyper-knowing age seem entirely his own." —Publishers Weekly
"An admirable debut that cannily captures the difficulty of balancing good deeds with bad behavior." —Kirkus Reviews
"Daring and innovative . . . Jackson proves himself a dexterous, compelling new talent." —Booklist
"Greg Jackson's stories are deft, compact, intelligent, and beautifully aimed. The short story, in our accelerating present, has advantages over its bulkier and slower-moving rival, the novel. Greg Jackson exploits such advantages in these fractal-like captures of moments and sequences from our current disorders." —Norman Rush, author of Mating, winner of the 1991 National Book Award for Fiction
"Greg Jackson is an uncommonly good writer—wickedly funny and deeply perceptive—and Prodigals is one of the most absorbing, intelligent, and unnervingly dead-on collections I've read in ages. I loved it." —Molly Antopol, author of The UnAmericans
"This ultra-contemporary collection evokes a rarefied world of hyper-educated, over-stimulated people caught in the grip of their own privileged consciousness. Transcendence-seekers find themselves earthbound as art, drugs, role-playing, and material goods serve as temporary balms for the anomie of modern life. The elusive cure is love, and Jackson nails the way sophisticated, hard-bitten entanglements give way to sudden surges of old-fashioned romance. Jackson writes with terrific fluency, wielding Fitzgeraldian phrases as he presses through to endings full of feeling." —Matthew Thomas, New York Times-bestselling author of We Are Not Ourselves
"Greg Jackson is an explosive writer, seriously funny, deeply serious.Prodigals is a memorable, powerful debut, full of dark splendor, and it's clear that Jackson is here to stay." —Sam Lipsyte, author of The Ask
"Inventive, daring, and exhilarating, the stories in Prodigals offer a vital, volatile mix of style and heart, slyness and candor. Read these stories and find yourself newly awake, thin-skinned to the world." —Maggie Shipstead, author of Astonish Me
"Greg Jackson's Prodigals is that rare treat: a narrative inquiry into the nature of narrative that is neither tedious nor tired, that takes itself just seriously enough. His lyric virtuosity is thrilling, his sensibility acute and nuanced, but it was something deeper than either of these things that ultimately compelled me in these stories: It was a genuine sense of searching—without irony or apology, with fierce intelligence—for what might constitute a meaningful life." —Leslie Jamison, author of The Empathy Exams
"Prodigals is elegant and unpredictable. These stories of bewilderment, heartbreak and psychotropics will charm you with their humor and stun you with wisdom that's both rigorous and compassionate." —Catherine Lacey, author of Nobody is Ever Missing