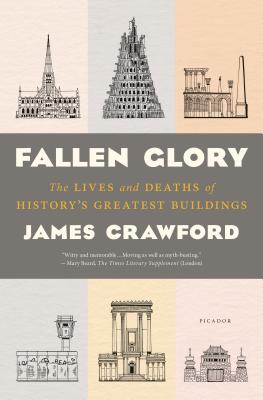 Fallen Glory
The Lives and Deaths of History's Greatest Buildings
Hardcover

* Individual store prices may vary.
Other Editions of This Title:
Paperback (9/17/2019)
Description
An inviting, fascinating compendium of twenty-one of history's most famous lost places, from the Tower of Babel to the Twin Towers

Buildings are more like us than we realize. They can be born into wealth or poverty, enjoying every privilege or struggling to make ends meet. They have parents—gods, kings and emperors, governments, visionaries and madmen—as well as friends and enemies. They have duties and responsibilities. They can endure crises of faith and purpose. They can succeed or fail. They can live. And, sooner or later, they die.

In Fallen Glory, James Crawford uncovers the biographies of some of the world's most fascinating lost and ruined buildings, from the dawn of civilization to the cyber era. The lives of these iconic structures are packed with drama and intrigue. Soap operas on the grandest scale, they feature war and religion, politics and art, love and betrayal, catastrophe and hope. Frequently their afterlives have been no less dramatic—their memories used and abused down the millennia for purposes both sacred and profane. They provide the stage for a startling array of characters, including Gilgamesh, the Cretan Minotaur, Agamemnon, Nefertiti, Genghis Khan, Henry VIII, Catherine the Great, Adolf Hitler, and even Bruce Springsteen.

The twenty-one structures Crawford focuses on include The Tower of Babel, The Temple of Jerusalem, The Library of Alexandria, The Bastille, Kowloon Walled City, the Berlin Wall, and the Twin Towers of the World Trade Center. Ranging from the deserts of Iraq, the banks of the Nile and the cloud forests of Peru, to the great cities of Jerusalem, Istanbul, Paris, Rome, London and New York, Fallen Glory is a unique guide to a world of vanished architecture. And, by picking through the fragments of our past, it asks what history's scattered ruins can tell us about our own future.
Praise For Fallen Glory: The Lives and Deaths of History's Greatest Buildings…
"No one can accuse Fallen Glory of lacking ambition....It's a narrative that spans seven millennia, five continents and even reaches into cyberspace. At over 600 pages with endnotes, it's a commitment. I savored each page."—Henry Petroski, The Wall Street Journal

"Witty and memorable...moving as well as myth-busting."—Mary Beard, Times Literary Supplement (UK)

"[An] elegant, charged book... A well-written prize for students of history, archaeology, and urban planning."—Kirkus Reviews (starred review)

"Crawford's astute, entertaining, and affecting gallery of ruins will appeal to readers drawn to the intersection of history and architecture."—Gilbert Taylor, Booklist

"The most interesting book I have come across this year. This is a magnificent study of buildings and other structures that have disappeared. Crawford writes beautifully and tells a fascinating tale that embraces the Library of Alexandria, the Berlin Wall and, in the virtual world, the now defunct Geocities. A lovely, wise book."—Alexander McCall Smith, New Statesman (UK)

"This well-researched and evocative work turns history into biography with the fascinating tales of the lives and deaths of [21] structures from around the world. Crawford...reveals a witty and intelligent literary voice....Later chapters on the World Trade Center's collapsed Twin Towers and the Islamic State's obliteration of the ancient city of Palmyra reveal dramatic, startling connections between past and present, creator and destroyer, politics and culture."—Publishers Weekly

"Civilisations and their buildings, writes Crawford, inevitably succumb to the 'eternal cycle of rise, decline and fall.' He conveys superbly these absorbing tales of hubris, power, violence and decay."—The Sunday Times (UK)

"Magnificent...Many of these buildings can be seen as microcosms of the decline and fall of whole civilisations."—The Daily Telegraph (five-star UK review)

"Crawford has a striking ability to summon the reality of these long-vanished places, trotting nimbly through eras of history and archaeology to trace the extent to which they protrude into fact...[he] writes exquisitely, combining economy and clarity with beautiful flights of phrase, and his scholarship is meticulous. Fallen Glory is a marvelous book. A second helping would be more than welcome."—The Literary Review (UK)

"Crawford tells the intricate biography of each of his buildings with the unspoken assumption that in some way a building (like the city in which it exists) is alive...The result is a cabinet of curiosities, a book of wonders with unexpected excursions and jubilant and haunting marginalia...Ideas spin off ideas and facts off facts like a marvelous clattering snooker-table."—The Spectator (UK)
Picador, 9781250118295, 640pp.
Publication Date: March 7, 2017
About the Author
JAMES CRAWFORD works for Scotland's National Collection of architecture and archaeology. Born in the Shetlands in 1978, he studied History and Philosophy of Law at the University of Edinburgh, winning the Lord President Cooper Memorial Prize. He has written a number of photographic books, including Above Scotland: The National Collection of Aerial Photography, Victorian Scotland, Scotland's Landscapes, and Aerofilms: A History of Britain from Above. In 2013, he wrote and acted as design consultant on Telling Scotland's Story, a graphic novel guide to Scottish Archaeology. He lives in Edinburgh.
or
Not Currently Available for Direct Purchase