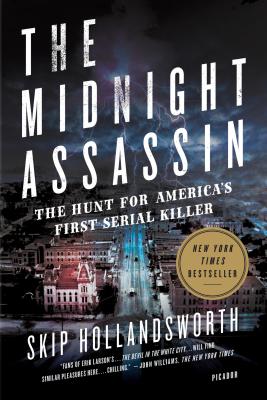 The Midnight Assassin (Paperback)
The Hunt for America's First Serial Killer
Picador, 9781250118493, 336pp.
Publication Date: April 11, 2017
Other Editions of This Title:
Digital Audiobook (4/4/2016)
Hardcover (4/5/2016)
CD-Audio (4/5/2016)
Hardcover, Large Print (7/6/2016)
* Individual store prices may vary.
Description
Winner of the Texas Institute of Letters's Carr P. Collins Award

A New York Times Bestseller

One of Book Riot Best Book of the Year

In nineteenth-century Austin, Texas, a ruthless murderer terrorized the city in what would soon become a story more shocking than any fiction.
In the late 1800s, just as Austin was on the cusp of emerging from an isolated western outpost into a truly cosmopolitan metropolis, a series of brutal murders rocked the burgeoning city and shook it to its core. At the time, the concept of a serial killer was unknown and unimaginable, but the murders continued, the killer became more brazen, and the citizens' panic reached a fever pitch.
For more than a decade, Texas Monthly journalist Skip Hollandsworth has researched this gripping tale of murder and madness that plays out like a well-crafted whodunit. With vivid historical detail and novelistic flair, Hollandsworth's The Midnight Assassin: The Hunt for America's First Serial Killer brings this terrifying saga to life.
About the Author
Skip Hollandsworth is an award-winning journalist, screenwriter, and executive editor of Texas Monthly magazine. His work was included in the 2006 edition of Best American Crime Writing and he has won a National Magazine Award for feature writing. Hollandsworth co-wrote the acclaimed screenplay "Bernie" with director Richard Linklater. He lives in Texas with his wife.
Praise For The Midnight Assassin: The Hunt for America's First Serial Killer…
"Skip Hollandsworth knows his way around a crime scene…Fans of Erik Larson's 2003 hit, The Devil in the White City…will find similar pleasures here. This is true crime of high quality. . . Mr. Hollandsworth handles gruesome details with a smart, restrained touch…Chilling."—The New York Times
"Gripping and atmospheric...This true crime page-turner is a balanced and insightful examination of one of the most stirring serial killing sprees in American history, and certainly one of the least well-known."—Publishers Weekly (Starred Review)
"Readers who loved The Devil in the White City now have the pleasure of reading The Midnight Assassin. It paints a compelling portrait of a culture at a turning point – that is, the capitol of Texas at the end of the 19th Century, when the barbarism of the frontier was giving way to the savagery of urban life."—Lawrence Wright, Pulitzer Prize-winning author The Looming Towerand Thirteen Days in September
"As a magazine journalist, Skip Hollandsworth has forged a reputation as one of the best storytellers in the country. The Midnight Assassin takes his singular narrative skills to a thrilling new level. Reading this book is like cracking open a time capsule and breathing the air of a vanished era. In Hollandsworth's hands, one of the ghastliest and most inscrutable crimes in American history becomes hair-raisingly immediate, and the mystery at its center grows ever more mysterious with every page."—Stephen Harrigan, author of The Gates of the Alamo and A Friend of Mr. Lincoln
"Skip Hollandsworth has achieved a literary miracle with The Midnight Assassin. With haunting granularity, Hollandsworth breathes vivid life into a forgotten, century-old tale of the hunt for America's first diabolical serial murderer—set in, of all places, the quaint but upwardly mobile town of Austin, Texas. To read The Midnight Assassin is to experience the lost innocence of a 19th-century capital city set on edge by the unseen monster in its midst."—Robert Draper, The New York Times Magazine and author of Dead Certain

"Skip Hollandsworth, one of the great true-crime writers of our era, has brought his remarkable talent to bear on one of the most fascinating untold criminal stories in American history. The Midnight Assassin captures a time, a place, and a feeling—booming Texas in the latter 19th century—in a way no nonfiction account I have read has done. A jewel of a book."—S.C. Gwynne, author of Empire of the Summer Moon and Rebel Yell
"Skip Hollandsworth has a bloodhound's nose for a great tale. With The Midnight Assassin, he's found the perfect subject for his many talents. Through scrupulous research and a finely tuned sense of the gothic, Hollandsworth has brought this Texas-sized true-crime story, more than a century old, to vivid, chilling life on the page."—Hampton Sides, author of Hellhound On His Trail and In the Kingdom of Ice
"As the state of Texas's best-known magazine writer, Skip Hollandsworth is not just a Lone Star treasure, but a national treasure. In this, his first book, he uncovers the amazing untold story of America's first serial killer, a phantom who stalked the streets of Austin in 1885, three years before Jack the Ripper. Whether you love true crime, history or Texana, The Midnight Assassin is bursting at the seams with everything you want in a great book; a spellbinding mix of mystery, horror and historical detective work. It's the book Hollandsworth was born to write.''—Bryan Burrough, Vanity Fair special correspondent and author of Barbarians at the Gate, Days of Rage and The Big Rich